There's more to autonomous lawn mowing than simply replacing human drivers with robots. My Goat Inc. has been offering systems smaller than conventional mowing hardware and promises more visibility into operations. The Nashville-based company said it is educating groundskeepers on how a different approach to their work can save effort.
Founded two years ago, My Goat has production and shipping facilities in Hendersonville, Tenn. The company said it is working to help the U.S. commercial lawn care market be more competitive and environmentally sustainable.
Founders build a new model for mowing
"The business started as a residential subscription service," said Matthew Erickson, chief technology officer at My Goat. "We realized that not a lot of hardware manufacturers were focused on the commercial space."
"We're 'Roomba meets Netflix' for commercial lawnmowing," said Neil Amrhein, founder and CEO of My Goat. "I've worked in hospitality with the Ritz Carlton, founded a home care company with thousands of caregivers, and spent over 10 years in the tech space with EMC and as a serial entrepreneur."
"I saw a YouTube video that said there were 2 million units in Europe four years ago, but autonomous mowers hadn't yet made it over the pond," he told Robotics 24/7. "We put together a financial and operational model around the ability for robots to help people and give the landscaping industry economies of scale."
"Everybody is having a hard time finding people, so automation is more about labor savings than cost savings," Erickson said. "We have ROI [return on investment] calculators and work with customers so they can see the value."
My Goat offers its systems through a robotics-as-a-service (RaaS) model. "Customers don't need to buy the hardware upfront, and our intuitive software drives efficiency," said Erickson. "Another metric is the financial impact rate—how quickly it takes to pay back the installation, plus the monthly subscription cost."
Goats learn mapped areas
My Goat's robots map and operate within a geofenced perimeter. "In the first week, the Goats behave like toddlers," said Erickson. "Then they learn and move on."
"The average pen is 1.1 acres. Usually, we have one machine covering two pens of 2 to 2.5 acres," he explained. "If it's a clean lot, one machine can cover 3 acres. For reference, the average cemetery is 15 acres, and our robots don't damage things."
"Vision-guided robots are great, but the more CPU you need, the more batteries weigh, and the less mowing time you have," Amrhein said. "Line-of-sight is no good in cemeteries, and there's not a lot of 5G yet. I also can't imagine a person remotely controlling a mower on the side of a highway. The bigger the robot, the less likely they are to be nimble and autonomous."
"The Goats have been surprisingly autonomous, operating up to 72 hours at a stretch," Erickson said. "This can lead to $1,000 per acre per year in savings."
"Our solution is hardware-agnostic," he added. "We use Husqvarna machines because of the open APIs [application programming interfaces]."
Does My Goat expect major mower providers to offer autonomous systems?
"Most are focused on the hardware, and we provide the software," replied Amrhein. "The traditional open-wheel landscape providers—Kuboto, Toro, and Deere—they see that autonomy is important, but they haven't really looked at battery-powered vehicles as important. The status quo of a big guy in a big machine is limited by daylight and the weather."
My Goat pitches software, services
In addition to making lawnmowers autonomous, My Goat provides software and services for data and fleet management.
"The hardware will get better, faster, and cheaper," Amrhein said. "But the software for applying the technology is what's new and interesting today. It's how people can monitor and maintain the hardware in a proactive way."
"We pitch ourselves as a software company," added Erickson. "Operators can manage, interact with, and troubleshoot a fleet of 20 robots in a cemetery of 70 acres. It's not just a homeowner with one robot. We have shepherds, who can keep track of the herd of robotic Goats with software."
My Goat serves both property owners and workers in the field, he said. It provides information on utilization rates and when mowers need charging or assistance.
"That's the game-changer," said Amrhein. "A 27-lb. robot the size of a pizza box can maintain two to three football fields per week, as long as the robot isn't trapped in a hole or stuck on a tree limb. Only one groundskeeper is required to manage up to 70 goats per week, or 145 acres, about the size of an average golf course. How are we optimizing them, and what's the human engagement rate?"
"It still takes a human to oversee the robots, but what if one human could oversee 50 to 100 of them?" he asked. "Groundskeepers are responsible for beauty, like finding gopher holes or where water ran into mulch. If a robot gets trapped somewhere, someone walking at that site would also have a problem. Shepherds like that improvement of property aspect."
"MyGoat's utilization rate is nearly 55%," Erickson said. "When we work with municipalities, many are interested in green technologies and gasoline savings. Husqvarna has a partnership with Solar Alliance. Solar farms cover a lot of ground, but they don't need to be mowed very often."
Educating the market
"We made our initial push in the cemetery space because of the quiet," Erickson recalled. "We've also offered trials, demonstrations, and pilots to schools, city parks, and commercial landscaping."
"In the California market, the sustainability of electric, autonomous mowers is important," he said. Explaining the role of robotic lawnmowers in existing operations is even more important.
"Our biggest hurdle is on the people side," added Erickson. "We spend a lot of time identifying the right person to approach. At one university, the lawnmowers got a middling response because the workers were told they had to take care of the robots. By contrast, the new city manager of Tuscaloosa, Ala., was forward-thinking."
"My Goat does open installations," said Erickson. "We put the wire in the ground, and then it's hands-off remote support. The shepherds have a different cadence of work than riding a zero-turn mower at an hourly wage. Instead of going to one property for a whole day each week, they can check on multiple robots for five minutes every day with our dashboard."
"Our subscriptions mitigate risk over what hardware to buy," Amrhein said. "As we get more hardware APIs and the human engagement rate goes down, users can be more proactive at maintaining and monitoring mowing."
"We're really well-positioned, technology wise," he concluded. My Goat plans to open a Series A fundraising round.
About the Author
Eugene Demaitre
Eugene Demaitre is editorial director of Robotics 24/7. Prior to joining Peerless Media, he was a senior editor at Robotics Business Review and The Robot Report. Demaitre has also worked for BNA (now part of Bloomberg), Computerworld, and TechTarget. He has participated in numerous robotics-related webinars, podcasts, and events worldwide. Follow Eugene:
Follow Robotics 24/7 on Facebook
Article topics
Email Sign Up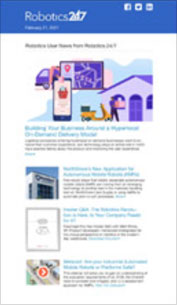 Get news, papers, media and research delivered
Stay up-to-date with news and resources you need to do your job. Research industry trends, compare companies and get market intelligence every week with Robotics 24/7. Subscribe to our robotics user email newsletter and we'll keep you informed and up-to-date.
My Goat