At CES in Las Vegas last week, Orbbec launched its Femto Magna high-resolution 3D camera built with Microsoft and NVIDIA technologies. The company also announced and demonstrated the Gemini 2 and Astra 2 sensors, which use its new MX6600 ASIC chip.
The Femto Mega camera is "is aimed at removing barriers for developers of robotics applications with the combination of sensing and accelerated computing for AI and digital twin creation," said Orbbec.
The Shenzhen, China-based company said it "is on a mission to popularize 3D vision technology for the 3D world, create a full-stack platform for industry solution developers, and build smart products with industry-leading performance and price."
Orbbec works with Microsoft
Orbbec claimed that the Femto Mega is "the industry's highest-resolution 3D camera with real-time streaming of processed images over Ethernet or USB connections." The product is designed to provide easy access to sensing technology, making it suitable for use in robotics, logistics, manufacturing, retail, healthcare, and fitness systems, it said.
The depth camera uses Microsoft's time-of-flight (ToF) technology for precise scene understanding over a 120-degree-wide field of view and a range from 0.25 to 5.5 m (1.6 to 16.4 ft.). The 1 megapixel (MP) camera is complemented by a high-performance, 4K resolution RGB camera with 90° field of view (FOV), said Orbbec.
"Orbbec's Femto Mega extends the use of Microsoft's depth technology, used in Hololens and Azure Kinect DevKit, to a broad range of industrial applications," said Jon Yee, depth product marketing director at Microsoft. "This camera is a result of a close collaboration between our teams and will be an essential tool helping AI developers to add depth perception to computer vision."
Femto Mega includes NVIDIA processor
The Femto Mega's built-in NVIDIA Jetson Nano processor runs depth vision algorithms to convert raw data to precise depth images. This eliminates the need for an external PC or compute device, according to the company.
The camera can be directly connected to servers or the cloud using the Power over Ethernet (PoE) connection for both data and power. The device also has USB-C 3.2 and DC power supply connectors. A six degree-of-freedom (DOF) inertial measurement unit (IMU) module provides orientation.
The universal trigger control system provides accurate frame synchronization and uses standard Ethernet cables for multi-camera and multi-sensor networks. The software development kit (SDK) enables easy setup and registration, and a rich set of APIs allows integration with various robotics and Internet of Things (IoT) applications, said Orbbec.
Femto Mega aids developers and users
"Our large-scale cargo digitization solution is built using Microsoft's Azure Kinect and Azure and is commercially deployed in Singapore," said Dr. Suraj Nair, chief technology officer at Speedcargo Technologies. "It is also in commercial trials for flight capacity optimization and digital handling at multiple international airports."
"Orbbec's Femto Mega enables us to maintain compatibility with our current system while reducing the size, cost, and complexity of our solution," Nair noted. "This will enable ease of scaling our operations to new locations."
"Orbbec has been Mintt's 3D vision partner for its fall detection and prevention solution," said Eric Krzeslo, CEO of engine control module provider Mintt. "With its new advanced sensors such as the Femto Mega's integrated approach Orbbec is helping us accelerate and improve our product roadmap."
"Femto Mega is aimed at expanding the use of 3D vision in various industry solutions," said Amit Banerjee, head of platform and partnerships at Orbbec. "We're excited to introduce this new category-leading intelligent camera as part of Orbbec's new depth vision platform."
New cameras offer new 3D possibilities
Orbbec described the Gemini 2 and Astra 2 as two of its "most advanced 3D sensor cameras ever." The company developed both cameras using its new MX6600 ASIC (application-specific integrated circuit), which it said enables high-quality depth processing and supports depth/color image registration in different resolutions.
With an easy-to-use SDK, onboard IMU, and multi-camera sync support, the two cameras offer new possibilities in 3D for a variety of industries, claimed the company.
"Orbbec has long been at the forefront of 3D sensing technology—and the Astra 2 and Gemini 2 expand the possible application of 3D in nearly every respect," stated David Chen, co-founder and CEO of Orbbec. "Whether the critical metric is distance, ambient light, identification, object speed, motion, navigation, camera size, or processing capability, these two cameras are unmatched on the market today."
Gemini 2 gives wide field of view
Orbbec said the Gemini 2 provides ;the widest field of view in its product line, as well as "exceptional" sensing range. The company said integration-ready Gemini 2 is based on active stereo IR technology and boasts a range of 0.12 to 10 m (0.6 to 32.8 ft.), along with a field of view of up to 100 degrees diagonal (89°H x 65°V, ±3°).
Gemini 2 is also capable of working in indoor or outdoor environments, explained Orbbec.
The IMU in the Gemini 2 enables it to provide motion, position and navigational sensing over six DOF. This capability, along with its small size (90 x 25 x 30mm) makes the 3D camera "ideal" for robotics, logistics, and security monitoring, among other uses, the company said.
Astra 2 observes in real time
The Astra 2 is the second generation of Orbbec's popular camera series, said the company. The Astra line uses structured light and image processing to compute a 3D image of the observed environment in real time.
With the latest-generation ASIC, Astra 2 supports resolution up to 2MP for both depth and color image output. In comparison with the original Astra Series, Astra 2 is more stable on the output depth data, and with low motion blur, said Orbbec.
It added that the new camera is suitable for applications including security monitoring, behavior analysis, room scanning, and interactive gaming.
Orbbec demonstrates use cases at CES
At the Las Vegas Convention Center, Orbbec demonstrated its latest 3D cameras and use cases. They included an autonomous service robot, biometric identification, and object dimensioning for logistics and warehouse applications.
The company's "3D Fitness Experience" showed guests an "in-home" training session, professional fitness training, and body shape management, all enhanced by 3D technology.
Article topics
Email Sign Up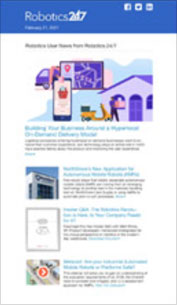 Get news, papers, media and research delivered
Stay up-to-date with news and resources you need to do your job. Research industry trends, compare companies and get market intelligence every week with Robotics 24/7. Subscribe to our robotics user email newsletter and we'll keep you informed and up-to-date.
Orbbec