Ossia Inc. today announced that its Cota Real Wireless Power system has successfully passed both EU and U.K. regulatory assessments. The Redmond, Wash.-based company said it is the first radio frequency-based, non-line-of-sight, wireless power technology at-a-distance product to receive EU/UK Type Examination Certificates and that can bear both the CE and UKCA marks.
"While other wireless power technologies require line of sight and offer insignificant power that requires the system to switch off in environments with humans, Cota can effectively power devices in the consumer, commercial, and industrial spaces," said Doug Stovall, CEO of Ossia. "Even if the device is on the move or is not in line of sight of the transmitter, power can be efficiently and continuously delivered with Cota. This certification paves the way for a whole new level of innovation and product development across a wide range of industries globally."
Ossia focuses on unique power delivery
Ossia said its flagship Cota technology can safely deliver power to devices at a distance. The smart antenna technology can automatically keep multiple devices charged without any user intervention, said the company.
"We've discovered a new way of transferring power to small devices," said Hatem Zeine, inventor of the technology and founder, president, and chief technology officer of Ossia. "Our technology in operation feels like Wi-Fi but doesn't work like Wi-Fi. We're able to control the power and target any device at its specific location."
"We can also determine how much power to deliver, like time sharing," he told Robotics 24/7. "We could deliver 100 milliwatts at 10 meters, or we could deliver a few watts within a meter or two."
"Another way in which Cota feels like Wi-fi is that because we use a receiver and a transmitter, we can deliver without a line of sight," Zeine explained. "With motion, someone with a wearable device can walk around the office."
"Other companies use beam-forming RF, but we have a different technique," he said. "We use the same frequency as the ISM [radio] band. The 5.8 GHz frequency enables us to deliver meaningful power to multiple devices."
"We use the device to illuminate the space, and some reflections lead to the transmitter, which can retrace the path instantly," said Zeine. "With intermittent beacons of hundreds per second, we're always targeting just the device itself, not the environment."
"Unlike other approaches, which may have wireless charging in a contained area, our technology is able to do all of this while passing the same strict standards as Bluetooth and Wi-fi for exposure and safety," he added. "It can operate when people are around or even on devices on the body."
Cota offers license to developers
Ossia has developed its intellectual property to license to other companies.
"We have one of the strongest patent portfolios in wireless technology, with over 158 patents granted, 213 active utility patent assets, and 65 different patent families covering power management, controls, and data communications," said Zeine. "Part of Cota's technology is a data communication layer—we can deliver telemetry as well as power."
"We work with companies interested in integrating wireless power," he said. "For instance, we have engagements with automakers such as Toyota. We're able to reduce the complexity of the wiring harness in a vehicle by powering small devices wirelessly. Ossia's transmitter doesn't have to be flat, allowing for more customization, reliability, and affordability."
By minimizing the need for wiring and batteries, Cota could also help robotics developers and users, Zeine said.
"Many robots are in tight spaces and harsh environments," he observed. "If you lay wire to the tip of a robotic end effector, where it's doing simple actuation or sensing, it may be hard to wire, depending on the degrees of motion and temperature ranges. Cota can deliver power during motion up to 10 m/s, without targeting the power by programming. We can send power to the device at its location with perfect focus."
"Many factories shy away from batteries because they are unreliable and are difficult to seal, and they could stop a production line," said Zeine. "We've created solutions that run on capacitors. This widens the range of temperatures so that Cota could power devices in refrigerators. Also, food environments need to be batteryless."
"We're having discussions with factories around powering the tip of a robotic hand and objects working electronic tracers," he said. In addition to wearable sensors, what about surgical robots?
"Some of our investors are interested in surgical tools," Zeine replied. "Electrical arc blades that cut and seal at the same time are situations where our technology can make a big difference. It can power tens to thousands of devices."
Drones and weight
Ossia's remote wireless charging technology could someday power indoor drones or mobile sensors in addition to existing Internet of Things (IoT) devices. However, it still needs to advance, acknowledged Zeine.
"One challenge is that the weight of a transmitter might be greater than existing wires," he said. "We believe that in the next three years, we'll be able to power the smallest drones carrying cameras."
"Today, you can get a 4K camera the size of a thumbnail and stick it to a small drone," Zeine said. "We're working on delivering 4 to 6 watts to a drone. If it's not using most of its power to carry a battery, then the requirement could drop, and we could be in range of powering a drone."
"There will be 1 trillion IoT devices in the world 10 years from now, but we won't be building 1 trillion batteries," he added. "Wireless power is the only path for this to happen. Rather than rely on a single source of power with a battery and wire, wireless power can have multiple transmitters including backups. This could allow a whole class of non-powered devices to be powered."
"But note that this is active IoT, not RFID," said Zeine. "This is to enable action, not just scanning to collect data."
Meeting regulatory requirements
The Cota system is certified to comply with radio, emissions, immunity, and RF safety standards under the EU Radio Equipment Directive and the UK Radio Equipment Regulation.
A single Cota transmitter can safely and effectively deliver power over air without any distance limitation, said Ossia.
In addition, it complies with European restrictions on hazardous substances in electrical equipment (RoHS) and product safety requirements. as well as U.K. and European Union essential requirements. This means Cota can be licensed and sold with the CE marking in Europe and the UKCA mark in the U.K.
Previously, the Cota system was only authorized for sale in the U.S., with two recent Federal Communications Commission (FCC) certifications.
"Interestingly, the U.S. has the most stringent exposure limits, so we didn't have to modify the hardware," Zeine recalled. "We did the same testing for the EU applications, and the EU has some format differences for submissions."
How long did the certification process take? "We started this late last year, and it took about nine months," said Zeine. "The EU has been good about supporting and providing information."
Applications
Cota Real Wireless Power is currently being deployed in multiple customer applications, including as an asset tracker for the logistics and transportation industry in the U.S.
Ossia's customers include Toyota subsidiaries, Foxconn, building infrastructure firm Saint-Gobain, and Walmart. The company said wireless power devices based on its EU and U.K. certifications will be available through its commercial partners.
About the Author
Eugene Demaitre
Eugene Demaitre is editorial director of Robotics 24/7. Prior to joining Peerless Media, he was a senior editor at Robotics Business Review and The Robot Report. Demaitre has also worked for BNA (now part of Bloomberg), Computerworld, and TechTarget. He has participated in numerous robotics-related webinars, podcasts, and events worldwide. Follow Eugene:
Follow Robotics 24/7 on Facebook
Article topics
Email Sign Up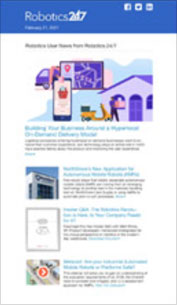 Get news, papers, media and research delivered
Stay up-to-date with news and resources you need to do your job. Research industry trends, compare companies and get market intelligence every week with Robotics 24/7. Subscribe to our robotics user email newsletter and we'll keep you informed and up-to-date.
Ossia