At CES 2023 last week, Ossia Inc. announced the launch of the Cota Universal Base, which will also come to market as an ARCHOS video camera base. The wireless power system can be white-labeled and work with many types of electronic devices, said the Redmond, Wash.-based company.
"Cota is unique in that it automatically sends wireless power over the air safely and reliably, even with people in the room or on the move," said Doug Stovall, CEO at Ossia.
"Ossia works with companies to license the Cota technology and complete rapid integrations, like this one, which helps expedite time to market," he added. "The Cota Universal Base is a springboard for organizations that wish to cut the cord on plug-in charging pads and surfaces and move to 'Real Wireless Power.'"
Ossia said its patented Cota delivers targeted energy to devices at a distance, without the need for line of sight. The company said its smart antenna technology can automatically keep multiple devices charged without any user intervention, enabling "an efficient and truly wire-free, powered-up world that is always on and always connected."
Cota provides wireless charging option for future devices
The Cota Universal Base is the first of its kind, claimed Ossia. It has been helping manufacturers build products based on the Federal Communications Commission-approved technology. Such wirelessly powered products will enable a transition away from traditional battery-operated or plug-in charging options, the company said.
The turnkey Cota system includes a Cota Home node, which customers can discreetly place anywhere in a home or building. It also includes a wire-free Cota Universal Base that receives power from the Cota Home in its vicinity.
An Internet of Things (IoT) device can easily be connected into the Cota Universal Base to receive power, reducing development efforts and decreasing time to market, said Ossia.
With Cota Real Wireless Power integrated into devices and the newly introduced Cota Universal Base, people have the freedom to charge wherever they are and not be tethered to a plug, said the company.
"Wirelessly powered devices lead to fewer cords and electrical outlets, less building expenses, improved employee and home safety, decreased dependence on batteries, and unmeasurable convenience and efficiency," it said.
Wireless charging with Cota can be added to both existing and new products, including robots and wearables, Ossia noted. All components can be white-labled with the customer's branding.
In addition to the Cota Universal Base, Ossia offers the Cota Power Table, the Cota Asset Tracker, and the Cota Power Station.
Cota Dev Kit also released
Ossia also released its next-generation Cota 5.8GHz Dev Kit, which it said will allow organizations to evaluate the smaller size and increased power capabilities of Cota using the 5.8GHz ISM radio frequency in comparison with Cota 2.4GHz.
The first-generation Cota 5.8GHz has been in operation since 2020, but Ossia said it developed the new system for commercial scalability. The new Cota 5.8GHz Dev Kit and Reference Design Kit include everything organizations need to evaluate the technology and understand how best to integrate it into their own products, the company added.
Many different devices use Cota 2.4GHz, including asset trackers, universal bases, electronic shelf labels, cordless power tables, and more. Just like Cota 2.4GHz, Cota 5.8GHz delivers power over the air, at a distance, without wires or charging pads. The radio frequency (RF) system does not require line of sight and continues to deliver power without interruption even when the transmitter is around a corner or in another room or when the receiving device is on the move.
"Different devices need different levels of power. Cota 2.4GHz is excellent for many applications, while Cota 5.8GHz greatly expands our partners' potential use cases," said Stovall. "We're hearing from customers that they want power delivered over air — automatically, continuously, and reliably — to small, lightweight IoT devices that are on the move."
"They don't want to have to rely on employees to manage chargers, plugging in, or battery swaps," he said. "Cota 5.8GHz solves for these problems and more. It's exactly what they've been waiting for."
The waitlist for the Cota 5.8GHz Dev Kit is available now. The developer kits will ship in early 2023. After the evaluation period, Ossia is offering select pricing to Dev Kit customers to expedite speed to market.
Ossia partnership to offer ePaper RFID tags
Also in Las Vegas, Ossia announced that it has partnered with Marubun and Fujitsu Semiconductor Memory Solution (FSM) to open new market opportunities in the form of ePaper RFID tags.
Marubun said it has experience in the electronics space and introducing innovative technologies in Japan and beyond. Ossia and Marubun have been jointly developing a wirelessly powered IoT sensor receiver that can be embedded within a wide variety of electronic devices.
"It simply makes good business sense to leverage wireless power for IoT that comes in the many hundreds of thousands, like ESLs and RFIDs," said Satoshi Fujino, senior vice president at Marubun. "Wires and batteries are so limiting that these two devices have been held back from widespread innovation, not to mention adoption. Cota Real Wireless Power makes ESLs and RFIDs truly viable and useful, and opens the door to expand on use cases."
FSM offers memory systems primarily on Ferroelectric Random Access Memories (FeRAM). Among these products is a batteryless product using RFID technology.
"We are driven to build new possibilities for a more sustainable world by connecting people, technology, and ideas," stated Kohji Nozoe, director of the Solution Business Department at FSM. "Ossia's wireless power technology is world changing. It is transforming the way engineers — and business leaders — are thinking about IoT and sustainability. We anticipate that this collaboration with Marubun and Ossia will spark many ideas and conversations at CES this year."
"Ossia is pushing the boundaries of wireless power, and this strategic partnership enables us to power the future—sustainably, practically, and seamlessly—of digital shelf labels and asset tracking systems like smart barcodes, today," said Ossia CEO Stovall.
"Marubun and FSM are forward-thinking innovators with whom we are honored to be collaborating, he said. "With this announcement at CES, we encourage more leaders who wish to change the status quo to explore and discuss the ways wireless power can help solve world problems."
Ossia added: "Cota Real Wireless Power can deliver focused energy over air to hundreds of RFID tags, asset-tracking systems, and shelf labels simultaneously and automatically, without user intervention, maintenance, batteries, or wiring."
"It can be safely used around people and pets and can be remotely managed via the cloud," stated the company. "Due to its continuous 'energy on demand' system, it relieves product engineers of the feature limitations that batteries impose (to extend battery life) and provides the opportunity for the development of more useful innovations, including expanded and deeper data insights."
Cota Real Wireless power has regulatory approved to be used at any distance in more than 62 countries, said Ossia.
CES again recognizes Ossia for innovation
The ARCHOS Cota Wireless Power Security Camera, which uses the Cota Universal Base, received the 2023 CES Award in the Smart Home category. Cota Real Wireless Power was first demonstrated at CES 2013, and this is Ossia's sixth CES Innovation Award.
"ARCHOS is a trailblazer, and we're proud that they've chosen Ossia as their wireless power technology provider," said Hatem Zeine, founder, president, and chief technology officer of Ossia. "The ARCHOS Cota Wireless Power Security Camera is not only the first wirelessly powered camera on the market, but it's also the first consumer device commercially available wirelessly powered device at a distance."
"For those companies that were waiting to take the plunge until someone else successfully launched, that time is now," he said. "Forward-thinking device manufacturers are quickly seeing the benefits of Cota and discovering how quickly they can bring their own wirelessly powered products to market ... and to their customers."
The Cota Universal Base is designed to fast-track a manufacturer's wireless power integration and go-to-market strategy, said Ossia. Pre-orders for the Cota Universal Base will be available late in the first quarter of 2023, and the company said it expects to ship the kits in the fourth quarter.
Article topics
Email Sign Up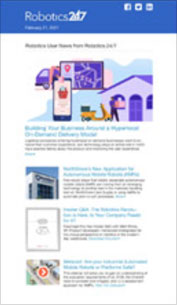 Get news, papers, media and research delivered
Stay up-to-date with news and resources you need to do your job. Research industry trends, compare companies and get market intelligence every week with Robotics 24/7. Subscribe to our robotics user email newsletter and we'll keep you informed and up-to-date.
Ossia