Autonomous mobile robots, or AMRs, can optimize the transport of materials and overall logistics in existing facilities, according to Omron Automation. AMRs can navigate autonomously, adapt to changing environments, and safely perform a range of physical tasks that are challenging for humans, said Omron.
The successful introduction of autonomous mobile robots into ongoing operations requires careful consideration of existing conditions and factors, the company said. Omron described seven top things to consider:
1. Analyze the facility's physical space.
The first step to successfully integrate AMRs into existing workflows is to thoroughly analyze the physical space within a warehouse, factory, or distribution center. Meticulously evaluate your plant layout.
Identify and map areas such as wide corridors and open spaces that can become optimal travel paths, as well as potential obstacles to movement.
The goal is to identify the paths that are easiest for robots to navigate for the most efficient materials movement.
2. Examine floor conditions, and correct problem areas.
You should identify and repair surface irregularities, cracks, sudden elevation changes, loose tiles, and surface imperfections that could hinder AMR movement. The condition and suitability of flooring is critical for AMRs, which typically perform best on flat, even surfaces.
3. Evaluate environmental factors that can affect autonomous navigation.
Environmental conditions within a facility may impact AMR performance. Evaluate factors such as temperature, humidity, and lighting, as well as the presence of dust, debris, and hazardous materials. It is important to select AMRs that can operate well in these conditions.
Some AMRs may require additional protection or customization to handle extreme temperatures or challenging environmental factors. By considering the environment, organizations can ensure optimal AMR performance and longevity.
4. Ensure proper obstacle detection and awareness of robot surroundings.
A critical aspect of successful AMR implementation is the robot's ability to detect its surroundings and navigate safely. Evaluate the work area to minimize or eliminate situations where the AMR may encounter challenges, such as intersections or blind spots.
Make sure that a particular robot model has the best combination of sensors and perception to effectively detect and move around obstacles. By optimizing the work area and equipping the AMR with robust navigation capabilities, organizations can look forward to smooth and collision-free operations.
5. Optimize integration with infrastructure.
Evaluate how well AMRs can integrate with existing infrastructure and systems within the facility. Assess compatibility with charging stations, Wi-Fi or network connectivity, and access to power outlets.
Integration with software such as inventory or warehouse management systems (WMS) allows for efficient data exchange, real-time monitoring, and centralized control. Facilitating the flow of information can help with optimizing robots and entire warehouse operations.
6. Promote task customization and flexibility.
Consider the ability of AMRs to adapt to different tasks and workflows within the facility. Evaluate whether the robots can be easily programmed, reconfigured, or equipped with additional tools or attachments for specific tasks.
Flexibility in task customization enables AMRs to handle a wide range of logistics operations, such as materials handling, inventory management, or collaborative tasks alongside human workers. By leveraging the flexibility of AMRs, organizations can achieve enhanced operational efficiency and agility.
7. Focus on the availability and scheduling of maintenance and support.
Maintenance requirements and reliable support are crucial for the sustainable operation of AMRs. Assess the availability of technical support from the vendor and the ease of performing routine maintenance tasks.
Regular maintenance, repairs, and software updates are essential to keep the AMRs functioning optimally. Accessible maintenance services and responsive support should ensure minimal downtime and promote reliable operation.
By carefully considering and addressing these key implementation considerations, organizations can successfully integrate AMR into their facilities, asserted Omron.

About Omron Automation
Hoffman Estates, Ill.-based Omron Automation creates, sells, and services systems including sensing, control, safety, vision, motion, robotics, and more. Established in 1933, parent company Omron Corp.'s 30,000 employees help businesses solve problems with creativity in more than 110 countries.
Article topics
Email Sign Up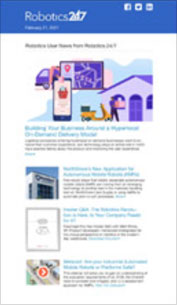 Get news, papers, media and research delivered
Stay up-to-date with news and resources you need to do your job. Research industry trends, compare companies and get market intelligence every week with Robotics 24/7. Subscribe to our robotics user email newsletter and we'll keep you informed and up-to-date.
Omron