With ProMat behind us and Automate coming up, not to mention numerous other trade shows and conferences so far this year, now is a good time to assess current robotics trends. From venture capital constraints to ChatGPT, Dr. Bernard Casse, founder and CEO of RIOS Intelligent Machines Inc., has experience and first-hand observations from recent events.
RIOS said it is leading the charge in re-industrializing America and transforming aging industries into the smart factories of the future powered by robotics and artificial intelligence. The Menlo Park, Calif.-based company both exhibited and presented at ProMat 2023.
Dr. Casse shared with Robotics 24/7 a compelling vision of a future where robotics and automation are the driving forces of economic progress, even amid economic limitations. He emphasized the transformative power of AI, the promise of reindustrialization through smart factories, and the significant role of robotics in addressing labor shortages.
The conversation illuminated the spirit of innovation at RIOS and its commitment to steering the industrial revolution of the future. Dr. Casse challenged preconceptions and promoted a forward-thinking perspective on the role of robotics in our economy and society.
Robotics firms hope to solve lucrative problems
What trends or themes have you noticed at ProMat and other recent events?
Casse: Several companies are trying to figure out robotic trailer unloading – including Boston Dynamics, Dextrous Robotics, Mujin, and Pickle. It's a hard problem, but it's a multi-billion-dollar business if you can solve it.
Boston Dynamics' recent deal with DHL shows there's money to be made.
Another trend is multi-fleet robot orchestration. We've noticed the rise of autonomous mobile robots in warehouses, so now everyone is focusing on how to control their fleets instead of a single AMR.
A bunch of companies is developing software to control fleets of AMRs where each has a different function, such as CoEvolution, InOrbit, GreyOrange, Locus Robotics, and SVT Robotics.
With a well-implemented multi-fleet orchestration system, one can gather a wealth of data, leading to predictive insights about work completion, tracking, analysis, and data visualization. This data serves as an excellent source of business intelligence, providing customers with valuable insights and better decision-making tools.
Capital constraints should lead to discipline
What do you think the failure of Silicon Valley Bank and the decline in venture capital (VC) funding for early-stage high-tech companies mean for robotics?
Casse: The decline in VC funding for early-stage high-tech companies, coupled with the failure of Silicon Valley Bank, certainly affects the robotics landscape. Poor public market performance reduces VC investments as limited partnerships demand greater investment discipline, pushing VCs toward "sure bets."
In the current climate, VCs are cautious, particularly with the looming threat of a recession and a limited capital pool. Consequently, robotics startups are often compelled to accept any funding available to stay afloat. Most startups are actively seeking funding to navigate challenging times and build resilience, while investors have set the bar higher for them to prove themselves.
This situation creates a challenging cycle. The raised expectations by investors require startups to invest more time and resources to meet and exceed these standards. As they endeavor to prove their worth and potential, they need to secure more funds to ensure sufficient operational runway.
Thus, in the current economic landscape, exceeding investor expectations and securing adequate funding have become crucial survival factors for startups.
We've seen struggles among AMR providers, such as 6 River Systems, as well as numerous strategic partnerships. Is more market consolidation coming?
Casse: I foresee substantial consolidation in the market, with companies increasingly combining technologies. The earlier "growth at all costs" model is transitioning towards a focus on profitability metrics such as revenue per employee, a much more stringent measure.
Companies need to streamline costs, increase sales with better profit margins, and pay closer attention to economic indicators. Consolidation appears to be a sensible move, as it allows for the marketing of complementary technologies to boost sales. The landscape is evolving from aggressive expansion to sustainable growth.
RIOS raised Series A funding last year. How is the company doing amid these economic challenges?
Casse: Despite the economic challenges, RIOS is in a strong position. We're actively pursuing and securing larger contracts, a shift from our earlier focus on early adopters and modest-scale deployments.
The current economic environment necessitates a certain level of discipline. Emphasis on profitability metrics drives us to target larger-scale contracts and focus on scale, which matters most. Overall, we're navigating these challenges effectively and strategically.
We've all heard that demand for automation is stronger than ever, motivated by labor shortages and turnover.
Casse: Indeed, while demand for automation is high, some companies may be hesitant due to perceived risks associated with implementing automation. They might worry about potential failures or breakdowns, particularly if they've been relying on human labor for a long time.
Their primary concern often revolves around "What if it doesn't work, or the automation system breaks down? What if a production line that's been running smoothly with human operators for years fails?" As companies gain more confidence in handling these concerns, we'll likely see an even greater surge in automation adoption.
AI advances to make robots handier
How important are developments in AI and machine learning for robotics?
Casse: It's important because AI enables robots to have superior capabilities. Firstly, computer vision essentially acts as the eyes of a robot, enabling it to learn and recognize objects, compute their orientation in space, and determine their grasp points.
Secondly, AI aids in decision-making, especially in dealing with corner or edge cases.
In addition, we're leveraging AI for quality control, specifically through AI-powered vision. This allows us to detect inconsistencies early and reduce waste and rework, resulting in efficiency gains and cost savings.
Lastly, our customers are increasingly seeking business intelligence from our robots to gain total factory intelligence. AI enables us to synthesize and analyze the vast amount of data we collect from sensors, providing insights into process issues. This data helps customers optimize their production lines and adapt to shifting customer demand in real time.
So, AI isn't just improving robotics; it's also significantly enhancing the value these robots bring to business operations.
Can you give some examples?
Casse: Let's look at two examples. In one workcell, a robot is able to recognize containers of hand sanitizer, provide pose information, compute their grasp points, and grasp the items with precision [see video below]. The AI also deals with edge cases.
In a different scenario, we implemented AI-powered vision quality-control solution to inspect eggrolls on a production line, identifying and removing defective ones. By complementing this process with robotics, the customer is now saving a lot of money annually.
Furthermore, this automated process allows the company to recycle the meat from the defective eggrolls, adding a layer of efficiency and waste reduction.
These are just a couple of ways in which we're applying AI and robotics to real-world production scenarios.
ChatGPT promises to transform various fields. Can you envisage a similar concept being developed to streamline and enhance operations in robotics?
Casse: Absolutely, envisioning a technology akin to ChatGPT for the field of robotics and automation is not only feasible, but it also holds tremendous promise.
At RIOS, we've been successfully utilizing generative AI for several years now—our algorithms were creating synthetic data to enable the robot to precisely manipulate objects. Generative AI played a pivotal role in the creation of our precision handling platform, which is now operational with our customers.
Let's talk about something interesting—consider Intrinsic's product announcement, for instance. It introduced Flowstate, a Web-based, intuitive developer experience designed to facilitate the transition of robot design, from conceptualization to deployment. This is an excellent concept and aligns closely with some of our generative AI work at RIOS.
Now, I'll let you in on a bit of a teaser: We've been assembling the components of an architecture rooted in generative AI that we believe surpasses the capabilities of Flowstate in terms of power and flexibility. We're enthusiastic about its potential and eagerly await the opportunity to reveal this cutting-edge development when the time is right.
RIOS looks ahead
How important are sustainability and environmental, social, and governance (ESG) directives?
Casse: Sustainability and ESG directives hold immense importance in today's world. However, it's fair to say that people don't typically gravitate towards such changes unless driven by specific factors. In response to this, regions like Europe and California are enacting more stringent ESG regulations.
Aside from public image considerations, there are substantial economic reasons to minimize waste and rework. Enhancing the overall efficiency of assembly lines is a compelling motivation for businesses. Thus, sustainability and ESG directives are not only ethical and regulatory imperatives, but they also have a significant impact on operational efficiency and profitability.
Humanoid robots and AI have been in the news lately, including Tesla's Optimus, Agility Robotics' Digit, and Figure AI's 01. What do you think of them?
Casse: Humanoid robots are fascinating and have a certain appeal due to their anthropomorphic—human-like—features. They represent our vision of the future.
However, they are way more challenging to build than most people realize, and I believe it will take at least a decade and a billions of dollars in investment to make them truly useful in a production environment.
A good comparison is the autonomous driving industry. Consider Cruise, which needed to raise over $15 billion to bring a self-driving car to the level it is today. We should anticipate similar investment levels and effort for humanoid robots.
Just for perspective, companies are currently spending 10 times more than RIOS simply to make these humanoids walk. In contrast, we're spending significantly less, and our robots are already delivering in production environments.
This doesn't mean we should halt investment in humanoids, but it does indicate that we should be prepared to deploy patient capital and that the path to functional, cost-effective humanoid robots is likely to be a long one.
What's new at RIOS?
Casse: There's always something exciting happening at RIOS, but I can't delve too deeply now. However, I can share some of the thrilling developments we're working on.
Firstly, we're about to release the first robotic solution for a new market that's currently underserved and incredibly lucrative, plagued with severe labor shortages. This innovation is set to make a significant difference.
Secondly, we're taking AI-powered vision quality control to unprecedented heights. Our focus is not just on defect detection, but also on monitoring human operations on the line. We're identifying bottlenecks, streamlining workflows, and optimizing resource allocation. With our "AI Insight Engine," companies are gaining unparalleled factory intelligence.
Further, we're developing one of the most extensive digital twin infrastructures around NVIDIA's Omniverse. This infrastructure will provide a realistic, scalable, and flexible environment for testing and improving robotic systems in realistic environments.
Finally, we're constructing new tools for designing the smart factory of the future. We're envisioning a world where robotics and automation are seamlessly integrated, optimizing productivity and minimizing waste.
So, stay tuned for some truly groundbreaking developments from RIOS.
It sounds like you're still optimistic about industrial automation.
Casse: Absolutely, my optimism for industrial automation remains unwavering. We're currently standing on the cusp of a significant transformation, the advent of a new era where automation and robotics will reshape the dynamics of our society and economy over the next decade.
This impending shift is a product of rapidly advancing technology, evolving workforce demographics, and a pronounced labor shortage that is compelling us to reevaluate traditional industries and roles. At RIOS, we're well-positioned at the forefront of this transformation.
Our workforce demographic is changing rapidly. The baby boomer generation is aging and retiring, creating a significant labor shortage. Meanwhile, younger generations are more attracted to technology-driven jobs, leading to a lack of interest and skill set in traditional industries. This change has created a significant challenge, as well as an opportunity.
This is where the concept of reindustrialization comes into play. We are not talking about simply reviving old industries in their original form. Instead, we are looking at transforming these aging industries into smart factories of the future, factories that leverage robotics, automation, and AI to increase efficiencies, reduce costs, and unlock opportunities to create a brighter future for American productivity.
About the Author
Eugene Demaitre
Eugene Demaitre is editorial director of Robotics 24/7. Prior to joining Peerless Media, he was a senior editor at Robotics Business Review and The Robot Report. Demaitre has also worked for BNA (now part of Bloomberg), Computerworld, and TechTarget. He has participated in numerous robotics-related webinars, podcasts, and events worldwide. Follow Eugene:
Follow Robotics 24/7 on Facebook
Article topics
Email Sign Up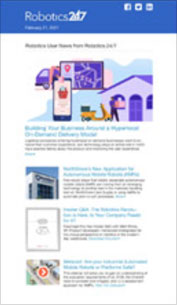 Get news, papers, media and research delivered
Stay up-to-date with news and resources you need to do your job. Research industry trends, compare companies and get market intelligence every week with Robotics 24/7. Subscribe to our robotics user email newsletter and we'll keep you informed and up-to-date.
RIOS