While robots proliferate in factories and warehouses, threshold environments such as loading docks remain challenging for both humans and automation. Dextrous Robotics Inc. this month said its DX-1 robot can load and unload packages from shipping containers and semi trailers up to four times faster than manual workflows.
"This is a big milestone, as the technical risk is no longer a problem," said Evan Drumwright, founder and CEO of Dextrous Robotics. "We've gotten the robot to work robustly and superfast, and we're excited to show it off."
He has been in the robotics industry for 20 years. Drumwright worked with the humanoid robot Asimo while at Honda Research Institute. Drumwright was a university professor and then a senior research scientist at the Toyota Research Institute.
Drumwright has been granted three patents and has co-authored over 40 research articles on robotics with experts from institutions including MIT, Cornell University, and the University of Michigan. Backed by multiple venture capital firms, Dextrous Robotics received a competitive grant from the National Science Foundation in 2021.
Dextrous Robotics designs for precision
The job of loading and unloading trucks is one of the most challenging to fill in the logistics industry, according to Dextrous Robotics. Trailers can reach extreme temperatures depending on the season, and heavy packages stacked up to 9 ft. high regularly fall on workers.
In addition, the repetitive and non-ergonomic lifting of items can put strain even on healthy people, said the Memphis, Tenn.-based company. Dextrous Robotics was inspired by chopsticks and pool cues, but it had to master the physics as its scaled up, said Drumwright.
Humans don't typically know how much a box weighs when they pick it up, and Dextrous Robotics took a similar bio-inspired approach, he told Robotics 24/7.
"We have an estimation process and a control policy that can adjust as necessary based on what we've sensed," Drumwright said. "Humans don't have as much control over chopsticks as we do, with five degrees of freedom."
"The key is to do both compliance and rigidity and have the intelligence in the mechanics so you need less in the control system," he explained. "We went from a first prototype based on off-the-shelf technology to being able to manipulate many different sizes, shapes, and materials that we had targeted from the beginning."
"There's a tremendous need in warehouse and logistics environments, so we designed a robot that could manipulate packages without damaging them or the containers," Drumwright added. "Liability is a big concern."
How much did the DX-1's design change between the first and second prototypes?
"Not much," Drumwright said. "What we're sending out to customers early next year is a pre-production robot. Its form factor, morphology, and sensor suite needed only small design modifications."
"For example, we made the arms more stiff to increase speed," he said. "We also made design changes for maintainability and ease of assembly."
Supply chain poses less challenge than safety
Trade conflicts, the COVID-19 pandemic, and recent geopolitical problems have affected parts availability, but Dextrous Robotics was able to work around it, said Drumwright.
"While some suppliers said it would take 40 weeks to get a part, it just entailed us to pay attention to longer lead times," he said. "That was an issue on a vanshingly small number of components—such as communications and some electronics, but nothing on the processor level."
"With the team we put together, we can always design around it," Drumwright said. "Off-the-shelf robots are great at doing a range of things suboptimally. Using a general-purpose robot arm for packages is great if you know the environment can be sensed to extreme precision, but if it's running into a truck, strength is no longer an asset but is dangerous to packages and people."
Dextrous Robotics has hardware and software to ensure safety, and the company has steadily iterated to keep its code base "healthy," said Drumwright.
DX-1 can swiftly handle a wide range of items
The DX-1's arms can pick and place a variety of packages accurately. Occupying a 7 ft. by 7 ft. by 7 ft. cubic space, the robot can move into a trailer or container, according to Dextrous Robotics.
"Robots have to be competitively priced versus labor, if warehouses can even find the labor," said Drumwright. "We built a specialized robot that is capable of moving as fast as a person. Research around giving robots that level of dexterity has largely been in reactive manipulation, but we're pushing hard for real-time manipulation."
Custom sensors enable the DX-1 to detect and move each package precisely, Dextrous Robotics said. The robot can pick 2,000 parcels an hour, and it can manipulate items as small as a sugar cube and as large as an armchair, the company claimed.
Is there a "sweet spot" for parcel sizes that the DX-1 can handle?
"There is a range—with 100 lb., the robot would move more slowly," Drumwright replied. "We designed it to do everything within an expected range of package-handling requirements. Most manipulators can't handle more than 40 lb., and workers wouldn't handle something the size of an armchair by themselves."
"We can also get a lot of data about the packages themselves, such as size, shape, weight," he added. "The DX-1 isn't just inhaling everything out of a trailer. We're very aware of the tradeoffs between safety and precision and have optimized our robot for them."
Mobile manipulation for loading just getting started
Other robots for unloading trucks include Honeywell Intelligrated's Robotic Unloader and Articulated Arm Loader/Unloader and Boston Dynamics' Stretch.
"My opinions is that we have the best approach, but Honeywell's system is impressive," acknowledged Drumwright. "The suction approach has been tried for 15 years, and it's hard to pick up a box from the top or a single side."
"It's a huge market out there, and Boston Dynamics can find a subset of it," he continued. "At MODEX, Stretch was operating fairly continuously, and I didn't see it drop anything, unlike every other company, which doesn't even know if something was dropped. We've had 1,000 demonstrations, and if our robot dropped something, it's intelligent enough to stop and pick it up."
"The eventual solution will be manipulation-based and speedy," Drumwright asserted. "We haven't seen another piece of technology that can pick variations in size, weight, and materials. It's backbreaking labor in an industrial environment. We're not just building a gadget but something to make people's lives better."
About the Author
Eugene Demaitre
Eugene Demaitre is editorial director of Robotics 24/7. Prior to joining Peerless Media, he was a senior editor at Robotics Business Review and The Robot Report. Demaitre has also worked for BNA (now part of Bloomberg), Computerworld, and TechTarget. He has participated in numerous robotics-related webinars, podcasts, and events worldwide. Follow Eugene:
Follow Robotics 24/7 on Facebook
Article topics
Email Sign Up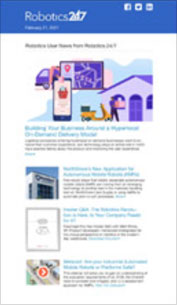 Get news, papers, media and research delivered
Stay up-to-date with news and resources you need to do your job. Research industry trends, compare companies and get market intelligence every week with Robotics 24/7. Subscribe to our robotics user email newsletter and we'll keep you informed and up-to-date.
Dextrous Robotics