As more warehouses and distribution centers add robots to keep up with e-commerce demand and compensate for staffing turnover and shortages, new challenges have arisen. Who should manage them, how will they communicate with enterprise systems and one another, and what happens when people and robots from different vendors must collaborate?
Many autonomous mobile robot (AMR) makers now offer software and remote operations centers to manage warehouse fleets. As robots become more specialized, the ability to effectively deploy them is becoming a greater differentiator than the hardware.
"When people think about self-driving vehicles or robots moving something from Point A to Point B, just about any technology will do, but it has to fit into the whole facility and the whole enterprise," said Daniel Theobald, founder and CEO of Vecna Robotics, whose Pivotal muilti-agent AI is designed to orchestrate multiple systems. "Robots need to be able to respond in real time to workflow changes. If the entire system is not reactive, you're leaving tremendous value on the table."
Instances of various types of robots from multiple vendors are still relatively rare—most simply hand off goods or materials to one another rather than truly coexist on the same floor. Still, several third-party competitors are starting to offer software and services to relieve operators of the complexity of managing such mixed environments.
In addition, major robotics users such as FedEx are encouraging the development of standards and have joined organizations working on different aspects of the interoperability challenge.
Robotics 24/7 spoke with several leading companies about increasing recognition of the need for interoperability, the growth of third-party solutions, and efforts to standardize how warehouse robots are managed.
Awareness of the need
Many users are just beginning to understand the concept of scaling robotic fleets, noted Florian Pestoni, CEO of robot operations service provider InOrbit. "It's a sign of where the industry is," he said. "Few companies are thinking in terms of orchestration. It's still about building a robot that does something, not about running thousands of robots at once."
"There are tremendous opportunities for improvement by combining artificial intelligence and the cloud with robots," Pestoni said. "At the end of the day, customers want two things: the ability to get all the data and make sense of it, and the ability to make continuous improvements, such as optimizing when a robot stops picking and goes to recharge."
"Enterprises face two key challenges—optimization and competitive threats," said David Inggs, co-founder and CEO of Rocos, which provides a cloud-based platform for managing robot operations. "Proofs of concept aren't about the robot or our platform as much as customers learning what they need to do in terms of software and automating physical processes. 2020 was the year of early adopters learning through trials; 2021 is the year that people scale from 10 to 20 robots to hundreds or thousands."
"Humans are great at local optimization—we know which pallet to pick first—but they're terrible at systemwide optimization," Theobald said. "Pivotal doesn't care about what kind of work is being done, and it knows the capabilities of each agent. It can assign tasks to a robot or a manual forklift."
"Many in industry talk about wanting to expand applications of robots, but they've been put off by interoperability issues or how to combine robots from different vendors," said Aldus von der Burg, founder and CEO of Meili Robots. "They don't want to juggle between three fleet management systems."
"How good is the software from the robot manufacturer?" he asked. "Can it do all the operations you need? Omron has one of the best, but once you introduce another robot into a space, it matters if they can't communicate."
Reducing complexity
"Challenges in today's distribution centers include moving items from the loading bay on a pallet mover to tote carriers in another section of a warehouse," said Pestoni. "Whether it's with the same or different vendors, it adds a level of complexity."
"AMR providers have a lot to learn from manufacturing," he added. "Factories used to be very rigid, highly structured environments. You'd build a factory around a production line. Now, things are changing fast, and you need to be more adaptable. We're now looking at daily versus annual improvements."
Complexity and vendor lock-in are concerns for many warehouse operators, said von der Burg. User feedback has been varied, he acknowledged.
"The C level wants to bring down costs and increase production, but floor managers want to minimize the disruptions caused by new technology," he said. "Analytics for tasks and productivity can be overwhelming. How can we reassure them? Our back end is advanced, but our user interface is simpler."
"Some systems are fantastic, but non-technical people need to use them," von der Burg said. "For example, Freedom Robotics has insane analytics, but most warehouse managers don't care about that level of detail. Meili FMS provides not just controls but also an overview of performance of robots in different areas."
The Meili Fleet Management System (FMS) includes features for autonomous task allocation, data analytics, and map optimization.
"We talk about mean time to resolution and autonomy excceptions, but the secret is melding AI and people and getting the robot back to doing its thing," said InOrbit's Pestoni. "I can be notified on my phone that a cleaning robot on the other side of an airport finds a spill and doesn't know what to do. But if I can get help remotely from someone close to it or from a systems operation center, then the minimal time spent is not a bad thing."
Why third-party software makes sense
In addition, most warehouse managers don't know what they're looking for in automation, and competition can cause confusion, according to von der Burg. "They don't really like the robotics manufacturers' fleet management systems," he asserted. "They're supposed to be flexible, but they're restricting operators from using robots to full capacity."
"One customer didn't integrate to their WMS [warehouse management system] because it was too complicated and costly," von der Burg said. "They chose to limit themselves to 30% capability—they're not using automated mission control and took shortcuts. Instead of localization for trucks on screen, they put bells at intersections."
"The mobile robot makers don't always sell their own software, so there's the fear that the installers aren't doing it to the vendor's standard," he claimed. "The robot manufacturers say, 'We want to sell more robots,' so they see us as a complementary solution."
"Business processes are unique to an organization, so if you define jobs to be done in someone else's software, you're locked in," said Rocos' Inggs. "By abstracting a mission or a job, we can call a Boston Dynamics robot for agility and then refer to a Clearpath one for endurance. We provide a translation layer to specific form factors."
"I'm not sure how third parties will play out," said Theobald. "It's pretty clear that operations centers are key for any modern warehouse. Who ends up running them will be a mix. Big 3PLs [third-party logistics providers] will run their own. Some will try to build their own software, and we'll see a lot of cloud-based services. Everybody used to have their own data centers, but that's now out on the cloud."
Simulation to reality
"We want to enable operations like sending a Fetch robot to a human," said Meili's von der Burg. "We try to simulate the same behavior with integration to autonomous task allocation, but we don't yet limit to a specific robot type. We could create the same simulation for robot-to-human picking operations."
"What are the processes to be automated?" asked Inggs. "As we scan environments and create digital twins, we can build the digital infrastructure and solve the networking problems and manipulation challenges."
"Since we can't expect robots to be online 100% of the time, we have to provide missions and be prepared for exceptions," he added. "The architecture has to be very distributed, between the server, the edge, or on the device. With IoT [the Internet of Things] and the cloud, we're getting to the point where it has to be quite fluid."
Agriculture, mining, and delivery robots are other areas where fleet management software and services will eventually be needed, argeed the industry experts.
"Orchestration software is essential where you have dynamic environments, such as 3PLs, medical device distributors, or in big manufacturing plants," said Theobald.
Heterogeneous environments
"It's still early. One of the biggest examples so far is FedEx," said Meili's von der Burg. "There are a few companies that have tried fleets from multiple vendors. A pharmaceuticals firm was using AGVs [automated guided vehicles] for a while and tried to mix AGVs and AMRs."
"In Denmark, hospitals are diversifying their fleets," he added. "For example, one is using AGVs for laundry or heavier items in hallways, and it is using MiR100s or MiR250s to deliver supplies to rooms. It's now thinking of using more robots for disinfection or automated beds."
"I think the market will get bigger when it comes to robotics applications on the street, like street cleaners, parcel deliveries, and some autonomous vehicles," said von der Burg.
"Businesses are beginning to realize that rather than wait for one vendor to do it all, they can get best-in-class systems for inventory, floor scrubbing, or materials handling," said InOrbit's Pestoni. "You get very quickly from one vendor and one task to multiple tasks and robots."
"We already have multiple robots, including tuggers, pallet trucks, and counterbalanced forklifts," said Vecna's Theobald.
"It doesn't make sense for each robot manufacturer to integrate or for each WMS or WES [warehouse execution system] vendor to be expert in every robot," Pestoni said. "We provide a thin orchestration layer in the cloud, and the system knows what needs to be done. It uses an API [application programming interface] and calls on whatever robot is best for the task. You don't want a floor scrubber in the way of pallet movers in a loading bay."
"Every organization has to make its bets," Rocos' Inggs said. "Automated warehouses are part of a wider food chain, ranging from autonomous trucks for the container yard all the way through pick and place off conveyor belts. It's an end-to-end journey. We're starting to see bespoke applications in addition to one-stop shop systems integrators."
Other companies working on robot interoperability include Formant, Körber Supply Chain, SVT Robotics, and Waypoint Robotics.
Standards efforts
Improving the ability of different robots to communicate is the focus of working groups at the Association for Advancing Automation (A3), the Advanced Robotics for Manufacturing (ARM) Institute, and others.
"Interoperability is important. It's a space we feel strongly about and are investing in," said Fergal Glynn, vice president of marketing at 6 River Systems Inc. "We're a member and an active participant in the Materials Handling Industry's Robotics Group, and Chris Cacioppo, our chief technology officer, is working with MassRobotics and other local companies on a specification for robots to talk to one another."
"Our goal at ROG this year is to raise awareness about the issues and a realization that buying a robot is only the start of the journey," said Pestoni, who is also co-founder of the Robot Operations Group (ROG). "To take full advantage of the technology, you need coordination of people and robots working together."
"Logistics companies just happen to use robots. This new wave of organizations—we're enablers," said Inggs. "Robotics-as-a-service [RaaS] providers are trying to get as much off the shelf as they can and assemble the smartest bits from the smartest providers."
The days of unified, easy-to-use tools for managing semi-autonomous drones, AMRs, remote-controlled trucks—and people—in a warehouse may not be here just yet, but they're coming soon.
About the Author
Eugene Demaitre
Eugene Demaitre is editorial director of Robotics 24/7. Prior to joining Peerless Media, he was a senior editor at Robotics Business Review and The Robot Report. Demaitre has also worked for BNA (now part of Bloomberg), Computerworld, and TechTarget. He has participated in numerous robotics-related webinars, podcasts, and events worldwide. Follow Eugene:
Follow Robotics 24/7 on Facebook
Article topics
Email Sign Up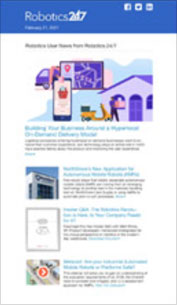 Get news, papers, media and research delivered
Stay up-to-date with news and resources you need to do your job. Research industry trends, compare companies and get market intelligence every week with Robotics 24/7. Subscribe to our robotics user email newsletter and we'll keep you informed and up-to-date.
Getty Images