BOSTON—Robotics can transform the construction industry, but the companies serving it must clearly define the applications or tasks they offer to automate, said speakers at yesterday's Robotics in Construction event. Suffolk Technologies hosted more than 100 attendees at its headquarters with MassRobotics.
"Construction is an industry ripe for adopting robotics," observed Tom Ryden, executive director of MassRobotics, in his introductory remarks. "Robots can help to improve safety and accuracy as well as provide services in areas where there are labor shortages."
MassRobotics is a nonprofit organization that provides resources to innovators and entrepreneurs to nurture robotics and automation startups, particularly in Massachusetts.
"Not all points in time are equal," said John Fish, CEO of Suffolk Technologies, the venture capital platform of Suffolk Construction and organizer of the fourth-annual BOOST accelerator program. "For the first time in the history of construction, the cost is greater than the value."
Fish noted that the industry, like many others, has a worker shortage, despite inflationary and recessionary pressures. He added that the Empire State Building was completed in 13 months, a feat that seems impossible today.
"If we don't come up with creative ways to improve productivity, the industry will slow," said Fish. "Better collection and understanding of data will ultimately lead to more accountability and productivity."
"How can we rebuild America without innovation?" he asked. "We need to work together, not as individuals, but as an industry. Robotics, artificial intelligence, and machine learning are the future of our industry."
Josh Lobel, strategic project executive for business development at Autodesk Inc., had straightforward advice for companies developing or adopting robotics: "Ask the right questions, and avoid bad ideas."
With growing populations continuing to move into cities worldwide, a declining AECO (architecture, engineering, construction, and ownership) workforce, and a need for focus on process over product innovation, the industry "can't copy and paste from other industries," he said.
Lobel said that construction will benefit from industrialization and digitization, including technologies such as augmented and virtual reality (AR/VR), digital twins, and haptics.
Robots can provide a 'single source of truth'
While construction has plenty of examples of dull, dirty, or dangerous work suitable for robots, there is a lack of standardization and focus on subcontractors, acknowledged Aidan Maguire, division manager for equipment manufacturer Hilti North America. He participated in a panel on "On-Site Challenges of Adopting New Tech" moderated by Kelsey Gauger, national director for operational excellence at Suffolk Construction.
There needs to be a "single source of truth" between CAD files and PDFs on the one hand and contractors in the field on the other, agreed Paul Foley, president of Feldman Geospatial, and Ryan Simons, chief operations officer at contractor Century Drywall Inc.
Robotics developers and adopters should first identify pain points and develop and pilot systems for an immediate return on investment (ROI), said Foley. Cost is a challenge for adoption, but subcontractors and economies of scale can help spread costs, said Maguire.
Developers should have hands-on experience, added Kevin Gill, president of sheet metal contractor McCusker & Gill Inc. "Once everyone sees how they can use your products rather than have people marking plans on their hands and knees with chalk, customers will understand the value," he said.
While older workers may be resistant to new technology, there's a "sweet spot" between young workers who are open to it and older ones with troubleshooting experience, said Maguire. Robotics suppliers and adopters should include unions in discussions, added the panelists.
Simons said he measures success by employee buy-in. He cited the example of a concept of a sheet-metal robot. "The future includes rugged and scalable robots," predicted Simons.
Investors look for practical experience
Suffolk Technologies has backed 22 companies, said Diana Swenton, vice president for venture capital at the firm, as she introduced a panel on "Investing in the Buildspace." Challenges for investors include defining robotics and finding good teams, Swenton said.
"Invest in people ... they have to want to fix a problem," said Duncan Turner, general partner at pre-seed venture capital firm SOSV.
"Frustrated founders with the ability to fix are what you want," added Oliver Mitchell, partner at ff Venture Capital. He cited the example of a startup that pivoted from servicing solar farms with drones to doing it with mobile robots.
Investors are looking for founders with a "penchant for commercialization," explained Sarah Liu, a partner at Fifth Wall. "In the past, there were too many solutions coming out of academia looking for problems," she said.
"Have you been on a construction site?" asked Alice Leung, vice president for platform and product strategy at Brick & Mortar Ventures. "[Startups,] understand your customers."
Swenton posed the question, "When is a robot not a good idea?"
"We don't need robots that can empty a dishwasher, which I can do pretty well," joked Mitchell. Startups don't need to create robots that are like humans or are like a Swiss Army Knife and can do everything," he said. "Instead, they should focus on building those that can handle specific tasks."
Simplified and specialized machines are generally better, said Turner. "You can't solve all problems just with software," he said.
"We looked at prefab, in which humans build the walls, and dark warehouses, that are completely automated," recalled Leung. "The best is somewhere in the middle with high volumes and high margins. Founders must study processes."
"Go deep with customers; it's better to get recurring revenue versus a single, [one-off] project," said Mitchell.
The gestation period for hardware might be longer than for software, said Liu, but investors will be patient if developers have a good product-market fit and are capital efficient.
There plenty of opportunities for construction robotics, despite a tightening of capital, asserted the panelists. Turner cited the emerging "green economy," as well as automating new tasks.
Mitchell noted that automation has evolved from workflows and inventory to trying to augment an operation's most skilled workers.
Although ChatGPT is getting a lot of hype, generative AI could be used to design more efficient hardware, Liu added.
Improving connections between the office and the field for quality control is another worthy goal, said Leung.
"After 20 years, we're still looking for computers that can read 2D floor plans," she said. "We're still looking for robots that can serve big pain points, and we want to see more startups partner with industry and groups like MassRobotics. Get feedback on iterations."
Startups pitch construction robotics
The event, which was sponsored by Hilti Venture and Autodesk, included five-minute pitches from construction robotics startups.
Eighty percent of companies can't find labor, and 30% fewer young people are entering the industry, said Johannes Paefgen, director of the venture partnership office of Hilti, in his introduction.
"In our perspective, construction automation is an imperative – to be safer and more productive, but also to win and retain talent in an increasingly competitive labor market," he stated. "Mastering automation is not only about robots, but also about planning, coordination, collaboration, and logistics. Contractors should rethink their processes, not just their machines."
"We estimate that 50% of construction taks can be automated," Paefgen said. He cited the company's Jaibot drilling robot and its partnership with drywall robotics provider Canvas.
Derrick Morse, founder and CEO of Rugged Robotics, pitched a robot for laying out plans on unfinished floors, eliminating the confusion of different layouts used by multiple trades. He demonstrated a four-wheel-drive robot, Houston-based Rugged's fifth iteration and its "first commercially viable platform."
The robot includes multiple sensors and can print different lines, symbols, and text to automate a task dating back to the ancient Egyptians, Morse said.
Tim Pote, co-founder and CEO of Pittsburgh-based Element Exo Inc., showed a passive, elastic exoskeleton to reduce the strain of lifting and bending. The wearable device weighed only 5.5 lb. and used a carbon-fiber spring rather than motors.
"A large supply chain management company in St. Louis approached us, and its workers had to move 65 lb. pallets up to 400 times per day," he said. "After onsite trials for four weeks, we estimated it removed 8 tons of lifting per person per day. One worker reported that the only reason they had stayed with the company was because of our exoskeleton."
Vikas Enti, a former employee of Kiva Systems and co-founder and CEO of Reframe Systems, explained how robotic "micro-factories" and modular components could make "net-zero" multifamily homes more affordable and faster to build. Eighteen percent of a car's cost is labor, while 50% of a house's cost is labor, he noted.
Somerville, Mass.-based Reframe plans to have open houses in Massachusetts later this year, said Enti.
Aerial drones were previously too large for safe indoor use, wheeled robots cannot deal with stairs, and stationary cameras have limited visibility in certain spaces, said Omar Eleryan, co-founder and CEO of Cleo Robotics, which is working with more than 60 companies and the U.S. Department of Defense.
The Boston-based startup's Dronut is compact, can operate in GPS-denied environments for lidar mapping, and can autonomously reach challenging locations.
"We see ourselves not as a drone company, but as a hardware-enabled data-capture company," Eleryan said. He also showed a video of a hybrid inspection system in development that can land and move around on wheels.
Renovate Robotics has devised a system for autonomously placing roof tiles, shingles, or solar panels. With anchor points, it uses a series of cables and winches, plus machine vision and path planning, to place roofing, explained Andy Stulc, founder and CEO of the Brooklyn, N.Y.-based company.
Renovate's robot can handle up to 85% of roofing areas, freeing human workers for more value-added tasks, as well as saving time and money, Stulc said.
About the Author
Eugene Demaitre
Eugene Demaitre is editorial director of Robotics 24/7. Prior to joining Peerless Media, he was a senior editor at Robotics Business Review and The Robot Report. Demaitre has also worked for BNA (now part of Bloomberg), Computerworld, and TechTarget. He has participated in numerous robotics-related webinars, podcasts, and events worldwide. Follow Eugene:
Follow Robotics 24/7 on Facebook
Article topics
Email Sign Up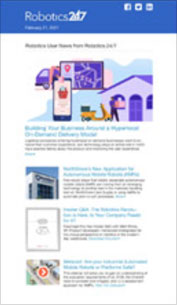 Get news, papers, media and research delivered
Stay up-to-date with news and resources you need to do your job. Research industry trends, compare companies and get market intelligence every week with Robotics 24/7. Subscribe to our robotics user email newsletter and we'll keep you informed and up-to-date.
Eugene Demaitre