As 2021 draws to a close, now is a good time to reflect on recent robotics trends, in terms of growing global demand in the face of worker shortages and supply chain challenges. It's also a time to gaze into the proverbial crystal ball to see how automation will continue to develop to serve industry needs.
Robotics 24/7 asked the following thought leaders among robotics associations, end users, and suppliers about their thoughts:
Last week, we looked back at some of the biggest trends of 2021. This week, we look at some predictions for 2022.
Ease of use, sensing to improve
What robotics capabilities do you expect to improve in the coming year?
Bieller: Two trends are expected: more ease of use and improvements in sense and respond. We will see the large robot suppliers tackle both these topics, as well as some dedicated companies developing solutions as add-ons.
There is a clear market need for easy-to-program and easy-to-teach robots. The potential of this capability to open up a variety of new applications and customers is huge. The trend will be in 2022 and far beyond.
We also see more and more use of machine learning in robotics to enable interactions with their environments. 2022 will show machine learning in commercial pick-and-place applications, for example. This will bring us gradually closer to the goal of responsive collaboration—true responsive collaboration will remain a dream in 2022.
Ryden: I believe we will see significant improvements in the ease of use and simplification of programming of robots. This will allow for greater flexibility in applications.
I am also looking forward to seeing some of the new sensors that are being developed, which will allow robots to gain a better understanding of the environments they are operating in.
Teele: We expect to see more advances in collaborative robots, more re-programming ease, and increasing use of AI.
Prather: I think we are going to see some big breakthroughs in vision and AI, which are going to lead to not only better and faster pick-and-place applications, but also opening up new use cases for mobile robots, like moving from indoor environments to outdoor environments.
Glynn: AMRs are going to continue to evolve, expanding the ability to collaborate with their operators.
The ability for warehouse managers to monitor what's happening on the ground at multiple sites and be able to adjust operations remotely from a cloud-based software system will also continue to grow.
Mobile robots will continue to see improvements across the board, with hardware, processing, and software enhancements. These combined updates will ultimately provide companies with the best possible fulfillment solutions.
Elazary: All mobile robot capabilities will improve! Our industry has commercialized truly life-changing technology, and it's only in its beginning stages.
There's still so much we can improve in existing applications like picking. We can make order batching more efficient. We can make pick paths faster.
For us, we're constantly looking for every improvement we can make to what we're already doing. For example, we've made our robots picking speeds 35% faster this year.
With a RaaS model, our customers get all of those improvements automatically through system upgrades that are part of their subscription price. They are never threatened by obsolescence, which is really important when adopting new technologies.
Capabilities to evolve
As software and AI continue to evolve for robots and fleets, do you expect more specialization or more generalization?
Bieller: We at the IFR expect this to be somewhat balanced. Today, we see some companies are focusing on general robot systems, like a base robot, that theoretically can do everything and lacks specialized application—for example, Boston Dynamics' Spot robot dog.
On the other hand, we will see an increasing number of software- or application-focused companies that offer dedicated functionalities to certain target markets. For example, German startup Energy Robotics focuses on the inspection of assets or plants.
Ryden: In some sense, more specialization. As the software improves, robots can be put to use for more demanding and difficult challenges. These applications will need specific features, such as unique end effectors on robot arms.
Teele: We hope to see both, since both are needed. More generalization, with easy re-programming, is especially needed for smaller operations and contract manufacturers who normally can't devote a robotic system to only one task.
But specialization is also needed to more fully complete a task, freeing humans from dull, dirty, and dangerous work.
Prather: There is going to be both. In my opinion, the already established robotics and automation providers are going to move more towards generalization so they can tap into more industries that are automating due to the previously mentioned issues.
However, this is going to open the door for startups to go after the specialization that will be needed in some of these niche use cases in some of these industries. This in turn could heat up the funding and acquisition space as well.
Glynn: Specialization is likely to continue as the fulfillment industry grows and evolves in 2022. Hardware will become even more customizable, allowing companies to meet their unique needs and configurations.
Over time, we also expect robotic fleets and other warehouse automation solutions to be further customized to the exact shape and size companies require to pick specific items or perform other specialized tasks.
Software solutions will also see continued enhancement and updates, allowing for warehouse operations to adapt in real time, ensuring ultimate efficiency.
Elazary: I actually believe it will be both robots becoming more adaptive and better performance. We're just scratching the surface of the types of tasks that can be automated.
At inVia, we started with picking—that was the perfect use case for robots. It's repetitive and much more practical for robots to do than people. Then we added cycle counting, replenishment, putbacks, etc.
So, there will be more and more tasks that make sense to automate as the technology becomes even more precise. There will also be more specialized intelligence created to accommodate changes in warehouse infrastructure.
For example, systems will need to specialize beyond traditional warehouses to adapt to micro-fulfillment centers that might be located in office buildings or back-of-store. That's the specialization piece.
But I think the specialized applications will be combined in a general platform. So instead of having hundreds of companies that address each specialization, we'll have a few companies that combine specialized applications into a cohesive automation solution.
Looking forward to in-person events
What are you looking forward to most in 2022?
Bieller: Definitely in-person events.
The past two years have proven that the development and introduction of new products and technologies is maintained—if not improved—in difficult times like the pandemic.
We can be confident 2022 will bring exciting news in in our space. We will continuously see new use cases for robotics. Creativity has been spurred by the crisis.
Things we learned not to take for granted are personal contacts, chances for networking, and face-to-face exchanges. We will appreciate them all much more after such a long time of digital events and meetings.
Ryden: New use cases. In 2022, I anticipate the continued developments in robotics and AI will lead to expanded applications for robotics.
Teele: As the largest national consortium working to advance to state of robotics in manufacturing, and the skills needed to operate them, we at the ARM Institute are most looking forward to continuing to work with our 330+ member organizations to solve some of the biggest challenges preventing manufacturers from using robots, and ultimately, growing manufacturing in the U.S.
Prather: The return of in-person events is going to be huge for 2022 on so many fronts. Not only will in allow for all of these needed conversations around things like interoperability to happen, but it will get many end users back out there to trade shows like Automate to see these technologies and talk to providers about the tasks they are looking to automate.
Personally, I am looking forward to seeing all of my Robot Safety colleagues at R15 Week, which will be hosted by the FedEx Institute of Technology on the campus of the University of Memphis, in March and then again in Columbus, Ohio, later in the year.
As more robots enter the public sphere and start to interact with the general public, be it at their local restaurant or grocery store or a delivery robot on the sidewalk, robot safety is going to enter a new phase in 2022.
Glynn: At 6 River Systems, we're looking forward to continuing to help our customers experience better fulfillment everywhere by increasing efficiency and meeting increased demand.
We're expanding our solutions allowing for greater customization like the recently announced use of our Chucks on multiple warehouse floor levels at a 3PL [third-party logistics provider] site in the U.K. Adjusting to unique challenges like this and adapting to site layouts are efforts that will continue into 2022 to meet the demands for our customers with high-volume needs.
Elazary: I'm looking forward to seeing the further maturation of e-commerce unfold. We've created su an amazing process where you can press a button and have a package delivered to your doorstep, and we're only in the beginning stages.
It's going to get further refined every year as we apply technology to make it better. I'm excited for us to get to the point where we have the Star Trek replicator! That won't be next year, but we'll get one step closer to it in 2022.
About the Author
Eugene Demaitre
Eugene Demaitre is editorial director of Robotics 24/7. Prior to joining Peerless Media, he was a senior editor at Robotics Business Review and The Robot Report. Demaitre has also worked for BNA (now part of Bloomberg), Computerworld, and TechTarget. He has participated in numerous robotics-related webinars, podcasts, and events worldwide. Follow Eugene:
Follow Robotics 24/7 on Facebook
Article topics
Email Sign Up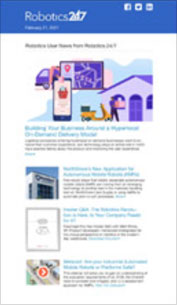 Get news, papers, media and research delivered
Stay up-to-date with news and resources you need to do your job. Research industry trends, compare companies and get market intelligence every week with Robotics 24/7. Subscribe to our robotics user email newsletter and we'll keep you informed and up-to-date.
Getty Images