Not only must supply chain automation providers scale up to meet accelerated e-commerce and industrial demand, but they must also continue innovating to differentiate their technologies and value propositions in an increasingly competitive market. This week, Seegrid Corp. announced that it had created the Blue Labs internal research and development group.
The Pittsburgh-based company provides autonomous mobile robots (AMRs), fleet management software, and consulting services. It said the new Blue Labs team will focus on emerging technologies and potential commercial applications in materials handling.
Todd Graves, chief technology officer at Seegrid, answered the following questions from Robotics 24/7:
Seegrid has been developing technology for some time, so why did it create Blue Labs now?
Graves: Seegrid has a long history of being a technology innovator. Since its founding by world-renowned roboticist Hans Moravec, Seegrid has been constantly developing and deploying new technology to improve material flow for customers. We now have over 5 million vehicle miles driven in customer facilities, so it is time for a renewed focus on technology development.
The creation of Blue Labs was sparked by Seegrid customers who are facing an increasing number of supply chain challenges. Blue Labs builds on Seegrid's spirit of innovation to help its manufacturing, warehousing, and logistics customers remain agile while ensuring flow of goods is both steady and safe despite external factors.
Blue Labs will serve as Seegrid's internal R&D team, working to determine how Seegrid can integrate and/or develop new technologies to expand its capabilities. Ultimately, the goal is to identify and create ways to continue leading the mobile automation space when it comes to performance and safety. Blue Labs will help answer the big engineering questions for new products and capabilities, determining if the ideas in consideration are a good fit for Seegrid, its customers, and the market.
Leveraging Seegrid's deep market knowledge and the team's broad range of expertise, Blue Labs will strategically investigate and provide recommendations, proofs of concept, and prototypes to Seegrid's other engineering teams to identify new pathways to quickly bring the future of material handling automation to our customers.
What are some recent advances in materials handling technologies that you have seen? Where is more work needed?
Graves: Seegrid has launched multiple new automated workflows for its fleet of Palion AMRs designed to increase throughput productivity, improve employee and facility safety, reduce labor and operation costs, and drive continuous improvement in materials handling.
Among those advancements are the Seegrid Palion Pallet Truck Series 8, which features lane staging and auto-charge capabilities. The company also unveiled its first autonomous lift truck, the Palion Lift AMR, designed especially for companies that require an automation solution that can haul payloads from one area to another and place them at heights of up to six feet with little or no changes to their facilities.
Seegrid also recently launched Fleet Geek, a cloud-based analytics solution that provides a holistic, data-driven view of material flow to give our customers comprehensive, actionable insights into Seegrid Palion AMR performance across their entire network of facilities.
Moving forward, companies in the material handling space are increasingly looking for complete, holistic automation solutions that address business needs. With more human-like AMRs with situational awareness and a more enhanced understanding of the space around them, these robots have a better ability to comprehend situations and solve problems in real-world, live production environments. The technology developments we make in Blue Labs will accelerate these efforts.
How many people will be dedicated to the new unit? Is it hiring?
Graves: The Blue Labs team is composed of several world-class automation experts, most with Ph.D.-level expertise in robotics and computer vision systems. The group is being led by Brennan Sellner, Seegrid's senior director of advanced development. He has been at Seegrid for over a decade and has a Ph.D. and MS in robotics and a BS in computer science and human-computer interaction from Carnegie Mellon University.
Brennan continues to build the BlueLabs team, actively recruiting world-class experts. Our vision is well over 10% of our engineering capacity will be working on advanced research and development.
Will you be working with outside academic researchers?
Graves: Yes. Blue Labs will work with the world's best technologists, inside and outside of Seegrid. The team has an entrepreneurial mindset: iterate quickly, explore aggressively, and work to rapidly adopt or discard new ideas and technologies.
In order to maximize talent and gain a full understanding of the complex topics they will address, Blue Labs members will collaborate with leaders in the robotics space to conduct research and consult subject-matter experts and thought leaders throughout the innovation process.
Are you looking at applying computer vision to things like piece picking or human-robot collaboration?
Graves: Seegrid is dedicated to delivering the future of intelligent mobile automation to its customers. Some of the biggest brands in the world leverage Seegrid not as a vendor, but as an automation partner, using the company's mobile robots and enterprise software to help with mission-critical objectives—filling labor shortages, increasing throughput, and helping improve overall material flow.
Seegrid's vision includes expanding material flow to areas beyond pallet and cart transport—Palion Lift, for example, allows for more customer workflows by offering flexible transport in the vertical handling of goods.
Blue Labs will continue to build upon and expand Seegrid's proprietary, state-of-the-art technology, which has significant advantages in safety, flexibility, and reliability, to further advance the Seegrid portfolio of products to address market needs. Empowering its customers to grow, increase profits, and create safer and more productive environments will always be foundational to Seegrid, its services, and solutions.
What have Seegrid's customers said about the importance of innovation?
Graves: Seegrid is very much aligned with its customers when it comes to the importance of innovation. The company sees itself as an automation partner helping its customers solve challenges, and a key piece of that is innovation. Helping address those challenges through innovation was a key driver behind forming Blue Labs.
The ideas developed by Blue Labs will increase Seegrid's ability to advance the market as a whole, ultimately benefiting customers with high-quality, effective, and proven solutions. Seegrid will continue trailblazing and innovating in ways that make its manufacturing, distribution, and e-commerce customers even safer and more productive.
The supply chain automation market is very competitive—how will Blue Labs help Seegrid be a leader?
Graves: Seegrid Palion AMRs are a proven technology, having driven more than 5 million autonomous production miles without a single personnel safety incident, something that simply can't be matched within the industry. Seegrid AMR and software solutions create human-machine partnerships that elevate human potential and deliver profitability for customers.
With an in-house team of the best innovators in mobile automation building on Seegrid's artificial intelligence technologies, Blue Labs will help accelerate the company's expanding footprint and keep it at the forefront of the manufacturing, warehousing, and logistics sectors.
The combination of Seegrid's experience in real-world environments with our ability to develop new technologies will result in Seegrid continuing to lead the industry.
Do you have any milestones planned for Blue Labs in the coming months or year?
Graves: Seegrid has an innovation management process in place that includes aggressive milestones, including technology developments that will be completed this year. We'll share these developments once they are ready to be launched.
About the Author
Eugene Demaitre
Eugene Demaitre is editorial director of Robotics 24/7. Prior to joining Peerless Media, he was a senior editor at Robotics Business Review and The Robot Report. Demaitre has also worked for BNA (now part of Bloomberg), Computerworld, and TechTarget. He has participated in numerous robotics-related webinars, podcasts, and events worldwide. Follow Eugene:
Follow Robotics 24/7 on Facebook
Article topics
Email Sign Up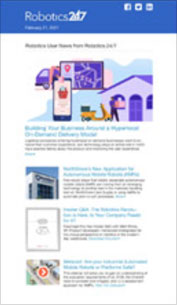 Get news, papers, media and research delivered
Stay up-to-date with news and resources you need to do your job. Research industry trends, compare companies and get market intelligence every week with Robotics 24/7. Subscribe to our robotics user email newsletter and we'll keep you informed and up-to-date.
Seegrid