The convergence of emerging market trends and recent technological advances has opened the door for autonomous mobile robots, or AMRs, to take on more tasks in manufacturing and supply chain operations. The changes don't stop there, however.
Today, adopters of AMRs have begun to shift into high gear, transitioning from pilot projects involving small numbers of robots to "fleet-size" implementations. For example, Zebra Technologies' roller-top AMRs are making inroads into factories, warehouses, and distribution centers (see image, above right).
These robots, built on Fetch Robotics' Freight 100 bases, are taking on more and more collaborative roles. This is thanks to advanced sensors, artificial intelligence, and increasingly capable fleet management systems.
Labor challenge is a catalyst for change
One of the factors driving this metamorphosis across industries is the current labor shortage.
"It has become increasingly difficult to attract, hire, train, and retain workers in warehouse operations and manufacturing," said Jim Lawton, vice president and general manager of robotics automation at Zebra Technologies. "Turnover rates are over 40% in both sectors, so labor is a constraint that must be dealt with."
"AMRs can quickly fill the labor gap. When AMRs collaborate with people, operational productivity, efficiency, and accuracy significantly improve," he asserted. "Deploying even a small fleet of AMRs—as few as a dozen—that work autonomously with humans also adds a valuable measure of control."
The rise of autonomous mobile robots would not have happened without a number of technical advances, further convincing users of their value.
"We have seen a kind of testing phase for AMRs in the production and logistics sectors," said Johannes Ritt, technical sales at 4am Robotics, a brand of SCIO Automation Group. "Now, several manufactures have proven the reliability of the systems, and customers' trust has soared."
As AMRs move beyond the proof-of-concept stage, increasing numbers of companies have come to realize that they can help overcome labor shortages and supply chain disruptions. In addition, companies have begun to reconsider the scale of their AMR deployments.
"Customers are sizing fleets for production needs, not for one-off pilot projects," observed Matthew Cherewka, director of strategy at Vecna Robotics. "Furthermore, given that AMRs tend to deliver the highest returns in larger, high-throughput facilities that operate 24/7, customers are deploying fleets accordingly to meet those needs."
Meet new and improved autonomous mobile robots
"While today's AMR may look similar to its predecessors from the outside, advancements in robotic technology have given AMRs different capabilities, with different ROI [return on investment] profiles," explained Gerard Andrews, product marketing manager for robotics at NVIDIA.
"For example, advances in AMR development, such as visual SLAM and AI-based computer vision, make the robots more intelligent and more cost-effective to install," he said. "In addition, machine learning enables safe operation in more unstructured environments, as well as more intricate machine handshakes and successful object manipulation."
As a result of these advances, vendors now offer robots with skill sets well-suited for industrial applications. One of these features is driving intelligence.
"AMRs must always know where they are in dynamic environments," noted Jay Judkowitz, vice president of product at OTTO Motors. "They must also be able to maximize average speed without sacrificing safety. This means optimizing for fast and safe turns and pivots, not just worrying about achieving maximum speed down a straight unobstructed aisle."
Fleet management grows in importance
Complimenting this intelligence is support from fleet management software such as Seegrid's Supervisor (see video below). This collection of control functions is proving essential to the successful deployment of AMR fleets.
"It's not about 100 robots in a list," says Judkowitz. "It's about 100 robots with excellent intelligence, traffic management, job management, and charge management so that they keep moving smoothly and without backups all day long."
Furthermore, AMR fleet managers must be able to interact with other systems so that they can better manage job instructions from systems like ERP, WMS, and MES platforms.
"AMRs are becoming more valuable in warehousing and manufacturing because of their ability to interface with other machines for material pickup and drop-off behaviors, otherwise known as 'machine handshakes,'" said Andrews.
'Mobile' becomes the operative word
Enhancements to navigation and control now enable autonomous mobile robots to provide intelligent mobility to a range of industrial applications.
"Collaborative robotic solutions are bridging the labor shortage gap by shortening warehouse coverage areas," said Samay Kohli, co-founder and CEO of GreyOrange. "Some of these solutions include goods-to-person picking, zone transport and sortation, vertical height utilization, person-to-goods co-working bots, heavy payload transport, and robotic picking arms."
"Combined with multiagent orchestration platforms, collaborative robots are creating a balanced working environment, where workload and task needs are dynamically assigned to human operators and robots to maximize productivity, speed, accuracy, and safety in end-to-end inventory fulfillment operations," he said.
One area where AMRs are particularly valuable is the flow of pallet-sized loads. Such workflows are continuous, complex, and often difficult to manage, but they make up the bulk of the costs and time for warehouse personnel. Moving pallets is thus a perfect application to automate.
"Companies are deploying fleets of AMRs—alongside humans—to automate various pallet movements, which increases reliability, safety, and productivity without significant changes in infrastructure," said David Griffin, chief sales officer at Seegrid. "Furthermore, given the flexibility of AMRs, fleets can fit into inbound, inter-facility, and outbound workflows seamlessly."
AMRs have all the right moves
An example of the value that fleets of collaborative AMRs bring to industrial operations can be seen in the upgrades that apparel manufacturer Bespoke Manufacturing Co. (BMC) began last fall.
In this case, BMC selected Zebra's end-to-end industrial automation with an eye toward enhancing the load-leveling in its facility. In previous workflows, BMC used conveyor belts, but these proved to be inflexible, drastically limiting process change and inhibiting its ability to effectively respond to rapid shifts in market demands.
To address these shortcomings, BMC deployed 15 Zebra RollerTop AMRs (see video below) and a number of FS20 and FS40 fixed scanners, which provide visibility into the movement of each piece in production.
The deployment also included Zebra's FetchCore software, which directs the AMRs throughout the workflow to advance articles of clothing from one destination to the next.
"One of the most important features of these AMRs is their ability to connect with our main computer system, iCreate," says J. Kirby Best, CEO of BMC. "With autonomous navigation, the RollerTops can navigate pre-determined tracks, locate the appropriate workstation, and load and unload totes and bins."
This integrated intelligence empowers these robots with high-level decision-making capabilities.
"The AMRs deploy pieces and products where they're needed at the different sewing and assembly stations," explained Kirby. "By filtering through a series of detailed questions, the AMRs can help determine what machine is needed in a certain sewing pod, what color of thread should be used, and finally which worker has the most time to complete the next task. Then it chooses the one with the least amount of work and travels to that station to deliver the appropriate materials."
According to Kirby, this combines robots with systems that can anticipate the needs of the factory workers they work alongside. This has helped BMC achieve new efficiencies, he said, ultimately allowing the company to scale to meet growing demand for its products.
About the Author
Tom Kevan
Tom Kevan is a freelance writer/editor specializing in engineering and communications technology.
Follow Robotics 24/7 on Facebook
Article topics
Email Sign Up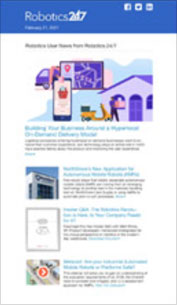 Get news, papers, media and research delivered
Stay up-to-date with news and resources you need to do your job. Research industry trends, compare companies and get market intelligence every week with Robotics 24/7. Subscribe to our robotics user email newsletter and we'll keep you informed and up-to-date.
Zebra Technologies