SoftBank Group Corp. and Symbotic Inc. yesterday announced that they have established GreenBox Systems LLC, a joint venture to address the more than $500 billion annual warehouse-as-a-service market opportunity. Symbotic also announced a customer contract worth about $7.5 billion with GreenBox, which will be the exclusive provider of its systems and supply chain services to that market.
"We are pleased to partner with SoftBank in this venture that accelerates our shared vision to transform the supply chain," said Rick Cohen, chairman and CEO of Symbotic, in a press release. "GreenBox enables Symbotic to bring the benefits of our technology to a broader customer universe, expanding our market opportunity."
GreenBox plans to offer Symbotic's artificial intelligence and automation technology for warehouses worldwide.
"The efficiency, SKU agility, scalability, and density of the Symbotic system allows GreenBox to effectively manage single- and multi-tenant facilities across the supply chain and thus fundamentally reshape the economics of automated supply chain services." it asserted.
Symbotic applies AI to supply chains
Symbotic provides autonomous mobile robots (AMRs) with advanced vision and sensing capabilities. The Wilmington, Mass.-based company claimed that these robots can induct, store, retrieve, and palletize products in their native packaging at industry-leading throughput rates and with 99.9999% accuracy.
AI-enabled software from Symbotic orchestrates hundreds of AMRs to fulfill customer orders from within the high-density buffering and storage structure that flexibly handles virtually unlimited SKUs. The system can use machine learning to build mixed-SKU pallets and can enhance warehouse capacity, reduce errors and waste, and enable faster fulfillment of customer orders, said the company.
Symbotic noted that its systems service more than 2,600 stores for some of the world's largest retailers, grocers, and wholesalers, including Walmart, Albertsons, and C&S Wholesale Grocers.
"When I first started thinking about automating the supply chain, I wanted to be able to create ... not just an automated warehouse, but an automated platform that had perfect inventory management, perfect accuracy in shipping, and could be so good that you could create a warehouse that was a multi-tenant warehouse with perfect accuracy that allowed anyone that had any storage needs at any time to be able to take advantage of this platform," said Cohen in an investor call. "I think that we've created that with Symbotic in the way to in GreenBox, and I look forward to partnering with SoftBank on this."
GreenBox to widen deployments
GreenBox said Symbotic's robots and software will enable customers to reduce inventory and costs while boosting SKU count and agility, all without associated capital expenditures and operational complexity.
"The way to think about this service is something that I've thought about for a long time, is basically cloud computing for the physical world," explained Cohen. "So if you think about what companies have embraced big, small, and medium-sized companies taking their data and storing it in the cloud."
"What we've now created and will create a warehouse network and a supply chain network and an information platform that will allow people to create, to store physical goods, their products, in our warehouses," he said. "And that's why I call it the 'cloud computing of the physical world.'"
"Why do this? Simply, it's because we believe this market is massive," added Bill Boyd, chief strategy officer at Symbotic.
GreenBox will order Symbotic's systems over a six-year period starting in fiscal year 2024 and will implement them across its warehouse network in larger-scale deployments than Symbotic's current installed base.
Symbotic said it expects annual recurring revenue of more than $500 million from software, parts, and services revenue from GreenBox once all systems are operational. Symbotic noted that its systems typically become fully operational within 24 months of project design approval.
"GreenBox taps into the powerful potential of AI and other enabling technologies in supply chains, while also making the benefits of automation accessible to more businesses through an 'as-a-service' offering," said Vikas J. Parekh, managing partner at SoftBank Investment Advisers. "In partnership with Symbotic, GreenBox will equip customers with more intelligent, streamlined, and scalable warehousing solutions while eliminating the burden of major capital expenditures."
SoftBank to own larger share
SoftBank will own 65% of GreenBox, while Symbotic will own 35% of the joint venture. The companies will initially contribute $100 million in capital pro rata to fund operating expenses and initial system purchases. After Symbotic's initial $35 million pro rata capital contribution, the contract is expected to be accretive to Symbotic's annual free cash flow (net of capital contributions).
Symbotic has issued Symbotic has issued warrants to SoftBank representing up to 2% of Symbotic's fully diluted shares outstanding, which will vest in 0.25% increments upon payment of each $937.5 million to Symbotic for installation of Symbotic systems under the GreenBox contract. The warrants have a six-year term and strike price representing Symbotic's 45 trading day volume weighted average price (VWAP) as of July 21, 2023, of $41.9719 per share.
Separately, SoftBank has purchased about 17.8 million shares from Cohen at Symbotic's 45 calendar day VWAP as of May 26, 2023, of $28.05 per share. This sale is 100% secondary shares and will not result in any dilution to Symbotic shareholders.
Symbotic went public in 2022 through a merger with a SoftBank-affiliated special-purpose acquisition company (SPAC).
GreenBox's board of managers will consist of three managers—one nominee from Symbotic and SoftBank each, and one independent manager. GreenBox's management team will be independent from Symbotic and SoftBank.
Goldman Sachs & Co. served as exclusive financial advisor, and Sullivan & Cromwell LLP as legal advisor to Symbotic. An investor presentation with additional detail is available in the Investor Relations section of the company's website.
Tokyo-based SoftBank Group includes SoftBank Group Corp., an investment holding company that includes stakes in AI, smart robotics, the Internet of Things (IoT), telecommunications, Internet services, and clean energy technology providers. It said it also includes the SoftBank Vision Funds and SoftBank Latin America Funds, which are investing more than $160 billion to help entrepreneurs transform industries and shape new ones.
Article topics
Email Sign Up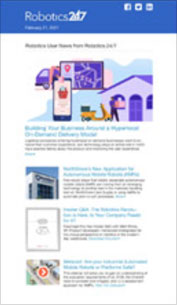 Get news, papers, media and research delivered
Stay up-to-date with news and resources you need to do your job. Research industry trends, compare companies and get market intelligence every week with Robotics 24/7. Subscribe to our robotics user email newsletter and we'll keep you informed and up-to-date.
Symbotic