Schuurman Schoenen is a Dutch shoe company, offering a wide variety of shoes. In its warehouse in Neede, Netherlands, TORU, a picking robot developed by the robotics firm Magazino, uses a 3D camera and a variety of sensors, to work autonomously every day, all day.
The robot can be programmed for inbound, as well as outbound warehouse traffic and logistics. It's an ideal solution that helps meet orders during peak seasons and keep the flow of order fulfillment moving, day and night.
Using vacuum grippers, the robot grabs hold of individual shoe boxes from shelves, sorts them correctly, and concurrently replaces the void that it created with more inventory.
Bearing the burden of warehouse workers
Picking robots, as well as collaborative robots, not only help make fulfillment centers more efficient, but they also take the load off warehouse workers so they may attend to more important tasks and overarching objectives.
Workers are less burdened with mundane tasks that can now be performed by fetch robots. Employees can keep tabs on the AMRs and event vector their movement. When orders come in, the AMRs travel the distance and greatly expedite the flow of the order from requisition to shipment.
AMRs have become an innovation that many are embracing as the overall design of autonomy and the software it runs on is gaining ground and getting better each year. They're faster, carry heavier payloads than humans can, and are increasingly working with humans and other equipment to build smart warehouses and distribution centers.
Payloads can be crucial, and AMRs that can handle larger payloads can be game changers for logistics operations that don't only deal with lightweight goods.
ROEQ's TMS-C500, for example, is part of their cart series that can transport weights up to 1100lbs, while being very maneuverable. The cart is designed to be super safe, with easy cutouts and emergency stops built in.
But such heavy payload AMRs also boost safety for personnel. Personnel don't have to be the ones who risk injury from heavy carting and loading. Instead, they can watch the AMR take the load and guide it about. Plus, if there's any catastrophe or collision, it's the machine that's at risk and not the worker.
Autonomous mobile robots come of age
According to Grandview Research the AMR market is hot. It reported the market is expected to reach USD 10.66 billion by 2030 and grow by 16.8% over the next eight years.
There's not much reason to doubt such a forecast. E-commerce has accelerated supply chain services from transportation services to warehouse and distribution needs. On top of it all, add the Amazon effect. Households around the world have come to expect everything to be delivered to their door with a few mouse clicks.
To support all this and compete reasonably in such a go-go world, new innovations and technologies are quickly being embraced. AMRs are such an innovation that help build efficiency and can pay for themselves in due time - especially for a busy facility or other logistics landscape that can make great strides when properly programmed AMRs come into their facility.
Retail also stands to benefit from AMRs
It's not just logistic centers that will capitalize on AMRs. It's also retail. The retail industry has been walloped by a labor shortage. Positions are harder and harder to fill in stores, but also in fast-food joints, restaurants, and grocery stores. Add an AMR into the mix, and such establishments may stay afloat, keep pace, and keep the fire going with fewer employees.
In the article "Tech-enabled grocery stores: Lower costs, better experience," writers from McKinsey & Company described the scenario well, citing examples of how AMRs are at the cusp of being a true value-add to the labor component of running a grocery chain store.
"Grocers have been dabbling in robotics to manage these activities for the past several years, but two recent developments have changed the game. First, technology has evolved to allow robots to start to double-hat (that is, the same robot can manage stockout checks and cleaning), which strengthens the business cases for automation and makes investments more palatable," the writers explained.
"Second, retailers no longer have the labor resources to be able to cover all activities, so they must rely on automation to complete tasks. The use of robotics for tasks that are especially difficult or labor intensive, such as price tag validation, can support sales by improving in-stock rates and pricing and monitoring planogram compliance. In one pilot, robots detected 14 times the addressable out-of-stock situations compared with manual scans, reducing out-of-stock facings by 20 to 30 percent," they wrote.
Applied research for AMRs will create better applications
Universities around the world are busy performing research with grant money that allows them to expand the capability of AMRs.
For example, Rochester Institute of Technology researchers are developing an intelligent materials handling system for warehouses that integrates smart technologies such as lidar sensors and artificial intelligence, to refine the mobility and accuracy of AMRs in the warehouse.
In an article on its website, Michael Kuhl, professor of industrial and systems engineering in RIT's Kate Gleason College of Engineering stated the obvious: "This is one area where robotics and autonomous material handling can help. Robots can work for longer periods of time—not necessarily to replace jobs, but on some of the manual, non-value-added tasks. It means a change of focus of jobs, with people needed to design and maintain fleets of vehicles and robots."
Kuhl and his project team received a grant for "Effective and efficient driving for material handling." It is a $300,000 project sponsored by The Raymond Corporation and continues earlier work with the company by advancing previous work that established task selection and path planning of individual AMRs.
Less complex ways to automate critical workflows
In the future, there will be many hurdles to cross as the organizational cultures and their workers find ways to make AMRs useful and valuable. We can expect that they will be more collaborative with humans, but also used in conjunction with other devices, such as tablets and scanners, and other technology now found in facilities and environments that are prime candidates that stand to benefit from AMRs.
Robots continue to be a flexible solution that helps companies grow and thrive in increasingly competitive markets.
About the Author
Jim Romeo
Jim Romeo is a freelance writer and contributor to Robotics 24/7 based in Chesapeake, Va.
Follow Robotics 24/7 on Facebook
Article topics
Email Sign Up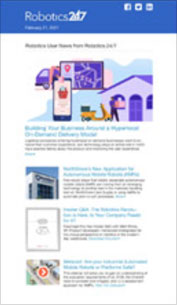 Get news, papers, media and research delivered
Stay up-to-date with news and resources you need to do your job. Research industry trends, compare companies and get market intelligence every week with Robotics 24/7. Subscribe to our robotics user email newsletter and we'll keep you informed and up-to-date.
Magazino