Mobile robots, data, and artificial intelligence promise to make automation easier than ever for warehouses to adopt. But we're not yet at automation nirvana, and operators should still carefully evaluate their own processes, vendors, and integrators before proceeding. Trimble Autonomy offers positioning, modeling, connectivity and data analytics technologies linking hardware and software.
The Westminster, Colo.-based company said it can add capabilities for automotive, construction, and agricultural applications, among others. Robots and autonomous systems that can generate their own high-definition maps in real time can not only more easily navigate complex environments, but they can also help optimize fleets and provide users valuable insights, it said.
Gordon Hain, product manager at Trimble Autonomy, replied to Robotics 24/7's questions about robotics and operational flexibility.
Customers seek efficiency, visibility
Are your customers looking for flexibility, to augment scarce workers, or something else right now?
Hain: The key factors that we are seeing in the market are a drive to greater levels of safety, efficiency improvements, and in some markets a drive to improved sustainability. There is also the concern of a lack of skilled operators, as the senior workforce is nearing retirement, and there is a limited number of replacements.
Another area where we see some need is the ability for longer working hours to add value. Autonomous machines offer the ability to work 24/7 or during evening hours, when there is no sun or when the ambient heat is lower.
In the "bid-to-build" process, how is autonomy plus data collection and analysis providing greater visibility at a manageable cost? Do construction business owners know what they're looking for, or do they need guidance with new types (and timeliness) of data now available?
Hain: I don't think conceptually that there is anything autonomy is going to give owners or operators, in terms of field data, that we can't get other ways.
Owners know what data they need to effectively run their operations. However, what we are going to be able to do is get a greater level of visibility as it relates to a specific machine and task. With data gathered from autonomous machines we are going to be able to tell you exactly:
How long we took to do a task
How many times we stopped
The quality of the work performed
The cost of the task
Accurate asset utilization
With this data, we can create an end-to-end digital workflow, from estimation and scheduling to execution. This provides traceability that facilitates informed decision-making, resulting in streamline operations, enhanced visibility, and ultimately greater profitability.
Trimble offers path planning across applications
With advanced path planning, are we talking about autonomous mobile robots (AMRs), automated lift trucks, or other equipment?
Hain: Trimble's advanced path planning isn't limited to a particular vehicle type or application. The Path Planning service was developed primarily for our main market segments, agriculture and construction, but is not limited to those markets.
One of the advantages of the system is that it can accommodate a wide range of vehicle types such as front wheel-steered, four wheel-steered, articulated, or differential steered. It also takes inputs for attached implements—for example attachment type and implement dimensions—to incorporate into the planning algorithms.
When it comes to the application that you are planning for, commonly, we are looking at some form of coverage plan, whether that be for seeding, harvesting, compacting an area, etc. The Path Planning Service [PPS] determines the most efficient path for the vehicle to follow, given the attached implement, execution parameters, and field layout to complete the task.
How has this improved in recent years, and how does it lead to continuous improvement?
Hain: The PPS has evolved over the years, incorporating new steering models, adding new implement attachment types and implements, managing complex field designs and many other features.
How much training and adjustment time do operators need to adopt hands-free steering control? How does your company handle the handoff between autonomy and manual control?
Hain: Operator acceptance is typically quite fast. Many of the operators have prior experience with our operate guidance solutions, so the graduation to hands-free operation isn't a big jump.
After operators have gained understanding of the new functionality, determined how to seamlessly integrate it into their in-cab workflow, and subsequently had the opportunity to test the new capability, acceptance follows quickly.
While exceptions may arise, considering the human element, a subset of operators may exhibit a degree of hesitancy or skepticism. This requires an additional measure of patience, but ultimately results in successful adoption.
When developed with the end user in mind and delivered by Trimble's expert dealer channel personnel, operator-assist technologies are generally met with enthusiasm.
Can you give an example of how field data capture enables projects to be delivered faster?
Hain: While I don't have a particular example to share here, field data from autonomous vehicles will enable better utilization of assets leading to more efficient operations and cost reduction. The end-to-end digital workflow is the traceability from estimation and scheduling, being able to control when a particular task is to be completed and by which piece of equipment, to execution of the task.
Being able to tie field data from the autonomous machine back into the estimation and scheduling will provide stakeholders with accurate real-time information to make the necessary adjustments. This will provide a fast and agile response mechanism that prevents potential bottlenecks and enables swift decision-making, ultimately accelerating the project timeline.
AGCO enters joint venture for agricultural tech
Last week, leading agricultural machinery provider AGCO Corp. announced that it had entered into a joint venture with Trimble in which it will acquire an 85% interest in Trimble's agriculture portfolio and technologies for $20 billion in cash and the contribution of JCA Technologies. The company said the joint venture will create a mixed-fleet precision agriculture platform supporting the future development and distribution of Trimble Ag technologies.
"This deal significantly enhances AGCO's technology stack with disruptive technologies that cover every aspect of the crop cycle, which ultimately helps us better serve farmers no matter what brand they use," said Eric Hansotia, chairman, president, and CEO of AGCO.
"The exclusive access to Trimble Ag products, combined with AGCO's existing precision ag offerings, also accelerates AGCO's growth ambitions around autonomy, precision spraying, connected farming, data management and sustainability," he said. "All of these touchpoints will result in us being even more farmer-focused."
About the Author
Eugene Demaitre
Eugene Demaitre is editorial director of Robotics 24/7. Prior to joining Peerless Media, he was a senior editor at Robotics Business Review and The Robot Report. Demaitre has also worked for BNA (now part of Bloomberg), Computerworld, and TechTarget. He has participated in numerous robotics-related webinars, podcasts, and events worldwide. Follow Eugene:
Follow Robotics 24/7 on Facebook
Article topics
Email Sign Up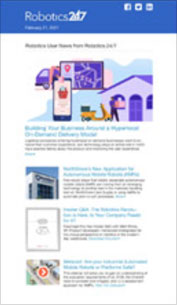 Get news, papers, media and research delivered
Stay up-to-date with news and resources you need to do your job. Research industry trends, compare companies and get market intelligence every week with Robotics 24/7. Subscribe to our robotics user email newsletter and we'll keep you informed and up-to-date.
Trimble