Mobile robots and autonomous carts, lifts, and tuggers promise to make material handling operations more efficient. But why aren't more warehouse and distribution centers using them? Many operations understand the need to automate but don't know where to start, according to Vecna Robotics.
The Waltham, Mass.-based company has tried to make it easier for manufacturers and warehouses to adopt autonomous mobile robots (AMRs) and other systems by explaining the installation process. Robotics 24/7 caught up with Daniel Theobald, founder and chief innovation officer of Vecna Robotics, to discuss how to get started.
Five steps to automating material handling
What are the biggest barriers to implementing automation, and how do you overcome them? 
Theobald: What a timely question. We're a few months post-MODEX. With increased supply chain disruptions and labor shortages, automation was top of mind for almost every person at the event. We had more than 1,000 attendees visit our booth to learn more about our AMRs and orchestration software.
The shocking truth? At the event, we took an informal poll that showed roughly 5% of attendees have robots in production. A common theme was that many didn't know where to start.
So, the most significant barrier to implementing automation is just getting started. We see countless organizations begin with a wide lens, trying to figure out how to transform their facilities. And while future digital transformation plans are something we certainly encourage for all our customers, sometimes starting small is the easiest.
In fact, the biggest hang-up we see with most new customers is trying to replicate existing human workflows or more custom work instead of trying to rethink their workflows that take full advantage of robotics.
Some of our most successful customers deploy a small fleet of robots to well-known material handling workflows, assess the return on investment [ROI], build confidence, and continue to scale and integrate with other technology like warehouse management systems.
We recently rolled out a five-step program that helps take any organization from "no bot" to a warehouse full of robots.
Speaking of Vecna Robotics' five steps to deploying and scaling robots, is there a particular order to follow, or does it vary by customer?
Theobald: We tried to make this as industry-agnostic as possible, but no two warehouses are the same. Our approach hinges on the following steps: assess, plan, start, deploy, and scale.
For the assessment portion, it's essential to identify and prioritize your pain points, choose a workflow based on those obstacles and measure your baseline operations. At this stage, it's also necessary to run simulations of the expected performance of the new system.
Next, it's time to get a plan in place. That's why a partner invested in your long-term success is so important. These teams can help simulate viable solutions to determine ROI at scale and align with your vision of the future.
Once a plan is in place, you can select your first site, conduct meaningful mock-production implementation, develop KPIs [key performance indicators], and chart how to scale.
The final steps around deployment and scale are all about learning and growth. That's when you ramp up production, integrate with other warehouse technology, and begin showcasing success to different stakeholders.
Once you have buy-in across local management, executives, and workers, it's easy to expand to other workflows and multiple sites.
A lot more goes into the deployment, but we find that breaking it down into these five steps creates the best path to success.
Bringing robots and people together
How do you introduce human workers to robotics collaborators? 
Theobald: For years, there has been a common misconception that robots are replacing human workers. However, the tides are starting to turn. In reality, jobs aren't a zero-sum game. It's not like there are a set number of jobs in the world, and if a robot starts to help humans, there will be fewer jobs available.
The reality is that, more often than not, automation allows businesses to compete and creates opportunities for growth and significant job creation.
This is great news for the industry, but the introduction shouldn't start with the first time humans and robots meet. Leaders must show the possibilities that automation creates for employees early – from new roles to upskilling and less dirty and dangerous work.
We've found that the best deployments come from customers that thoughtfully build excitement about deploying new robotic colleagues.
Once people learn to work with or alongside robots, do they need refreshers periodically? Do new employees need similar introductions, or can their peers handle it?
Theobald: Yes, and this is where we believe our Robots-as-a-Service [RaaS] model is a true differentiator. Instead of just buying and owning equipment, our customers invest in a long-term relationship with our company.
We need to earn their business every day, and one key aspect of that is having an accountable customer success program that is responsible for adoption. This includes not only initial employee training for sure, but also quarterly reviews and activities like "lunch and learns" to ensure that operators on the ground are getting the most out of their robotic co-workers.
We also produce and update on-site signage, for example, to ensure safety practices are maintained. And our industry-leading Pivotal Command Center is Vecna's "eye in the sky" that monitors every robot 24/7, allowing us to intervene in real-time as required and giving us valuable insights into how the robots perform in the field alongside their human co-workers.
Many industries interested in adding automation
What industries do you see the most interest from?
Theobald: The demand for automation is solid across every industry that utilizes warehouses, distribution centers, or factories to manufacture or move goods.
In the past quarter alone, a toy manufacturing company in Mexico selected us to support its massive international distribution facility. We also signed up a houseware retailer in the U.S. to help it with labor shortages and the surge in demand that has accompanied the housing market boom.
Retailers and consumer goods manufacturers are also knocking on the door in droves. The mixed shift in direct-to-consumer business has completely disrupted their distribution networks and presents a massive opportunity for automation to fill the gaps.
Additionally, we see strong demand from the automotive industry as more companies transform factories to produce electric cars. The food and beverage and third-party logistics [3PL] industries are also adopting robotics en masse.
Overall, there's been a massive shift from legacy automation systems like automated guided vehicles [AGVs] and conveyors to more flexible AMRs.
What other problems does the robotics industry need to overcome to make automation easier for all?
Theobald: Anything vendors can do to remove the perceived barriers of automation is critical. And that's why initiatives like RaaS are so important. Not only does it help customers shift from capital expenditure to operational expenditure, but it allows teams to scale up based on demand and deploy material handling equipment more efficiently.
RaaS also speeds up deployments to days or weeks, not months, and ensures that warehouses always have the latest technology and software running to improve throughput.
Vecna Robotics contributes to AMR standard, sees pallet jack demand
Speaking of industry challenges, how is work coming on the MassRobotics standard for interoperability among AMRs from multiple vendors? (Theobald is co-founder of MassRobotics.)
Theobald: Thanks so much for asking. MassRobotics is such a vital part of the greater robotics ecosystem. So, hold on, let me change my hat….
MassRobotics released the AMR Interoperability Standard 1.0 in May 2021. It's hard to believe it's been over a year. So far, the feedback has been incredible, and the future of interoperability is one step closer, thanks to these guidelines.
We are actively working on the next version, which includes more sharing of mission data, resource allocation—like routes and chargers—and a scalable communication hub for more efficient operation. Over 50 robotics and end-user companies are involved at this point, and it continues to gather momentum.
Now that we're past MODEX, Automate, and several other returning trade shows, how has the reception been to Vecna's new Co-Bot Pallet Jack?
Theobald: The demand for the Co-Bot Pallet Jack has been incredibly strong, something we expect to continue for the foreseeable future. And we expect the first units to go off the line early this fall. We are excited by some of the new use cases that customers are bringing to our attention with this flexible platform.
Warehouse leaders seem to resonate that it solves problems that have long been ignored by automation, including shorter distances, lower throughput, and tighter spaces. Moreover, the Co-Bot Pallet Jack represents an essential step in our vision to automate the entire end-to-end flow of the warehouse.
About the Author
Eugene Demaitre
Eugene Demaitre is editorial director of Robotics 24/7. Prior to joining Peerless Media, he was a senior editor at Robotics Business Review and The Robot Report. Demaitre has also worked for BNA (now part of Bloomberg), Computerworld, and TechTarget. He has participated in numerous robotics-related webinars, podcasts, and events worldwide. Follow Eugene:
Follow Robotics 24/7 on Facebook
Article topics
Email Sign Up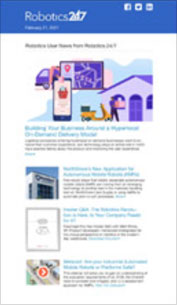 Get news, papers, media and research delivered
Stay up-to-date with news and resources you need to do your job. Research industry trends, compare companies and get market intelligence every week with Robotics 24/7. Subscribe to our robotics user email newsletter and we'll keep you informed and up-to-date.
Vecna Robotics