Some of the world's biggest corporations - Apple, Google, Daimler-Benz and countless others – are behind the fast-moving technology that is pushing driverless vehicles.
Currently now well beyond the initial testing phase, driverless trucks hold promising technology that can increase highway safety, reduce human error and perhaps ease the chronic driver shortage plaguing the trucking industry.
As with other fast-moving technologies, however, trucking leaders say the regulatory system regulating driverless vehicles is lagging behind the science breakthroughs surrounding these vehicles.
"I do not think driverless trucks are a pie in the sky," says John White, chief marketing officer for U.S. Xpress, the nation's seventh-largest truckload carrier. "But the legislative landscape in Washington will be the biggest limiting factor, in my opinion. I think the technology will be readily developed before we have the willingness to pass legislation to make it commercially viable."
Still, the lure of driverless trucks is intriguing to an industry struggling to put enough "fannies in the seats," as truckers say. Estimates are the industry is short as many as 20,000 drivers right now.
Noel Perry, chief consultant to FTR, a major transportation consulting company, estimates that number could be over 100,000 in the next few years because of demographics, poor pay and tough working conditions for truck drivers.
If proven safe, the idea of driverless trucks raises intriguing possibilities. After all, driverless trucks wouldn't be covered by hours of service driving limits. They would not abuse alcohol or drugs. They wouldn't quit in the middle of a run. And they wouldn't text while driving.
"It is certainly interesting, especially some of the demonstration units that are being piloted," Joe Dagnese, president of Con-way Freight (and formerly head of Con-way Truckload), told Logistics Management. "But we're a long way from broad adoption. The devil is in the details in terms of how these technologies eventually would be deployed, and the regulatory issues around them.
"We'll continue to see advances," Dagnese predicted. "But I see them helping to improve working conditions for drivers, making them more safe, effective and efficient. These are all things that benefit the motoring public."
Still, it's impossible to deny the age of the driverless vehicle is upon us. Google, a pioneer in the field, started its self-driving car project in 2009. Some six years later, its driverless vehicles have logged more than 100,000 miles.
And Google is not merely running these vehicles on closed test tracks. Its test fleet of Lexus SUVs has been cruising around Austin, Texas, outfitted with cameras and sensors and a detailed map of streets, lane markets, traffic signals and "Keep Clear" zones.
Currently, two Google employees have been assisting and guiding the vehicles. But the technology has largely taken over after that.
Also on the automobile side, the new Mercedes S550 sedan test model can basically drive itself on freeways. The car can center itself within a lane, remain a safe distance from the vehicle ahead and automatically brake and steer to keep pace with traffic.
Truck Platooning: Driving the Future of Transportation
Two trucks driving less than 1 second apart, made possible by wireless vehicle-to-vehicle communication
Imagine a self-driving truck as part of a road train. One that can drive solely by communicating with the truck driving in front of it, forming a truck platoon. The driver of the leading truck takes the first shift, driving from Rotterdam to Paris. The driver of the following truck is asleep, as their truck automatically follows the platoon leader. Near Paris, the drivers switch their roles and reverse the order of the trucks. The driver of the now following truck can take a nap or perform administrative work. There is no need to stop for a rest; resting can be done while driving. The drivers trade place a few more times. Upon arrival in Madrid, the trucks separate and individually drive to their final destinations.
This advanced scenario may be at least decades away, but within a few years taking the hands of the steering wheel in slow rush hour traffic will be the reality. Self-driving passenger cars have already proved their feasibility on the public road, as TNO has shown on the Dutch A10 highway. Other OEMs such as Daimler-Mercedes, BMW, Audi and Tesla have demonstrated their automated driving solutions.
As for truck platooning – the subject of this whitepaper – the investments in research and development are high and promising, not only at TNO but across Europe, for instance at Scania, Volvo, and DAF. At TNO, we are in the process of making this possible for truck platoons in the Netherlands by developing technological solutions and implementing these solutions in innovative logistics concepts.
Download the Paper: Truck Platooning: Driving the Future of Transportation

Daimler is developing the Mercedes-Benz Future Truck 2025 with the promise that in a decade drivers of the vehicle will be "transport managers" rather than truck drivers.
Under Daimler's system, once a truck reaches 50 mph on a highway, the driver activates a "Highway Pilot" that puts the truck in autonomous mode. The driver can then pivot the seat to face an office work station where he or she can perform other tasks, such as invoicing or other paperwork.
Experts are predicting that autos, trucks and transportation may change more in the next 20 years than they have in the past 75 years. The model to think of is how fast technological change has come to the telephone. Does anybody remember the rotary dial phone? Now, practically everyone has what is basically a powerful computer in their pockets.
There are some amazing developments in automated unloading of trailers. Not only is the future for drivers being diminished, so is the future for freight and package handlers. The biggest barrier to automated unloading at this time isn't technology, experts say, but the capital expenditure required.
On the heavy truck front, Caterpillar has had driverless semi-autonomous mining trucks for years guided from a control tower. Earlier this year, Paccar's Peterbilt unit demonstrated a prototype driverless Class 8 heavy truck where the driver is basically just a spectator, and cameras and sensors took over during a demonstration run around Texas Motor Speedway.
Of course, drivers would still be required for difficult tasks such as navigating purely local roads and pulling up to docks. But some trucking officials think robotics could be used in dock yards where trucks could follow a pre-programmed path to the correct loading dock.
The modified Model 579 Peterbilt was guided by GPS, which is said to be accurate within a two-inch range. In May, Peterbilt demonstrated a driverless truck on Interstate 15 across the Hoover Dam in Nevada. That test was enough to get Nevada Gov. Brian Sandoval onboard with the new technology.
After watching the demonstration, Gov. Sandoval (R) said he would like to add support for driverless trucks as part of a multimillion dollar highway widening project in and around Las Vegas. He also said he would like to make thinly populated Nevada the center of the driverless trucks industry.
"No one would have imagine the iPhone a few years ago," Sandoval told the Associated Press. "I feel the same way about these autonomous vehicles."
Other phases of driverless tests in trucking include "platoon" formations, which is up to five trucks guided by a single unit. A recent test by Auburn University showed platoon units can save between 5 and 10 percent on fuel, and also obviously would provide more payload than single or even double trailer formations.
Recently a top executive at XPO Logistics, a major U.S. 3PL, said driverless trucks could eliminate 20 percent of total miles driven empty experienced by smaller truckers and 10 percent by large fleets.
"We're excited about driverless trucks," said Scott Malat, chief strategy officer, said recently. "There are all kinds of implications for our industry." Malat said automakers are predicting driverless automobiles within the next 8 to 12 years.
James Welch, CEO of YRC Worldwide, parent of the second-largest LTL carriers in the nation, says even though he has a difficult time envisioning how driverless technology works, he adds: "I would not rule out driverless trucks. Never say never."
There is also talk of a north-south autonomous truck "corridor" running from Alaska to Mexico. It would go roughly along the Interstate 83 corridor stretching from Mexico City through Texas, Oklahoma, Kansas, Nebraska, South Dakota and North Dakota into Canada via Manitoba, Saskatchewan, Alberta, British Columba and finally Alaska. The route is being pushed by Bismarck, N.D.-based coalition called Central North American Trade Corridor Association.
"There are still significant social and legal barriers, but the technology is terrific," Mark Rourke, president of transportation for Schneider, the nation's second-largest TL carrier, told Logistics Management. "It will happen sooner rather than later. But it will be limited in its application.
"But there will be tremendous residual benefits in safety," Rourke predicted. "Some of these technologies regarding sensors and what-not will go more main stream first. The whole trucking environment will improve. Whether it will be a real meaningful capacity play or not, I'm not sure. But there will be net benefits because of the investments in technology. It's a real positive."
If nothing else, the trucking industry's embrace of this cutting-edge technology might just attract some additional young people into a $700 billion industry that is often viewed as old and cumbersome by the tech-savvy millennials.
"Transportation just isn't perceived to be as glamourous as other professions," Elise Leeson, director of human resources for Averitt Express, the nation's 12th-largest LTL carrier, told Logistics Management.
"We've found that transportation careers aren't even on the radar for many educators and guidance counselors. So there is limited awareness among young people. Our challenge is to generate awareness early and re-package transportation as a rewarding, exciting, technology-driven career with many opportunities for growth," Leeson added.
Still, obviously hurdles remain. What happens in an accident? Who is legally liable? The company? The computer programmer? The shipper? And there are many regulatory hurdles to clear. But driverless trucks are already being introduced with automatic stopping and automated lane controls, and more innovations are surely on the way
"It's a sure thing but it won't happen until we require total automation of cars," FTR's Perry said. "Cars are what clog highways. When we require automated equipment on the Pennsylvania Turnpike, that will speed its use in trucking. We are nibbling around the edges."
Perry is predicting "within 15 years" the trucking industry will have completely automated line haul. If that happens, truckers will be able to double their productivity "at half the cost," Perry predicted.
As always, the future appears to be a balance between what is feasible in cost and realistic in its applications.
"It's a balance," Con-way's Dagnese says. "We will always need drivers. Their roles may change. They may become more like pilots, who execute most of their time in the air while on auto-pilot. But I'd be hard-pressed to see these technologies reducing the need for drivers in the foreseeable future."
Related: Aging Truck Driver Work Force - A Major Issue in Filling Demand & Empty Seats

Article topics
Email Sign Up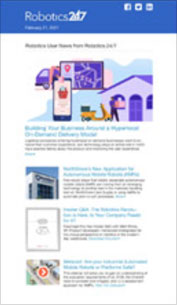 Get news, papers, media and research delivered
Stay up-to-date with news and resources you need to do your job. Research industry trends, compare companies and get market intelligence every week with Robotics 24/7. Subscribe to our robotics user email newsletter and we'll keep you informed and up-to-date.