Customers in the materials handling and manufacturing sectors are turning to automation to increase throughputs and to address labor challenges, but robotics vendors and industry analysts have continued to argue that human workers will be key to drive progress.
So if that's true, how are these automated systems being designed with worker interactions in mind?
Robotics 24/7 spoke with several robotics suppliers to learn how they take humans into consideration when designing their products.
Vecna's Pivotal takes humans and robots into consideration
With its Pivotal orchestration software platform, Vecna Robotics said it is working to integrate humans and machines into one system for better workflow management.
Anthony Moschella, senior vice president of product management at Vecna, told Robotics 24/7 that the company is not interested in helping customers have "lights-out" facilities. A lights-out facility is one where there are no humans, only machines.
"When we go into designing a solution, we actually take into account the human element," he said.
That integration starts with understanding a customer's warehouse management system (WMS) and manufacturing execution system (MES).
"In a big distribution center, for example, the WMS will be staging all of your orders as they come in to go to your retail stores," he said. "Today, those orders are overwhelmingly handled by human operators. As we start to layer in autonomy, we figure, 'OK, which portions of these missions makes the most sense for our robots to do?' and that may not be a one-to-one correlation."
"We don't necessarily take every individual human task and replace that task with the robot," Moschella added. "We look at the overall system view and try to identify which aspects of the tasks are best suited for autonomy."
Vecna's Pivotal software suite allows customers to better supervise operations and gain deeper analytical insights.
Moschella said the company has begun testing with a few third-party logistics customers (3PLs) alpha versions of the software that allow for greater collaboration between human agents and robots. He noted that the first application Vecna is exploring with the new version is case picking, which he said is "probably the highest-labor touch point in a distribution center."
Ideally, these new features should help reduce worker travel within a facility and better optimize a worker's time, noted Moschella.
At ProMat this month, Vecna plans to reveal which customers are using the new alpha version of its Pivotal software.
6 River Systems develops more resilient machines
Rylan Hamilton, co-founder and CEO of 6 River Systems, said the company has made its mobile robots more robust over the years to take into account the desires and needs of its customers.
6 River Systems has also seen a lot of growth with 3PLs. Hamilton attributed that growth to reluctance among some retailers and merchants to make investments in warehouse technologies themselves. It's easier for those companies to instead partner with 3PLs and scale automation.
As these systems become more mainstream and mature, however, customers can more easily integrate robotics into their warehouses, he said.
Since launching in 2015, 6 River Systems' Chuck mobile robot has gotten more reliable, can handle higher payloads, and has increased modularity, explained Hamilton. That has enabled workers to more easily integrate the robot into their workflows.
"In some ways, we think our primary customer is the warehouse associate," he said. "We want to make their job as easy as possible, so we do that with both a directed workflow and with a mobile workstation on the back of the robot."
Chuck can be used for a range of fulfillment tasks, including system-directed picking, case replenishment, and returns putaway. The robot includes a multitouch tablet and a range of sensors and lights to help floor associates complete their tasks, said Hamilton.
6 River Systems has also developed software that has allowed its customers to take advantage of its picking services even when they are not using Chucks, he added.
Humans address AI shortfalls and drive progress
Firdaus Pohowalla, a managing director at Cascadia Capital, said we are years out from having autonomous systems that can operate autonomously 24/7 and address every edge case. Humans will continue to be important part of the process for the foreseeable future, he said.
Pohowalla helps lead the investment bank's robotics, automation and artificial intelligence division.
"The human-in-the-loop [system] allows for two things," he said. "One, it allows for an exceptional level of control when you are dealing with problems and having a human able to solve that problem. That's collaborative by definition."

"The second piece is the data capture that results from those edge cases and exception cases," said Pohowalla. "The net with the human supervision is that you are able to identify when an edge case or an exception occurs."
Humans can then label those edge cases and exceptions, put them back into the training pipeline, and improve the AI models.
"That's why we are big fans of the idea," Pohowalla said. "We think it will accelerate the adoption of robots, both from a collaborative standpoint, but also from a path toward full autonomy."
DENSO sees value in MiR mobile robots
Mobile Industrial Robotics recently profiled DENSO, an automotive parts company that recently installed six MiR250 robots at its 800,000-sq.-ft. facility in Athens, Tenn.
DENSO has used the robots to automate its conveyance process. Workers now have to walk much less and can do more value-added tasks, the company said.
What are those specific value-added tasks?
Travis Olinger, a logistics and automation engineer at DENSO's manufacturing facility in Athens, told Robotics 24/7 that a number of employees have moved over to the production and quality aspects of the job.
"Their new roles could be in a direct production environment operating a machine, inspecting products for quality requirements, or any of the many processes to ensure DENSO meets customer demand without sacrificing part quality," he said.
Both the team members and the company benefit from eliminating walking time, said Olinger. Those who do interact with the robots are assessed using error-tracking dashboards, he said.
"Through this data, we can see trends in error occurrence and retrain a team member if needed, or [we can] troubleshoot a layout for improved interaction," Olinger said.
About the Author
Cesareo Contreras
Cesareo Contreras was associate editor at Robotics 24/7. Prior to working at Peerless Media, he was an award-winning reporter at the Metrowest Daily News and Milford Daily News in Massachusetts. Contreras is a graduate of Framingham State University and has a keen interest in the human side of emerging technologies. Follow Cesareo:
Follow Robotics 24/7 on Facebook
Article topics
Email Sign Up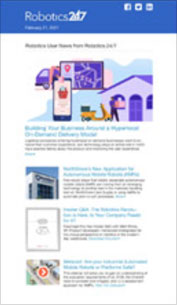 Get news, papers, media and research delivered
Stay up-to-date with news and resources you need to do your job. Research industry trends, compare companies and get market intelligence every week with Robotics 24/7. Subscribe to our robotics user email newsletter and we'll keep you informed and up-to-date.
Getty Images