Not all autonomous vehicle development occurs at big automotive or technology companies. Today, the Indy Autonomous Challenge Powered by Cisco will take place at the Indianapolis Motor Speedway. Nine teams with participants from from 21 universities and nine nations have programmed Dallara AV-21 racecars in pursuit of the $1 million first-place prize.
The primary goal of the Indy Autonomous Challenge (IAC) is to advance technology that can speed the deployment of advanced driver-assistance systems (ADAS) and the commercialization of fully autonomous vehicles. It is also a platform for students to excel in science, technology, engineering, and mathematics (STEM).
University teams
The following teams are competing in the Indy Autonomous Challenge:
AI Racing Tech – University of Hawai'i, University of California San Diego
Autonomous Tiger Racing – Auburn University
Black & Gold Autonomous Racing – Purdue University, U.S. Military Academy at West Point with Indiana University-Purdue University Indianapolis (IUPUI), Indian Institute of Technology Kharagpur (India), Universidad de San Buenaventura (Colombia)
Cavalier Autonomous Racing – University of Virginia
EuroRacing – University of Modena and Reggio Emilia (Italy), University of Pisa (Italy), ETH Zürich (Switzerland), Polish Academy of Sciences (Poland)
KAIST – Korea Advanced Institute of Science and Technology (South Korea)
MIT-PITT-RW – Massachusetts Institute of Technology, University of Pittsburgh, Rochester Institute of Technology, University of Waterloo (Canada)
PoliMOVE – Politecnico di Milano (Italy), University of Alabama
TUM Autonomous Motorsport – Technische Universität München (Germany)
ADLINK rallies technology providers
In addition to Cisco Systems Inc., the following companies are providing support:
ADLINK—AVA-3350-series robot controllers and ROScube
The Autoware Foundation— an F1Tenth racetrack in cooperation with University of California, San Diego
GAIA Platform – Racing simulator robot
Boston Dynamics – Spot quadruped mobile robot will wave the green and checkered flags
Kvaser – Kvaser DevKit racecar simulator
The public-private partnership behind the IAC wanted to develop a base vehicle for the universtiy teams, and ADLINK Technology Inc. helped pull together technologies and providers.
"We understood that in addition to hardware, everyone needed the software to make the vehicles work. We gave them more edge computer power than they had in mind," said Joe Speed, field chief technology officer at ADLINK. "We and others provided hardware and engineers and helped bring down the cost to $1 million per vehicle, since some teams aren't fully backed by a university but are just clubs. We wanted them to spend more time working the problem than fundraising."
"For the base vehicle software, all the universities worked together until a few months ago," he told Robotics 24/7. "Then they worked on racing strategies, perception, and passing algorithms. Nobody should be competing on how to get a camera to work or worrying if drive by wire is flaky. All the cars can do a yellow-flag lap without human intervention."
"The teams can figure out their kinematics models and decisioning based on perception," Speed said. "I'd be remiss if I didn't say we did a lot of work with ADLINK commercial products as well. We've built the world's most powerful ROS 2 controller."
Open-source community supports IAC
ADLINK has also partnered with The Autoware Foundation, the Open Source Robotics Foundation, and the Eclipse Foundation to provide the IAC teams with open-source tools and expertise, from Robot Operating System and ROS 2 robotics controllers to edge AI systems.
The Taiwan-based company is supplying each university team with an ADLINK AVA-3501-series rugged edge platform for in-vehicle computing. The AVA-3501 uses AI to work through gigabytes of image analysis in real time to cope with the massive data load of high-speed, autonomous driving.
All of this processing must be done in-car, at the network edge. The AVA-3501 combines the latest Intel Core and Xeon processor options with dual-slot, full-length NVIDIA RTX graphics for AI acceleration.
Depending on the configuration, the system can also provide 3TB of Samsung 970 EVO Plus NVME M.2 SSDs, two 512GB hot-swappable 2.5-in. SSD SATA 6 Gb/s system drives, dual 40GbE QSFP+ connectivity, and six CAN channels. This is in addition to a standard I/O set including DP++, DVI-I, GbE, 8-channel Digital IO, and six USB ports, said ADLINK.
"We are committed to building a comprehensive ecosystem for the C-V2X platform, which is key to the successful implementation and uptake of autonomous driving," Speed explained.
"ROS wouldn't work for high-bandwidth sensors, but roboticists contributed back to make it six times faster, which then contributed back to the teams," he added. "That's the genius of open source. Many companies that aren't listed as sponsors provided their own engineers and money."
"This is an important competition—where else are we going to push ROS 2 real-time performance safely in such a stressful environment?" said Speed. "If an autonomous vehicle crashes at 2 mph, there can be a loss of face, but in the U.S., if 10 cars wreck at 83 meters per second [185.6 mph] with no risk to loss of life, we can advance autonomy and be exciting."
ADLINK, Arm, and major automotive companies last month released the Scalable Open Architecture for Embedded Edge (SOAFEE) hardware reference platforms.
STEM Garage to inspire innovators
"During the IAC, the onsite STEM Garage will display technologies that have been at the center of the IAC from ADLINK and our partners GAIA Platform, The Autoware Foundation, Kvaser, Boston Dynamics, and more," said Speed. "They'll be doing super fun stuff, like a heavy-lift drone demonstration and a hands-on lab with a 1:5 scale vehicle. The whole community has chipped in."
"We'll have autonomous racing simulators, real racing simulators from Dallara, and Spot," he added. "Hundreds of students will see F1Tenth cars, look over and see electric vehicles and Grand Prix cars and then demos in simulation."
"The IAC involves universities, but the governor arranged to bring high school robotics students from all 84 counties in Indiana. If you look at all the autonomous driving companies that came out of the DARPA Grand Challenge, this is the next generation of innovators."
"The IAC is an amazing laboratory, and it's shocking the progress they'll make," Speed said. "Imagine, if we could safely double the speed of an autonomous mobile robot, we could get one-third more throughput out of any given fleet."
A livestream of the Indy Autonomous Challenge will be viewable today at 1:00 p.m. EDT.
Editor's note: See our coverage of the MIT-PITT-RW team and the winner of the challenge.
About the Author
Eugene Demaitre
Eugene Demaitre is editorial director of Robotics 24/7. Prior to joining Peerless Media, he was a senior editor at Robotics Business Review and The Robot Report. Demaitre has also worked for BNA (now part of Bloomberg), Computerworld, and TechTarget. He has participated in numerous robotics-related webinars, podcasts, and events worldwide. Follow Eugene:
Follow Robotics 24/7 on Facebook
Article topics
Email Sign Up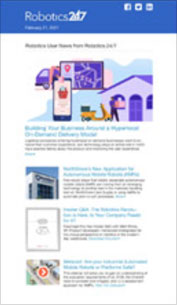 Get news, papers, media and research delivered
Stay up-to-date with news and resources you need to do your job. Research industry trends, compare companies and get market intelligence every week with Robotics 24/7. Subscribe to our robotics user email newsletter and we'll keep you informed and up-to-date.
Indy Autonomous Challenge