As aerial threats mount, so does the need for good information and defenses. Ondas Holdings Inc. this week announced that its wholly owned subsidiary, Airobotics Ltd., has completed its acquisition of the assets of Iron Drone Ltd., which developed autonomous counter-drone systems.
"Iron Drone's counter-drone technology is a perfect fit for Ondas' portfolio, as it is a mission-critical system that can be installed to protect sensitive assets," stated Eric Brock, chairman and CEO of Ondas Holdings. "The combination of Airobotics with Iron Drone represents a new revenue opportunity for Ondas in a market that is seeing a lot of growth."
"Iron Drone's expertise and technology will be complementary to the Optimus System drone, providing our growing list of customers in the public safety and industrial sectors with the solution they are looking for," he said.
Waltham, Mass.-based Ondas Holdings provides private wireless data systems through its Ondas Networks Inc. unit and commercial drone services through Ondas Autonomous Systems, which includes Airobotics and American Robotics Inc.
Last month, Airobotics received a $3.5 million purchase order from SkyGo Transport of Goods LLC and entered a joint venture to deploy drone services in Abu Dhabi in the United Arab Emirates. The company also said it has signed a memorandum of understanding (MOU) with the Dubai Police to collaborate on aerial defense systems and implement Airobotics' Optimus drone.
Iron Drone defends against malicious drones
In the past few years, the number of incidents involving drones and other small, uncrewed aerial vehicles (sUAVs) has increased along with their availability and ease of operation. Criminals and terrorists have used such vehicles to gather intelligence, attack critical infrastructure, smuggle goods, and even harm people, noted Iron Drone.
The Tel Aviv, Israel-based company said its fully automated system can eliminate small drones without using GPS or radio-frequency jamming. Launched from a designated pod, the interceptor flies autonomously towards the targets based on initial radar guidance, then "locks on" to the target with advanced machine vision.
The intercepting drone follows the target, then incapacitates and captures it, using a net and a parachute to safely lower it to the ground. The whole process is fully automated without the need for a human pilot, said Iron Drone.
Airobotics completed its acquisition of Iron Drone's assets on March 6. The company presented the government-grade system at the World Police summit in Dubai this week.
Combined system to neutralize threats
By combining Iron Drone's counter-drone technology with Optimus, Airobotics said it will offer an integrated system for critical infrastructure protection and monitoring. The companies added that they will provide customers in smart city, defense, and industrial markets with a security platform capable of intercepting hostile drones in various theaters.
"We're moving fast to bring the Iron Drone solution to the homeland security worldwide market," said Meir Kliner, president of Ondas Autonomous Systems. "We have already been approached by various potential customers who are looking for a reliable, non-weaponized counter-drone solution."
"The unique integrated AI-based Iron Drone solution relies on physical elimination of the target drone," he added. "This makes it effective against pre-programmed hostile drones and UAVs, which do not rely on operators' radio link."
"Moreover, due to its low collateral signature, it can be operated in areas where the use of jamming is prohibited, such as airports, populated areas, and critical infrastructures," said Kliner. "With Iron Drone, our customers will be able to neutralize threats while utilizing Optimus drones for monitoring, observation, and video surveillance."
The Iron Drone technology will be available to customers as a standalone technology offering and as an addition to the Optimus System Urban Drone Infrastructure.
Airobotics signs MOU with Dubai Police
Airobotics and the Dubai Police today said they are collaborating to defend against potential aerial threats and to implement Airobotics' Optimus System. Through the MOU, the partners said they will implement artificial intelligence to meet the operational goals of the Dubai Police.
The Dubai Police also declared its intention to purchase a certain number of Airobotics' counter-drone systems.
"We're proud to cooperate with Dubai Police," said Kliner at the World Police Summit in Dubai. "Through our relationship over the last two years, Dubai Police and Airobotics have created the world's first drone infrastructure for public safety, where autonomous drones operate 24/7 in complex populated urban environments. We will keep working to expand the infrastructure together, whilst providing Dubai Police with our new cutting-edge counter-drone solution."
Maj. Gen. Mohammed Nasser AlRazzooqi, director of the General Department of Operations, said: "We are happy to expand our relationship with Airobotics to utilize the Optimus 'drone-in-a-box' and Iron Drone solutions and to tailor their drone solutions to the operational goals of Dubai Police, making them the leading systems in the public safety industry."
Article topics
Email Sign Up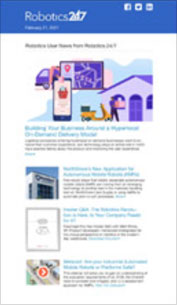 Get news, papers, media and research delivered
Stay up-to-date with news and resources you need to do your job. Research industry trends, compare companies and get market intelligence every week with Robotics 24/7. Subscribe to our robotics user email newsletter and we'll keep you informed and up-to-date.
Iron Drone