Collaborative robots promise to help small and midsize enterprises adopt automation. The light robot arms are designed to be safer and easier to use than their industrial cousins, but they can still be costly and can be used beyond manufacturing, according to Doosan Robotics Inc.
Earlier this month, the Seoul, South Korea-based company raised $33.7 million and said it has sold more than 1,000 collaborative robots. Doosan demonstrated its NINA (for "New Inspiration, New Angle") robot arm at CES 2022, where the camera robot was recognized with an Innovation Award.
Dayoung Kim, deputy general manager of Doosan Robotics, discussed NINA and the wider cobot market with Robotics 24/7.
What was your experience at CES in Las Vegas, and how were Doosan's robots received?
Kim: It went well. Our team got COVID-19 tests every morning.
In the demonstration at our booth, we let people plug in their mobile phones to control the NINA cobot in a "Make Your Own Movie" challenge. We have video of people dancing.
Collaborative robots are finding more and more applications—how did you decide on NINA's target market?
Kim: We wanted to expand the boundaries of cobots from the manufacturing industry into entertainment. That's why we started the NINA project.
We've been in business for five years. Last year, we got No. 1 in cobot market share in Korea, and we're in the global Top 5 now. Our expertise was in motion tools for manufacturing.
We're expanding into services applications, such as our ice cream robot and now NINA this year.
What's unique about the NINA cobot?
Kim: It has a standardized mounting plate, and it's more portable than any other motion-control cameras on the market.
NINA is also lightweight and can carry 44 to 55 lb. We have dedicated software making it easy for any photographer to use. They can do the same angles as cinematic cameras. We also offer a simulation mode, so users can predict how the motion and angles would be.
There is a button at the top of the robot, which can be instructed by movement. A position will be saved, so users don't have to program software and then watch the path. They can just press the button. NINA users can input and export presets and motion files.
Unlike other robots, ours has 720-degree rotation, and it can move more freely with six axes.
NINA's package includes the robot manipulator, a control box, and a joypad. It also works with an Xbox joystick, which many people are familiar with.
How do Doosan's cobots compete on weight and affordability?
Kim: Our robot is smaller than others, and it's physically reasonable for price. We tried to keep the software and all the things included in the package simple, meeting minimum requirements.
Compared with other cobots, ours is 50% lower in price, and compared with other motion-controlled cameras, our prices are 20% to 30% lower.
The purchase price starts at $110,000, and the rental price will start at $6,000 per day, starting in March 2022.
Our slogan with NINA is to empower everyone to be a professional, including hobbyists.
You mentioned Doosan's ice cream robots. How are your systems moving into service applications?
Kim: In Korea, our robots have become popular in the food and restaurant market. We've already launched a product with the top fried-chicken chain in the country, which is starting to open shops with our robot.
We were also accepted by the Korean army for making meals, since frying is difficult. Our DR. PRESSO robotic cafe was at CES.
Lighter, safer, and more energy-efficient robot arms are a prerequisite for mobile manipulation. Do you see Doosan serving such tasks?
Kim: Our company is trying to make our robot very familiar to everyone for easy usage. One of our major objectives is making apps that can be used by mobile phone. We've got people from Samsung and LG, and such mobile apps for easy robot control could be on the market in one or two years.
We're pretty sure our robots are pretty safe, since they've passed the highest level of testing. We're working on making it happen with the software next.
Doosan claims to be the top cobot provider in South Korea, but what are your plans for global leadership?
Kim: We're pretty sure we've got the No. 1 product. While Universal Robots is No. 1 in the global market, when we do competitive tests, we have high quality. We can do better, and our product is guaranteed.
Industrial robots have to be fast and can't be close to people, so they're tied to factories. We're pretty sure that once we move to service and medical—there are so many areas to grow.
Based on our experience, it's not easy to make a good product within two to three years. We're trying to move fast and expand rapidly to all the applications where we can go and make fresh [with automation].
Will Doosan be working with distributors or directly?
Kim: We have existing dealers, but we are also looking for partners with experience on the entertainment side this year.
We've already been accepted by the market in Korea, and we're expanding in the U.S. and Europe this year. We've also got patents everywhere.
As Doosan grows and establishes new branches, we're also looking for good people.
About the Author
Eugene Demaitre
Eugene Demaitre is editorial director of Robotics 24/7. Prior to joining Peerless Media, he was a senior editor at Robotics Business Review and The Robot Report. Demaitre has also worked for BNA (now part of Bloomberg), Computerworld, and TechTarget. He has participated in numerous robotics-related webinars, podcasts, and events worldwide. Follow Eugene:
Follow Robotics 24/7 on Facebook
Article topics
Email Sign Up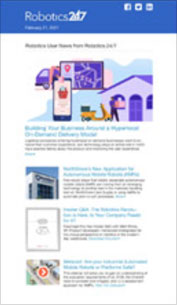 Get news, papers, media and research delivered
Stay up-to-date with news and resources you need to do your job. Research industry trends, compare companies and get market intelligence every week with Robotics 24/7. Subscribe to our robotics user email newsletter and we'll keep you informed and up-to-date.
Doosan Robotics