Last week, GXO Logistics Inc. announced that its revenue increased to $2 billion for the third quarter of 2021, compared with $1.6 billion in the same period last year. The Greenwich, Conn.-based company added that the amount of technology and automation in its warehouses has increased by 139% since 2020.
"Looking ahead, we expect continued growth driven by the three massive secular tailwinds of automation, e-commerce, and outsourcing," said Malcolm Wilson, CEO of GXO Logistics, in the company's first earnings statement since it spun off from XPO Logistics.
GXO claims to be "the world's largest largest pure-play contract logistics provider in a $430 billon total addressable market." It has approximately 95,000 team members across more than 860 warehouse locations totaling approximately 200 million sq. ft. (18.5 million sq. m).
Mark Manduca, GXO's chief investment officer, spoke with Robotics 24/7 about his company's strong start and how changing consumer demand is driving change in supply chain technology.
Hunger growing for automation
Before the pandemic, many logistics providers were just running trials of mobile robots in warehouses. Now, they're hungry for automation. What has changed?
Manduca: If you look at this industry, it's still nascent in technology—only 5% of warehouses have robots, while we have about 30% penetration.
This is about technology and people working together in a winning combination. We're excited about lots of things, and we've had significant growth in automation because of the desire from customers to have it. The days of pushing boxes and heavy carts by hand are over.
How is GXO working with its customers to identify the best places to add automation?
Manduca: We come in as a technology advisor, consultant, and outsourcer—to make the left hand talk to the right hand.
Our usage of automation is six times the industry average. Our automation growth of 18% year over year is faster than our overall organic growth rate of 12%.
We're doing this, not just for the technology's sake, but to solve problems. We find solutions for picking rates, efficiency, and making our warehouses better places to work.
There are numerous examples in e-commerce, with variable costs a fraction of what they were. Automation results in tangible improvements, insights into inventory, higher productivity, and better results for customers.
What types of robots is GXO using?
Manduca: We're most excited about a KNAPP robotic arm that we've been trialing in the Netherlands. It can determine on its own what it's picking up, from a feather to a car battery. This has great potential to partially automate packing environments.
We've deployed Cognex scanners across sites, and they've increased productivity by 5% to 20%. They allow warehouse associates to work hands-free.
If the scanners cut down scan time by 1 second per scan, at 100 million scans per year, these scanners save 27,000 man-hours. Operators can get their return on investment [ROI] in one year.
We've deployed nearly 400 ProGlove wearable scanners in European locations for accuracy, efficiency, and safety.
We've also deployed a number of collaborative AMRs [autonomous mobile robots] for a U.K. retailer. They improved picking efficiency by 70%.
In addition, we're working with 6 River Systems' Chuck mobile robot, which increased efficiency by 43% on a trial site for an 18-month ROI.
Measuring robotics ROI
You mentioned safety and efficiency as drivers for adding technology to warehouses. How do you measure improvements?
Manduca: We want to minimize incident rates in a maximum per diem basis.
It's about people working with technology rather than being replaced by it. Robots and wearable devices help especially during peak periods. There's less stress, and they cut down on manual work.
I've spoken with team members over the past six months, and GXO's whole C-level suite monitors incident rates and worker satisfaction. We love constant feedback, from internal surveys to seeing what's on Glassdoor. We're trying to find banal problems and monitor outputs in GXO Smart [data management analytics].
Of course, robots and automation can also help GXO's bottom line and competitive advantage.
Manduca: It's not just enhancing safety and making the environment a great place to work.
I was at a warehouse the other day—it and some reverse-logistics facilities in Indiana and Texas are really good examples of how improved efficiencies have helped our operations and finances. The cash payback is literally within one year of deployment.
Succeeding amid supply chain slowdowns
How is GXO helping its customers with current supply chain challenges?
Manduca: Technology enhances our offerings from an e-commerce standpoint. When consumer products arrive in the Port of Los Angeles, there's a huge demand, partly because of worker shortages.
There's not a single contract we're writing that doesn't have some automation attached to it. Everyone sees the significant benefit, but it's hardest to automate on the ground.
We're working with and against lots of forces, such as chip and metal shortages. Because of our global footprint, our ability to negotiate with RFPs [requests for proposals] and suppliers is unparalleled. Technology is needed to support workers to do great things.
Despite labor shortages and macroeconomic trials, consumer demand is still strong. It's supply chain problems. Once they're alleviated, customers will then be able to deliver on increased orders.
How has GXO managed its own large workforce, given the competition for talent?
Manduca: We have a deep bench of technology talent spread across all the countries in which we operate. We've invested in our business and career development, with both experienced advisors and recruits from universities.
We have 1,400 people in our technology division, which is made up of automation engineers, software developers, database designers, and architects. They're responsible for our WMS [warehouse management software] and GXO Smart, driving efficiencies.
We have a "holy trinity" of teammates, customers, and shareholders.
We've touched on robots and workers, but what is the role of software at GXO?
Manduca: About 60% of our sites are Smart-enabled, and we're looking to ramp it up further in 2022.
In some cases, we accrue savings in open-book contracts; in others, customers do. In the majority of contracts, savings of 5% to 7% are important for businesses with single-digit margins.
If you know that half of your cost base is $4 billion in labor, with 40% still deployed, plus savings from Smart—that's an output of 100% margin expansion from amazing productivity and propriety software.
GXO expects long-term leadership
What do you expect for GXO in terms of growth for the remainder of this year?
Manduca: E-commerce has grown 22% year over year in the quarter, and reverse logistics 21% in the quarter. Full year-over-year comparisons are harder. We've had persistence and resilience from the Q2 2020 height of the pandemic through Q3 of this year.
The midpoint of growth is 8% to 14% in Q4, with an output of 8% to 12% into next year. E-commerce is still the most important part of our business.
We're blocking and tackling as a business. Our services have never been in more demand. We need to make sure we have the technology backbone—data, AI, and automation. GXO is the only pure-play, large-cap global 3PL [third-party logistics provider].
What are warehouse expectations for automation?
Manduca: Customer contracts are getting longer, and they're demanding technology in them. Right now, contracts run at four years, while a few in the past were only 12 months.
With a five- to 10-year enablement, they want a 3PL with a good balance sheet, that's blue-chip, and that has scalable technology. Piloting is a big part of what we do, and we're the first to try for hiring worldwide.
Operators want to stand shoulder to shoulder with logistics providers rather than the Dickensian warehouses of 20 years ago. It's a relationship of equals rather than bargaining down with the 3PLs. There is a gravitation to the big ones.
GXO is creating a category. We're ESG [environmental, social, and governance]-friendly, and there's nothing like us in terms of scale and coalescing the technology and e-commerce backbone.
About the Author
Eugene Demaitre
Eugene Demaitre is editorial director of Robotics 24/7. Prior to joining Peerless Media, he was a senior editor at Robotics Business Review and The Robot Report. Demaitre has also worked for BNA (now part of Bloomberg), Computerworld, and TechTarget. He has participated in numerous robotics-related webinars, podcasts, and events worldwide. Follow Eugene:
Follow Robotics 24/7 on Facebook
Article topics
Email Sign Up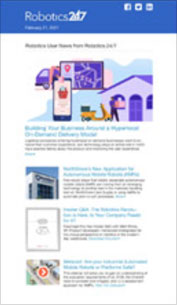 Get news, papers, media and research delivered
Stay up-to-date with news and resources you need to do your job. Research industry trends, compare companies and get market intelligence every week with Robotics 24/7. Subscribe to our robotics user email newsletter and we'll keep you informed and up-to-date.
GXO Logistics