Last week, local news outlets reported new Amazon.com Inc. distribution and fulfillment centers in Shreveport, La., and Savannah, Ga. The Seattle-based company has continued to open such facilities across the U.S. as e-commerce demand rises, and it said that each one will employ about 1,000 people. In addition, Amazon's centers will include robots from its Amazon Robotics unit in North Reading, Mass.
Last year, Amazon had more than 185 fulfillment centers across the U.S., according to CNBC. Louisiana Gov. John Bel Edwards said that construction of the $200 million, 650,000-sq.-ft. Shreveport center, the first one in his state, will begin this coming fall.
Georgia Gov. Brian Kemp hailed Amazon's fulfillment center in Savannah, its 12th in that state, for the jobs it would bring. A facility in Stone Mountain, Ga., began hiring last September and was expected to use the latest robots in addition to automated sorting equipment.
You can order a jar of spices with a few swipes on a smartphone, and in about two days, the product will arrive at your door with photographic proof of its delivery. As it has grown from a book retailer, Amazon has invested in both robots and people for rapid order fulfillment. The "Amazon effect" is the attempt by others to also harness automation for supply chain success.
What Amazon Robotics does
In 2012, Amazon acquired mobile robot maker Kiva Systems Inc. At the time, most fulfillment centers were outfitted with conveyor systems and a steady-state, steady flow of corrugated cartons, goods, bins, totes, and interspersed people.
The Kiva system offered to flexibly and efficiently help fulfill orders without a lot of additional infrastructure. Software locates the nearest automated guided vehicle (AGV) or autonomous mobile robot (AMR) and dispatches it to a location.
The Kiva robot slides beneath a stacked bin of merchandise and navigates to another location. There, it interacts with a human being so that the merchandise can be picked, packed, and shipped to the customer. The bots can navigate through the fulfillment center using a network of bar codes, and smart software coordinates the swarm so they do not collide or interfere with one another.
The AGVs are only part of Amazon Robotics' innovation. Because of its scale, Amazon has been able to re-examine and re-engineer the entire logistics process. Even before the COVID-19 pandemic, e-commerce was a small but rapidly growing part of retail. Now, consumers have become accustomed to ordering everything from apparel and groceries to prepared meals, with the expectation of rapid and accurate fulfillment enabled by optimized systems.
When a fulfillment center opens
While brick-and-mortar stores have struggled, economic development authorities are always excited at the prospect of a new fulfillment center. For instance, Amazon is building another fulfillment center on 119 acres—about half the total floor space of the Pentagon— in Richmond, Va. The 650,000-sq.-ft. facility will be near the Richmond Raceway in Henrico County and will add 1,000 jobs to the company's existing workforce of more than 27,000 full-time and part-time employees in the state.
"Virginia is uniquely positioned to provide Amazon with unparalleled access to national and global markets, as evidenced by the company's state-of-the-art fulfillment centers across the commonwealth," stated Brian Ball, secretary of commerce and trade for Virginia. "Our transportation and logistics infrastructure provides businesses direct connectivity for distribution, one of many advantages Virginia boasts in the supply chain industry."
Amazon and other retailers look for strategic locations near major highways, rail lines, seaports, and airports. Mobile robots, as well as systems for picking, packing, and palletizing, are increasingly becoming essential parts of such fulfillment centers.
Can robots really create jobs?
In each of the cases described above, they do. But if warehouses and other facilities are outfitted with robotic fleets, won't they displace the work of humans?
That's a common concern. Many industry observers and workers worry that automation could take jobs away from people. What they may not consider is that without robots, Amazon might not be able to do business at the same scale with entirely manual materials handling processes, and it then might not open facilities at those locations. Of course, there are significant challenges to maximizing safety and productivity, but they do not make humans and robots mutually exclusive.
The expanded use of robots across supply chain and logistics operations is enabling retailers of all sizes to be more responsive to demand and ultimately stay profitable during the pandemic disruption. The Amazon effect has led to a proliferation of suppliers offering AMRs and other robots, even as Amazon Robotics continues developing and deploying its own systems, including for last-mile delivery.
The robots at Amazon's new facilities will not directly replace employees. Instead, they are intended to assist humans in fulfilling orders.
"Employees will work in tandem with the robotic drive units, stowing and picking customer items," said Johnson Norman, a spokesperson for Amazon, regarding the Richmond facility. "Thousands of employees will be interacting with hundreds of Amazon robotic drive units. At Amazon, we are investing in research and development that provides assisted and collaborative technology to extend the human reach and capability in a manner that will make tasks easier, allowing our associates to turn their abilities to more sophisticated tasks where they can add the most value."
About the Author
Jim Romeo
Jim Romeo is a freelance writer and contributor to Robotics 24/7 based in Chesapeake, Va.
Follow Robotics 24/7 on Facebook
Article topics
Email Sign Up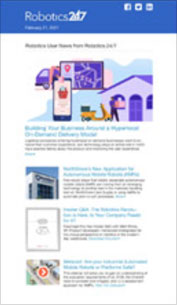 Get news, papers, media and research delivered
Stay up-to-date with news and resources you need to do your job. Research industry trends, compare companies and get market intelligence every week with Robotics 24/7. Subscribe to our robotics user email newsletter and we'll keep you informed and up-to-date.
Amazon Robotics