In the current economic conditions, robotics startups must work harder to find venture capital, but investors are getting more help in finding innovators worth betting on. Indxx last week announced the licensing of its Indxx Global Robotics & Artificial Intelligence Thematic Index to Mirae Asset Global Investments.
The index is is now the underlying benchmark for the TIGER Global AI & Robotics Indxx ETF (exchange-traded fund; Ticker 464310), which began trading on the Korea Exchange (KRX) on Aug. 17.
"Artificial intelligence is poised to define this decade," stated Rahul Sen Sharma, CEO of Indxx. "We are seeing tremendous adoption of robotics and AI exposure."
"The Global Robotics & Artificial Intelligence Index is one of our most popular indices, with Mirae Asset Global Investments launching the ETF tracking this index," he added. "We are excited to partner with Mirae Asset Global Investments, who recognize the value in providing investors with well-rounded exposure as this technology comes into its own."
Mirae looks to invest in tech-enabled future
Mirae Asset Global Investments, which has offices in New York and Seoul, South Korea, noted that recent interest and advances in AI are an oppportunity to make robots more useful.
"We are excited to offer a way to invest in the rapidly-growing AI and robotics industry," noted Minkyoo Song, senior manager at Mirae Asset. "Generative AI has been receiving continuous attention since last year, and we think the robotics industry can create a powerful synergy with the growth of AI."
"Existing industrial robots were mostly focused on executing relatively simple tasks, but the advancement of AI technology allows robots to make judgments, making the scope of utilization much broader," he said. "In addition, due to the aging population and rising wages caused by inflation, major countries are very keen on promoting both the AI and robotics industries."
The index has been back-tested to June 30, 2010, and had a live calculation date of August 29, 2016.
Indxx discusses Korean entrepreneurship
Robotics 24/7 asked Sharma to explain how the new index reflects opportunities in the South Korean robotics market.
How will this licensing arrangement help Korean investors and innovators?
Sharma: The listing of the TIGER Global AI & Robotics Indxx ETF helps Korean investors and innovators gain access to the rapidly growing AI and robotics market.
The AI robot market is forecasted to witness a CAGR [compound annual growth rate] of 22.3% between 2023 and 2030, with its value expected to reach $44.6 billion by 2030.
Key growth drivers of this market are the ever-increasing integration of automation across a wide range of industries, advancements in machine learning algorithms, and ascending consumer demand for personalized experiences.
Moreover, the swift expansion of this industry is being propelled by strides made in sensor technology, reductions in hardware costs, and heightened processing capabilities.
Can you give some examples of companies that Mirae will trade? Is this a reorganization of existing offerings?
Sharma: The Indxx Global Robotics & Artificial Intelligence Thematic Index offers exposure to global companies that generate over 50% of their revenue from AI and robotics sub-themes, specifically industrial robots and automation, unmanned vehicles and drones, non-industrial robotics, and artificial intelligence—as defined by Indxx. Currently, the index [includes] 42 constituents. Below are few examples of companies in the index:
South Korea already has the world's highest robot density, according to the International Federation of Robotics (IFR)—do you expect that leadership to continue?
Sharma: In South Korea, the application of robots extends beyond basic manufacturing industries. The market for service-oriented robots is expanding and diversifying across a wide range of sectors, including food preparation, serving, delivery, surgery, security, architecture, and even military applications.
The share of service robotics in the domestic robot market grew by 12%, and the share of individual service robots increased by 16% in 2020. These service robots are equipped with advanced AI and autonomous driving technologies, enabling them to navigate obstacles and people effectively.
Since 2008, the South Korean government has been systematically laying the groundwork for robotics advancement through successive plans under the Intelligent Robot Development and Distribution Promotion Act. The most recent Third Basic Plan, spanning from 2019 to 2023, has allocated over $100 million to support the creation of 1,500 high-tech robots for use in a variety of sectors, including healthcare.
Furthermore, the government has committed to invest more than $130 billion in economic development by 2025 as part of the post-pandemic "Korean New Deal." Therefore, it is estimated that continued fiscal support will enable South Korea to strengthen its leadership in robotics.
What can American and European robotics entrepreneurs learn from watching this partnership?
Sharma: This fund marks the sixth fund tracking the Indxx Global Robotics & Artificial Intelligence Thematic Index. The launch of this fund in one of the leading Asia-Pacific regions demonstrates the promising potential of this theme globally.
The largest robotics and AI fund, the Global X Robotics and Artificial Intelligence ETF (BOTZ) listed in the U.S., has over $2 billion in assets and is the largest in the world by assets under management [AUM]. The success of these funds is a testament to the investor confidence in the growth potential of companies involved in robotics and AI.
How interrelated do you see AI and robotics becoming? Can you give some examples where they'll work more closely together?
Sharma: Robotics and AI are rapidly evolving fields, with new advances every day as these technologies provide an insight into the future of human-computer interaction and automation. Both technologies are expected to be increasingly interrelated.
The convergence of these technologies will lead to development of more intelligent and capable robotics systems. AI will empower robots to make real time decisions, adapt to changing environments, and learn from experiences. This synergy will result in robots that can perform tasks more efficiently, accurately, and autonomously across various sectors. Below are some noteworthy examples:
About Indxx
"At Indxx, each index represents a unique methodology backed by extensive research," said Chandan Kumar GV, head of index products at Indxx. "By partnering with Mirae Asset Global Investments, we are thrilled to allow a new cohort of investors to increase their exposure to companies paving the way in robotics and AI."
Founded in 2005, Indxx said it delivers "innovative and custom indexing and calculation solutions to the investment management community at large."
The company and products tracking its indices have received numerous awards, including "Index Provider of the Year" at the With Intelligence Mutual Fund & ETF Awards for 2022 and 2023, "Best Index Provider - Emerging Markets ETFs" at the ETF Express US Awards in October 2020, and "Most Innovative ETF Index Provider" for the Americas at the 14th Annual Global ETF Awards in July 2018.
About the Author
Eugene Demaitre
Eugene Demaitre is editorial director of Robotics 24/7. Prior to joining Peerless Media, he was a senior editor at Robotics Business Review and The Robot Report. Demaitre has also worked for BNA (now part of Bloomberg), Computerworld, and TechTarget. He has participated in numerous robotics-related webinars, podcasts, and events worldwide. Follow Eugene:
Follow Robotics 24/7 on Facebook
Article topics
Email Sign Up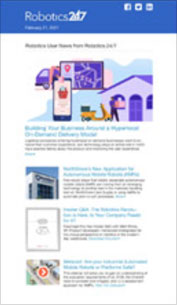 Get news, papers, media and research delivered
Stay up-to-date with news and resources you need to do your job. Research industry trends, compare companies and get market intelligence every week with Robotics 24/7. Subscribe to our robotics user email newsletter and we'll keep you informed and up-to-date.
Getty Images