The increasing use of robots across sectors has raised concerns about their safety in industrial workspaces. Along with sensing technologies and industry standards, machine vision is helping to improve robot operations, value, and ultimately safety.
As manufacturers come to view robotics an asset, machine vision and motion control systems are being integrated for their automation, control, and safety. Machine vision typically uses a camera with a lens, specialized lighting, and other camera controls to keep pace with any necessary movements.
These components may also by synchronized with more extensive motion systems and equipment such as small AC, DC, and servo motors, as seen in the example below from Doosan Robotics.
In addition to increasing a system's overall utility, machine vision can reduce the risks associated with the operation of robots. It enables robots to "see" their surroundings, thus enabling them to detect and avoid obstacles in real time.
Developers and manufacturers implement motion control systems to ensure that robots move in a controlled and safe manner.
Along with machine vision, technologies such as proximity and force sensors are playing an important role in improving robotics safety. Proximity sensors can detect the presence of objects in the robot's path and automatically stop the robot to prevent collisions.
On the other hand, force sensors can sense the pressure applied during interactions with objects. Developers such as BeBop Sensors are working on new technologies such as smart tactile sensors and contact sensors to improve robotics accuracy and efficiency.
Machine vision edges out lidar
New technologies sometimes push out traditional ones. As machine vision advances, robotics navigation may depend less on lidar.
Traditionally, mobile robots have relied heavily on lidar technology to guide and navigate their mobility. Lidar is a sensing technology that uses lasers to measure distances and create 3D maps of the environment.
Machine vision is just more practical and economical than legacy lidar systems, according to Rand Voorhies, co-founder and chief technology officer at inVia Robotics in Westlake Village, Calif.
"2D machine vision in warehouse settings is cheaper, easier, and more reliable than lidar," he said. "inVia Picker robots utilize 2D machine vision with fiducial stickers. Our robots can detect the position and orientation of a fiducial sticker with ultra-precision. By sticking these fiducials all over a warehouse, robots can easily localize themselves."
While machine vision allows precise navigation in warehouse enviroments, there is still concern about the safety of nearby personnel and assets.
Industrial standards help ensure robot safety
The growing use of machine vision comes at a time when the robotics industry is working hard to improve overall safety by setting up industry standards. More mobile robots means more situations that could lead to accidents and possible collisions.
The International Organization for Standardization (ISO) has developed a series of standards to ensure the safety of industrial robots. The importance of these standards cannot be overstated, as they provide safety and reliability guidelines for robot manufacturers and users.
Also, the Robotics Industries Association (RIA, now the Association for Advancing Automation or A3) has developed a set of safety guidelines that provide comprehensive recommendations for the safe design and operation of robotics systems.
"It's better to design in safety from the start, rather than try to tack on safety features to an otherwise-completed design, or worse, apply a fix to an existing system after someone was injured," said Carole Strait Franklin, the director of standards development for A3, in an interview.
ABI Research agreed with Franklin's view on the need for safety standards for robotics. It emphasized the importance of incorporating technology such as machine vision into future system designs.
"The importance of automatic protection for industrial mobile robot safety cannot be understated," said ABI. "While standardization and legal regulations are the driving forces in robot safety, a convergence with technological solutions is a must."
Along with the design process, it's essential to include process, payload, and safety assessments. Process assessments evaluate the efficiency and accuracy of the robotics system.
Payload assessments ensure that a robot can handle the expected load without any risks, and safety assessments evaluate the risks associated with the robot's operation and suggest mitigation strategies. By incorporating these assessments into the design and development of robotics systems, manufacturers can ensure that their products are safe and reliable.
Sensing improvements offer a safer future for robots
The safe operations of robots is of paramount importance, and machine vision, sensing technologies, and industry standards all play essential roles in ensuring that these systems are safe and reliable.
As innovations and improvements continue to be made in the field of vision and sensing technologies, we can expect to see a safer overall future for robots in industries worldwide. Ryan Marti, product manager for industrial cameras and smart cameras at Omron, summarized it best:
"Machine vision and automation are in a symbiotic relationship — essentially, vision is the 'eyes' of automation," he wrote in an A3 blog. "When innovations in machine vision technology happen, automation becomes more efficient. While certain applications and tasks in machine vision can be daunting, the reality is that there are many applications that can be solved simply and with incredible ease."
About the Author
Jim Romeo
Jim Romeo is a freelance writer and contributor to Robotics 24/7 based in Chesapeake, Va.
Follow Robotics 24/7 on Facebook
Article topics
Email Sign Up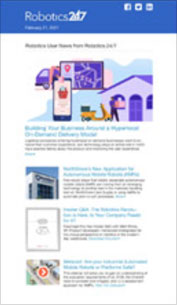 Get news, papers, media and research delivered
Stay up-to-date with news and resources you need to do your job. Research industry trends, compare companies and get market intelligence every week with Robotics 24/7. Subscribe to our robotics user email newsletter and we'll keep you informed and up-to-date.
Getty Images