Workforce challenges, consumer convenience, and improving technology are building an appetite for robotic kitchens. Nommi, which is building automation for customizable bowl-based meals, yesterday launched with plans to raise up to $20 million in seed capital. The Santa Monica, Calif.-based startup said that it will offer consumers a more efficient way to get healthy and fresh food and that it is open for reservations.
Nommi noted that the COVID-19 pandemic has changed consumer expectations "for high-quality, low-touch, and speedy food options." With restaurants operating with 2.8 fewer employees in the front of house and 6.2 fewer workers in the back of house, automation is increasingly seen as necessary for survival, it said.
The company's team includes food and robotics experts from Miso Robotics, SBE, C3, Walt Disney Imagineering, and iRobot. Nommi claimed that its standalone robotic kitchen can be customized for a variety of cuisines and brands.
C3 fills digital kitchen orders
Nommi has partnered with C3 (Creating Culinary Communities), which led funding as part of a 50/50 deal. Founded by entrepreneur Sam Nazarian, C3 counts shopping and entertainment venue manager Simon and augmented hospitality group Accor as minority investors. C3 said it is bringing together technology; underused retail, hotel, and kitchen spaces; and culinary talent.
C3 offers shared kitchens, mobile delivery with the next-gen Citizens Go app, and Citizens food halls. Its current brands include Krispy Rice, EllaMia, Cicci di Carne, El Pollo Verde, Kumi, and Plant Nation, as well as partner brands Soom Soom Fresh Mediterranean and Cindy Lou's Cookies. C3's omnichannel approach targets Gen Z and Millennials, who are the main users of third-party delivery providers, according to studies.
As of February 2021, C3 was operating 800 "ghost" or digital kitchens across the U.S. It opened the first Citizens food hall at Manhattan West in New York this fall. The company said it has served more than 2.3 million meals through more than 40 culinary brands in the past 12 months.
"Nommi is a versatile solution that can be implemented to either expand a restaurant's footprint to high-foot traffic locations such as complex lobbies, hospitals, malls, or college campuses or to optimize production efficiency in the kitchen," Nazarian told Robotics 24/7.
Automated kitchen to cook varied cuisines
Nommi said its automated kitchen can cook and dispense any grain-, noodle-, or lettuce-based dish through a fully integrated cooking system. It is designed to prepare meals in as little as three minutes, said the company.
"While moving a bowl along a conveyor belt, Nommi automatically dispenses all the ingredients necessary to prepare a variety of cuisines, including Asian, Indian, and Italian-inspired meals; poke bowls; and salad-based recipes," said Nazarian. "Depending on the order, some of these ingredients—such as vegetables and proteins—will be dispensed onto a griddle to be cooked."
Once the ingredients are ready, non-cooked toppings and sauces are added. Then Nommi seals and places the bowl in the delivery window for retrieval.
"Once they're ready, they're transferred to the bowl," explained Nazarian. "To prevent any risk of cross-contamination, each ingredient is cooked on a separate griddle, and once the process is complete, Nommi will automatically clean itself before it starts working on the next bowl.
"The goal is to make Nommi as versatile as possible by offering customers multiple food choices that meet their specific dietary needs, at any time, any day of the week," he said.
Nommi offers brand opportunity, portability
The battery-powered, self-charging machine has numerous menu options, and consumers will be able to select multiple bases and toppings to meet their specifications and cuisine desires, claimed Nommi.
Because the system can be configured for both individual and multiple brands, it opens up a "huge market opportunity" to partner with restaurants and chefs who would like to expand their reach to additional markets, said the company.
Each Nommi machine is able to hold 330 bowls and lids before needing to be refilled. It moves back and forth to collect ingredients and allows for multiple bowls to be prepared simultaneously. The bowl rotates 360 degrees as it moves through the machine to allow for precise ingredient placement.
Once a meal is prepared, it is stored in a safe and sanitary locker able to hold 21 meals. The consumer can pick it up via a unique QR code. Nommi also self-cleans after preparing each meal and gives consumers a contactless experience with no human interaction, said the company.
In addition, the entire Nommi kitchen can fit into a single container or food truck for easy transport, it said. This opens up opportunities for on-the-go delivery and catering at events like corporate parties, movie productions, and construction sites.
Nommi partnership starts with Sa'Moto
Nommi is currently developing its first working prototype, according to Nazarian. C3 is beginning its partnership with a projected order volume of 1,000 units from Nommi.
The companies will begin an initial pilot program through "Iron Chef" Masaharu Morimoto's Sa'Moto restaurant brand. The robotic kitchen will provide consumers access to the same quality Sa'Moto menu items, but it will also be available 24 hours a day, seven days a week, said Nommi.
"This process is a collaboration between Chef Morimoto, the mastermind behind these delicious meals, the engineers behind the robot, and C3's wide network of kitchens," noted Nazarian. "Our goal is to offer customers the same flavors and the same quality of food they get when they visit Sa'Moto, so we're working together to identify ingredients and design recipes that can be efficiently handled and prepared by a robot and served out of the many C3 kitchens around the U.S."
"With Nommi, we are working to reimagine the restaurant experience by partnering AI with proven recipes and menus helmed by C3's world-renowned chefs," he added. "By doing so, we are taking traditional concepts and making them new for an ever-changing restaurant industry."
More investors feed food robotics
In addition to C3, the lead investors in Nommi are Wavemaker Partners, a global venture capital fund with $600 million in assets under management (AUM), and venture studio Wavemaker Labs. Wavemaker has incubated and launched several food robotics brands including Miso Robotics, Piestro, Bobacino, Future Acres, and Graze.
"Nommi's 'secret sauce' is undoubtedly its unmatched versatility, both from a brand and consumer perspective," said Buck Jordan, founder and CEO of Wavemaker Labs and co-founder and president of Nommi. "Partnering with an innovative platform like C3 adds another layer of access to numerous revenue streams and unique customers. Both companies are disrupting the food industry, and our partnership could not come at a better time."
"C3 recently partnered with Coco Delivery to utilize Coco's remotely piloted Coco robots and to deliver popular C3 brands like Umami Burger and Sam's Crispy Chicken to customers in Los Angeles," Nazarian said. "This partnership allows C3 and Coco to fulfill deliveries up to 30% faster than car-based delivery services and with zero emissions."
"The automation industry for restaurants is growing rapidly, but Nommi is already distinguishing itself from other players in the space by being a true platform for the restaurant industry," he added. "While other automation and robotics companies offer robotically prepared meals, they do so out of a full-scale restaurant setting, and they can't accomplish the full cooking process without human assistance."

"Nommi's unique customization features, its 24/7 access, and low labor and real estate costs will allow us to generate a higher return and profit margin for our customers," said Nazarian. "In addition, our ability to partner with delivery services and remote ordering will further increase our competitiveness in both the traditional and automated restaurant space."
About the Author
Eugene Demaitre
Eugene Demaitre is editorial director of Robotics 24/7. Prior to joining Peerless Media, he was a senior editor at Robotics Business Review and The Robot Report. Demaitre has also worked for BNA (now part of Bloomberg), Computerworld, and TechTarget. He has participated in numerous robotics-related webinars, podcasts, and events worldwide. Follow Eugene:
Follow Robotics 24/7 on Facebook
Article topics
Email Sign Up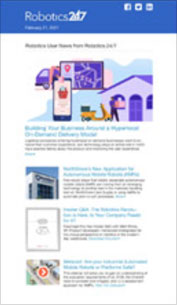 Get news, papers, media and research delivered
Stay up-to-date with news and resources you need to do your job. Research industry trends, compare companies and get market intelligence every week with Robotics 24/7. Subscribe to our robotics user email newsletter and we'll keep you informed and up-to-date.
Nommi