Safety is a leading concern with robotics implementations. Many robots can improve workplace safety, yet they can also create new hazards, especially pertaining to user error. As industrial automation becomes more widespread, these considerations become more prominent, especially with regard to Occupational Safety and Health Administration standards.
Robots have been a standard part of the industrial workforce for years. New industrial robot installations haven't dipped below 150,000 since 2010, and many processes have been largely automated for decades. Given how common these machines are, businesses can expect a fair number of regulations governing their safety.
Here's a closer look at how OSHA views robotic safety and how organizations can stay compliant.
OSHA lacks robot-specific guidance
Despite how long robots have been in the workplace, OSHA doesn't have any specific standards for robotics. This lack of guidance may seem strange, but it's likely due to a lack of need. While industrial robots are prominent, serious robotic-related incidents are relatively rare.
There are only 45 cases of robot-related accidents in the agency's records, which date back to 1984. Without a substantial record proving their danger, there's little need to implement specific standards over these machines.
Previous additions to OSHA regulations have tended to follow significant workplace safety events. For example, one of OSHA's largest sets of regulation additions followed a string of chemical-related disasters that killed thousands of workers. No such safety event has ever happened with robots.
Another reason behind OSHA's lack of robot-specific regulations is that they may be redundant. Several existing machine guidelines can apply to industrial robots.
Some guidelines that apply to robots
OSHA highlights three main standards relevant to robotics: 1910 Subpart J, 1910 Subpart O, and 1910 Subpart S. These guidelines cover general environmental controls, machinery and machine guarding, and electrical work practices, respectively. An OSHA inspector will likely refer to these regulations when inspecting a facility's robotic installations.
These guidelines apply mostly to how workers interact with robots, as most accidents come from user error. For example, facilities must implement lockout/tagout (LOTO) systems with each robot, ensuring they shut off completely when not in use. In 2016, a Nissan plant had to pay a $12,675 fine for failing to provide sufficient LOTO training for a robot.
Robotics manufacturers must also abide by existing OSHA standards for proper programming. For instance, robots' programmable logic controllers (PLCs) must limit their movement when not performing pre-programmed tasks.
As with any workplace machine, employers must perform a hazard assessment when designing a robotic system, communicating potential risks to employees.
Despite not having any robot-specific regulations, OSHA does highlight common robot risks. These include crushing or trapping incidents, mechanical failures, and unpredicted program changes.
Other robot safety recommendations
OSHA may not have robot-specific guidance, but various other safety standards do. These regulations provide a national consensus about robot safety that can guide organizations unsure about how to approach complaint robot installations.
The National Institute for Occupational Safety and Health (NIOSH) published recommendations for robotic safety in 1984. These guidelines are rather open-ended, but they provide a starting point for how to design and implement robots safely. Other consensus standards provide more detailed guidance.
The American National Standards Institute (ANSI) includes Section R15.06-2012, which specifically addresses robotic safety requirements. These include things like how to identify risks, design safeguards, test robot safety, and operate robots. Many of these regulations also overlap with the International Organization for Standardization's (ISO) robot standards.
Where there is no specific OSHA guidance, the agency will likely refer to these guidelines. As such, companies can ensure robotic safety compliance by looking to these other standards for help.
Additional regulations may come
While OSHA's stance on robotics lacks specificity now, that could change. As robots become more common in different workplaces, the chances of a noteworthy safety incident increase. A series of severe incidents would likely prompt OSHA to issue new guidance.
Even without a significant safety event, OSHA may decide to adopt robot-specific standards as robotics technology advances. While existing machinery regulations may be sufficient for robots today, that may not be true for long.
As robots become increasingly complex and handle more tasks, they could require additional regulations that current standards don't cover.
Organizations with high levels of automation should pay attention to developing standards to ensure ongoing compliance. What constitutes safe robotic operation today may not tomorrow.
Stay compliant when implementing robotics
Robots have the potential to make industrial workplaces far safer. To achieve these safety advantages and make the most of their investment, facilities must ensure they meet all relevant standards when implementing them. While OSHA may not have any specific robotics guidelines, companies can still face hefty fines for improper implementation.
Robotics is still a developing field, so safety regulations will continue to evolve as technology advances. Staying abreast of these developments is critical to the safe and effective use of robots in the workplace.
About the author
Zachary Amos is a writer at ReHack, which explores the latest tech innovations and trends. He covers topics including artificial intelligence, machine learning, and other technologies.
Article topics
Email Sign Up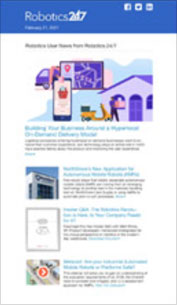 Get news, papers, media and research delivered
Stay up-to-date with news and resources you need to do your job. Research industry trends, compare companies and get market intelligence every week with Robotics 24/7. Subscribe to our robotics user email newsletter and we'll keep you informed and up-to-date.
Getty Images