As mobile robots proliferate, suppliers are expanding their industry knowledge and working to differentiate themselves based on safety and reliability. OTTO Motors this week named two executives with engineering and integration experience as co-presidents. The Kitchener, Ontario-based company also recently announced a lifetime powertrain warranty for its autonomous mobile robots, or AMRs.
"When we built our first prototype in 2013, the world of automation was a different place," recalled Matthew Rendall, CEO of OTTO Motors. "The most important concept—not only in AMRs, but also in best practices when designing and installing automation, was maximizing return on investment [ROI]. We set out to design a transformative materials-handling solution using autonomy technology that has the best total cost of ownership [TCO], period."
OTTO Motors provides AMRs for material handling inside manufacturing facilities and warehouses. With more than 3 million hours of driving experience, the unit of Clearpath Robotics Inc. said it delivers mission-critical items in demanding industrial environments. OTTO said 70% of its customers are Fortune 500 companies, including brands such as General Electric Co.
OTTO appoints execs with industry experience
OTTO Motors named Carolyn Garvey and Donald Leslie as co-presidents reporting directly to Rendall. Garvey will work closely with the manufacturing and operations teams, and Leslie with sales and service.
Both executives joined OTTO from Barrie, Ontario-based Prodomax Automation Ltd., where they served as co-CEOs. Garvey and Leslie led the company's management team to develop and execute a strategic plan resulting in more than a sixfold increase in company valuation in three years.
The duo has led teams of professionals from around the world to engineer, build, and install integrated automation for "blue-chip" automotive industry customers, said OTTO Motors.

"Carolyn and Don collectively bring almost 40 years of automation and SI [systems integration] experience to OTTO Motors," said Rendall. "In particular, their expertise in the automotive industry will be a tremendous asset as we continue to grow our install base and lead the AMR industry in the automotive sector."
OTTO Motors has deployed AMRs at Ford Motor Co. and Toyota Motor Corp., as well as at Faurecia Interior Systems and Danfoss Power Solutions. Faurecia is one of the world's largest automotive parts makers, and Danfoss is a $7 billion multinational with more than 71 factory sites in over 20 countries.

"I'm thrilled to be able to bring my expertise to bear in helping OTTO continue its successful trajectory," said Garvey. "All of the proper ingredients are in place: amazing technology, strong leadership from the executive team and investors, a top-notch company culture, and a philosophy that puts the customer first."

"If the past few years have taught us nothing else, it's the need to strategically apply automation in order to keep the economy functional," added Leslie. "Autonomous material handling is one of the most exciting and fastest-growing markets in the world, so I'm very excited to join the OTTO Motors team to play a key role in helping the company to succeed."
OTTO Motors commits to quality
OTTO Motors recently announced that an unlimited lifetime powertrain warranty is available as part of the OTTO Care Plus+ and OTTO Care Premium plans.
"We've had vehicles run for six years with no failures," Rendall told Robotics 24/7. "We use high-quality components, including high-grade brushless motors and transmissions. Our Gen 2 OTTO 1500 is bulletproof because it's hardened in the field with millions of hours of driving experience. We've earned our keep."
"Some suppliers made different decisions, making the purchase cost cheap, but the TCO is swept under the rug," he said. "Maintenance and service costs are worse for customers in the long term."
Problems with AMRs with subpar components can hurt robotics adoption, even during current labor shortages, noted Rendall. "The initial cost of our vehicle may be higher than others, but when you have a five-year TCO, it's no comparison," he said.
"The group that does capital expenditures is often different from the group that operates and maintains the equipment, to the detriment of the automation industry," said Rendall. "It doesn't matter what brand—if a customer has a bad experience, it can tarnish the entire category, which is in nobody's best interest. There's room for lots of suppliers to be successful."
"For example, our battery has 10 times the life of the competition," he claimed. "We put our money where our mouth is for battery, powertrain, and transmission. In production and logistics, the cost of downtime dwarfs that of replacing a battery. With less service events, there's a better flow of materials through an operation."
"In another example, our same battery pack can charge vehicles twice as fast as the competition," Rendall added. "If vehicles are down half as long, across a larger installation, you'd need fewer vehicles to deliver the same throughput."
RaaS, risk, and TCO
OTTO Motors offers its systems through a robotics-as-a-service (RaaS) model, focusing on results rather than individual technologies, said Rendall.
"At the end of the day, the customer doesn't care about the vehicle, just productivity," he noted. "AMRs can provide better productivity, but if the hardware is down or software doesn't get to shine, you're not getting ROI. We approach users from a systems and outcome point of view."
"Generally speaking, total cost of ownership is not in the top 10 list of things customers think about, which is a function of market immaturity," he said. "We think automation is going to be based on companies that apply long-term thinking."
"One reason why the end-user community has embraced us is that RaaS pushes the risk and TCO to the supplier," Rendall said. "For us, it's a promise of productivity. When we arrange service-level agreements, if there's no throughput, we don't get paid."
"For example, we designed our high-availability system for production logistics, which is 24/7 in many large-scale automotive operations that may produce one car per minute," he said. "But in even the most demanding warehouse operations, if materials handling is down for five minutes, they'll recover in an hour, and nobody gets fired."
AMR vendors could learn from the autonomous vehicle industry, where mean distance to intervention (MDTI) is a critical standard, said Rendall. "We've studied that and found that in our case, it's not how far you drive, but how much you move or throughput," he said. "It's a balancing act between advanced capabilities and reliability. Real-world experience is a really important guiding principle for our innovation."
"This scales with the size of the fleet. E-commerce has larger fleets, with one facility having up to 100 AMRs," Rendall said. "Our position is 'One facility, one intervention per shift,' but the tolerance level for operational interruptions varies by industry and customer. In practice, we often achieve way better."
About the Author
Eugene Demaitre
Eugene Demaitre is editorial director of Robotics 24/7. Prior to joining Peerless Media, he was a senior editor at Robotics Business Review and The Robot Report. Demaitre has also worked for BNA (now part of Bloomberg), Computerworld, and TechTarget. He has participated in numerous robotics-related webinars, podcasts, and events worldwide. Follow Eugene:
Follow Robotics 24/7 on Facebook
Article topics
Email Sign Up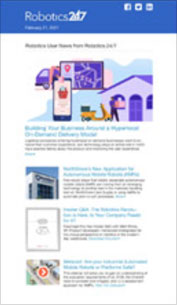 Get news, papers, media and research delivered
Stay up-to-date with news and resources you need to do your job. Research industry trends, compare companies and get market intelligence every week with Robotics 24/7. Subscribe to our robotics user email newsletter and we'll keep you informed and up-to-date.
OTTO Motors