As warehouses and distribution centers become more sophisticated, the equipment within them has also advanced. The e-commerce surge and persistent labor shortages have driven vendor innovation, resulting in a host of put walls with new features that address companies' current and future needs.
A type of warehouse racking system, a put wall can batch work in large fulfillment centers. They consist of long, narrow walls made with individualized compartments—each of which holds a single order.
Put walls can cut down on the time it takes for an employee to walk back and forth between the packing area and the picking location. And because they provide dedicated spaces for each order, put walls can reduce errors in item placement.
Put walls are configurable
Highly configurable, put walls can accommodate different types of orders, products, and warehouse or distribution center (DC) settings.
"Put walls exist to improve the efficiency of going to a pick location, picking as much product as possible and then fulfilling as many orders as you can," explained Art Eldred, vice president and growth officer at VARGO. "The put wall facilitates the batch-picking process, which, when handled manually, translates into increased hourly labor costs."
The latter is an important win for companies struggling with persistent workforce shortages and the subsequent increase in labor costs. By automating some or all of the picking and packing process, put walls can help companies fill labor gaps and operate more efficiently.
The uptick in e-commerce orders also comes into play here, as more organizations are being asked to ship smaller orders to individual customers faster than ever.
"E-commerce has driven the use of put walls, starting with Amazon and then [radiating] out across most of the e-commerce space," Eldred said. "But at the end of the day, a put wall is really still just a cubby for quickly consolidating items that are all going to the same customer."
An explosion of technologies
They may just be cubbies where orders can quickly come together for packing and shipping, but put walls have been experiencing their own technological revolution over the past few years. Vendors are improving on existing systems and developing new ones to meet market demand for more automated options.
"In terms of automation, we're seeing an explosion of technologies that are being adapted to work in put walls," Eldred pointed out.
Cache checking, or verifying whether a specific item is already stored in a cache, can ensure that the right items are being placed in the put walls. Vendors are also working with robotics manufacturers to facilitate automated "item grabbing," whereby robotic arms both identify items and place them into put walls, Eldred said.
VARGO and Kindred's Sort robotic piece-picking system, as well as VARGO and OPEX's Sure Sort, which uses autonomous mobile robots (AMRs) and conveyors, were originally designed for mail sortation. These automated options have since made their way into general warehouse and DC put walls, with a focus on moving items from one area to a specific destination.
"It's about automating the placement of an item from the induction point to the actual order," Eldred noted. "This is being done at a very high rate of speed by extremely sophisticated robotics."
Robot arms for sortation
Adam Fry, head of product at Covariant, said he has also seen a "significant push" to automate manual order sortation with robotic put walls. This is happening across a range of industries, including apparel, general merchandise, health and beauty, and pharmaceutical distributors.
"Given the current economic climate, the push to further automate manual put walls is happening more prominently within projects that improve the efficiency and throughput of brownfield sites," explained Fry. "Rather than building net-new facilities from the ground up, companies are looking to retrofit their current manual order sortation or put wall footprint with new robotic solutions to gain efficiency and cut costs."
With automated put walls, a robot arm picks up a single item from multi-SKU totes and then scans and places the item into a compartment on a shelf. The robot can manage different shelving configurations to meet the needs of existing DC footprints.
An arm can work with different configurations of put wall shelves (for example, in tight spaces the robots can place to a single shelf, or three shelves that surround the robot). It can also place items to mini mechanical "transporters" that move the picked item across a long linear wall of compartments for larger footprints and batch sizes.
AI joins automated offerings
Based on feedback he has heard from Covariant's retail and third-party logistics (3PL) customers, Fry said worker shortages are the main impetus for automating put wall.
"Workers for these roles are still hard to find—and even more difficult to keep—thus creating a throughput bottleneck in e-commerce operations," said Fry. He cited artificial intelligence as one of the most promising technologies right now for advancing put wall capabilities.
"Robotic put walls are able to sort millions of SKUs out of the box and handle them deftly with a level of precision that wasn't possible even just a year or two ago," Fry said. "With the latest advances in AI vision and camera technology, robots can [also] robustly avoid double picks and complete their grasping tasks with much higher reliability, even when picking objects from highly cluttered scenes."
In addition, Fry said, recent advances in AI-based motion planning allow robots to control their acceleration to maintain their grasp of items under a variety of scenarios—all while keeping their speed and performance high.
"Robotic put walls also now combine these AI advances more smartly with traditional sensors—such as light curtains—to have a highly accurate understanding of which items went where to maintain the highest level of standards on order accuracy," he added.
Mother-child and hybrid put walls
Put wall makers are continuing to come up with innovative designs. John C. Peck, president of FastFetch Corp., said his company's "mother-child" put wall carts and its new hybrid options are gaining traction in the warehousing and fulfillment industry.
The mother-child cart incorporates a frame (the "mother") that's equipped with electronics and a cart (the "child") that does not. The child holds the totes, boxes or other types of containers, while the mother is equipped with LED lights, electronics and other features.
Most totes or containers—plus the child cart itself—are bar-coded, and the box that's adjacent to the LEDs lights up. Then, the whole combination can be taken to the packing area.
"Even if the cart didn't have a bar code, the employee can scan a tote and know which batch that tote belongs to," Peck explained. "When the cart gets to the packing area, it's scanned in, and the employee knows what the order is, what size box to use, and so forth."
He said that FastFetch also recently introduced a hybrid put wall that reduces the number of product touches to one, for 80% of the products being picked, or two,for the rest of them.
"In most cases, 80% of picking involves 20% of a company's products, so having 20% of your most popular products in one place for picking is ideal," Peck said.
With hybrid put walls, carts are rolled right to the front of the slotted area, where an associate picks the products and puts them in the boxes using a pick-to-light system. FastFetch is also integrating more programmable logic controllers (PLCs) and conveyors into its put wall solutions.
"We're doing a lot of work in this area right now," he adds.
What's next for put walls?
More integration among robots, industrial automation, and put walls is coming soon, according to Peter Gerbitz, systems sales manager at Matthews Automation Solutions.
As more organizations invest in goods-to-person technology like automated storage and retrieval systems (ASRS) and mini-shuttles, the "element of sortation" that has to happen at the end—prior to the order being sent out the door—is often best handled by put walls, he observed.
Within the put walls themselves, Gerbitz said more put-to-light technology and other options are being integrated into the equipment.
"Put walls can still function as stand-alone solutions with traditional batch picking and sorting the batches into individual orders, but they're also working more and more in conjunction with other solutions," he said.
Matthews Automation recently introduced bin illumination options that use mounted LED light strips versus bulbs for put-to-light applications. Gerbitz said that some customers are asking for projection-type picking that incorporates a projector that's mounted above a work cell and illuminates the start location. It can also provide operations information.
Companies shopping for new put walls or upgrading existing systems this year should use "careful diligence" during the research phase, said Covariant's Fry. Ideally, robots will reliably pick and sort more than 99% of the SKUs running through a warehouses at a consistently high speed of 400 pieces per hour with minimal errors (<0.1%), he said.
"Robotic put wall solutions also need to be complete end-to-end products, not just robot arms—integrating into the routing of batch totes in a facility, working with existing pack workflows and having clear insight into order statuses," said Fry. "The best way to test this when evaluating new robotic put wall providers is to run a performance benchmark: Send them a sample of your items and see how their solutions perform out of the box and improve over a short period of time."
Editor's note: Modern Materials Handling is a sibling site to Robotics 24/7.
About the Author
Bridget McCrea
Bridget McCrea is an Editor at Large for Modern Materials Handling and a Contributing Editor for Logistics Management based in Clearwater, Fla. She has covered the transportation and supply chain space since 1996 and has covered all aspects of the industry for Modern Materials Handling, Logistics Management and Supply Chain Management Review. She can be reached at
[email protected]
, or on Twitter
@BridgetMcCrea
Follow Robotics 24/7 on Facebook
Article topics
Email Sign Up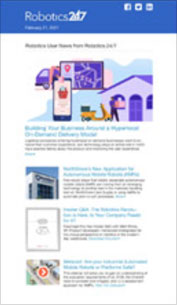 Get news, papers, media and research delivered
Stay up-to-date with news and resources you need to do your job. Research industry trends, compare companies and get market intelligence every week with Robotics 24/7. Subscribe to our robotics user email newsletter and we'll keep you informed and up-to-date.
OPEX