With the 2022 Beijing Winter Paralympic Games under way, it's a good time to review the state of robotics for helping people with disabilities. For instance, one device weighs just 3 lb., costs about $400, and can be made in a garage with widely available parts. The result is an engineered device that can greatly improve navigation for blind people to walk.
That's precisely what researchers and student assistants came up with at the Stanford Intelligent Systems Laboratory. They developed an easy-to-fabricate smart cane for the blind. Researchers published their findings in October's Science Robotics.
The assistive device is equipped with lidar similar to the technology used in some self-driving cars and aircraft. It uses lasers to measure the distance to nearby objects and obstacles. Based on its calculation, the smart cane can steer its user.
The cane also uses GPS and has additional sensors and other features to help a blind person safely walk from one point to another safely (see video at the end of this article). While it is not the first smart cane in use, it is lightweight, relatively inexpensive, and can be easily made at home, said the Stanford students.
The smart cane is an example of how science, engineering, and robotics can come together to solve problems and improve the lives of people with disabilities. It represents the democratization of technology, as systems can be produced closer to the people who need to use them.
Robots can help people with limited mobility get dressed
Not only can robots help people with mobility; they can also assist with daily tasks such as getting dressed in the morning.
Researchers at the Massachusetts Institute of Technology's Computer Science and Artificial Intelligence Laboratory (CSAIL) has developed an algorithm for efficient motion control. It enables a robot to move while ensuring the physical safety of its human user. The MIT scientists used it to program a robot to help a person with limited mobility to put on a jacket.
The laboratory began by modeling how humans move, react, and respond. With that data, the scientists built algorithms for orchestrating human interactions with robots while incorporating trial and error.
To assist a human, there are numerous models to follow. Training a robot in only one scenario for dressing a person would not be efficient. If safety is integrated into the robot's motion, it could feasibly avoid collisions by stopping in place.
By running multiple simulations, the CSAIL team was able to create more intelligence and incorporate more motion sensing so the robot wouldn't freeze, but instead react appropriately.
The research could lead to robots that can assist people with disabilities with multiple daily tasks, freeing human caretakers who are in short supply for higher-value activities and interactions. Robotics open up new possibilities for the aged and people with disabilities to be more self-sufficient, improving their independence and quality of life.
Signing for the deaf with a robotic hand
A bioengineering graduate student at Northeastern University in Boston has designed a robotic hand able to produce sign language. The student, Samantha Johnson, named the system "TATUM," which stands for "Tactile ASL Translational User Mechanism."
The genesis of the robot began when Johnson took a course in American Sign Language (ASL) in her second year at Northeastern. The course put her in touch with people at the Deaf-Blind Contact Center in Allston, Mass., where she was able to practice signing with the participants in the center.
"When I was watching the interpreter sign, I asked, 'How do you communicate without the interpreter?' and the answer was simply, 'We don't,'" Johnson recalled. She set out to develop a robot interpreter.
An inflatable hand offers tactile control
More than 5 million people around the world have had an upper-limb amputation.
With similar intent to a robotic hand for communicating, MIT researchers are working on improving tactile controls to improve robotic grasping for amputees. Tactile controls allow the user to vary the grip or other engagement with an object. If one can manipulate everyday objects with more dexterity, it could greatly improve the daily lives of people with prosthetic limbs.
Neuroprosthetics incorporate articulated bionic limbs. Such limbs can sense a user's residual muscle signals and replicate their intended motions. However, they are typically complex and costly to develop. Such mechanical systems use electric motors and can also be heavy and rigid. These wearables can cost nearly $10,000.
MIT partnered with Jiao Tong University to develop a soft, lightweight neuroprosthetic hand. They said they were able to keep the design within a manageable cost structure.
With the inflatable robotic hand, amputees were able to perform dexterous motions as well as, if not better than the neuroprosthetics, according to MIT.
Robots, exoskeletons can improve function
People with serious disabilities such as amputations, blindness, or deafness are not the only ones who benefit from innovations. Those with irregular gait or difficulty walking steadily can also beneift from robots and exoskeletons.
Rigid and soft exoskeletons are in the early stages of adoption for people with all types of disabilities. In the meantime, researchers are continuing to find ways for such systems to restore neuromuscular function and augment human abilities and motions.
The National Science Foundation last year awarded Zach Lerner, an assistant professor in Northern Arizona University's Department of Mechanical Engineering, a $538,563 grant to explore this topic.
The global market for exoskeletons could expand from $400 million (U.S.) in 2021 to $3.35 bilion by 2028 at a compound annual growth rate (CAGR) of 42.1%, predicted Vantage Market Research. Similarly, Market Research Guru forecast a 29% CAGR, with growth from $403 million in 2021 to $2.4 billion in 2028.
New technologies can change lives
As we've seen at the Beijing Paralympics, innovations and the indomitable will of people with disabilities can transform lives for the better. For millions of people, converging technologies can solve long-standing problems and help restore mobility and other functionality.
In addition, advances in exoskeletons, prosthetics, and other assistive technologies will help with rehabilitation, sports medicine, and industrial applications. Wearable systems are just beginning to help people assemble things, lift packages, and work more efficiently in diverse and demanding environments.
Robotics can also be a boon to older adults or anyone who might have an impairment or could use some help in performing routine tasks for daily life and work.
Some of the world's finest engineers have been inspired to apply their considerable skills to apply robotics advances to assisting people with disabilities, changing lives forever.
About the Author
Jim Romeo
Jim Romeo is a freelance writer and contributor to Robotics 24/7 based in Chesapeake, Va.
Follow Robotics 24/7 on Facebook
Article topics
Email Sign Up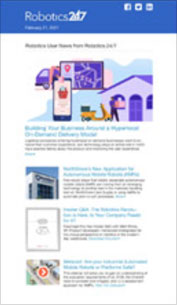 Get news, papers, media and research delivered
Stay up-to-date with news and resources you need to do your job. Research industry trends, compare companies and get market intelligence every week with Robotics 24/7. Subscribe to our robotics user email newsletter and we'll keep you informed and up-to-date.
Getty Images