With a combination of mobile robots, easy-to-use interfaces, and real-time business intelligence, Locus Robotics Corp. is helping warehouse customers meet the demands of today's growing e-commerce and other businesses, said Jasmine Lombardi, chief customer officer at the company. She spoke at the Reuters Supply Chain Execution 2022 Conference in Chicago earlier this month.
Wilmington, Mass.-based Locus' autonomous mobile robots (AMRs) and software serves more than 200 facilities spanning a dozen countries, as well as more than 80 customers. They include CEVA Logistics, DHL, Geodis, Material Bank, Shipmonk, and Taylored Services.
Commissioning steps for a LocusBot
Lombardi took the Reuters Supply Chain Execution audience through the basic steps of a LocusBot working in a warehouse environment:
Locus optimizes the orders from the warehouse management system (WMS).
Locus directs induction of containers.
The LocusBot optimizes the path to the next tasks.
Associates select items and place into totes.
Robots travel to the next pick location with new associates.
Completed orders are transported to the packing area.
"The tablet on the robot is an iMac; it is very intuitive," Lombardi said. "It shows where the robot is coming from. You pick the items, you scan it, and you put it in [the tote the robot is carrying]."
Locus said its dashboards provide warehouse associates with real-time insights on robot location, performance, and other business intelligence (BI) on any connected device.
Warehouse execution platform works with WMSes
Locus Robotics' integrated warehouse execution platform uses a common interface to accept tasks from BlueYonder, Körber Supply Chain, Manhattan, SAP, Softeon, Zethcon, and other warehouse management systems. The platform optimizes workflows for the company's collaborative AMRs with path planning and fleet management software.
Intelligent orchestration includes each and batch order picking, case picking, putaway and replenishment, packing and sorting, and pallet transport.
With mission-control dashboards, predictive analytics, operational performance data, and intelligent labor direction, the Locus warehouse execution program provides customers with actionable intelligence in real time, claimed Lombardi.
All of this is accessible through an iPad or any other connected device. All communications are available in a variety of languages, which is particularly advantageous to companies with operations in multiple countries, Lombardi said.
Automation provides strategic benefits
Robots are critical in helping warehouses in addressing their top four strategic challenges, according to Lombardi. Automation can alleviate labor shortages, as well as help to manage company growth and peak rushes, she said.
Mobile robots can also control costs by helping current facilities be more productive without having to hire more labor, added Lombardi.
For instance, Amazon's next-day deliveries for many products have put pressure on other e-commerce providers to improve cycle times and fulfillment accuracy. Mobile robots help with both, she said.
In addition to addressing labor challenges, LocusBots can improve workplace safety, according to Geodis.
Robots as data-collection devices
Companies can leverage business intelligence by capturing, analyzing, and visualizing data with robots, noted Lombardi.
"The Locus data engine is at the heart of digital transformation," she said. The local platform includes workforce optimization, labor management and efficiency, and predictive forecasting capabilities.
The platform's real-time BI helps users efficiently manage daily operations, Lombardi said. It provides easily digestible information with data-rich visualization, providing intelligence that a mobile robot's cart can't, she said.
"You can get up-to-the-minute intelligence on how your warehouse operation is performing with historical comparisons and executive summaries – across multiple sites," said Lombardi.
"Mission control" provides access to what's currently happening on the warehouse floor and what's up next, she added. This information helps warehouses drive operational performance, facilitates forecasting, and helps warehouse operators plan labor resource allocation, as well as to optimize workflows and processes.
"On-the-floor displays provide real-time labor direction and productivity metrics," according to Lombardi.
She showed an example of managing a live operation with business intelligence. BI can show the volume of open picks to determine if the warehouse currently has sufficient resources. Robot density is displayed on a grid, enabling the user to quickly see areas of high-density and assigned work, as well as inbound and outbound induction and drop-offs.
Users can see real-time performance, including pick status and hourly and daily pick volume. With visibility of "down spikes," a warehouse operator can monitor and manage labor to drive workflow and pace, sending bots to the areas where they are most needed at the time.
"We have optimization within our technology to help you optimize orders," Lombardi said. "We provide all of the data in real time to our customers."
'The proof is in the results'
"The proof is in the results," Lombardi said. DHL has seen the benefits of using the Locus' robots and BI platform, she said, citing a doubling of productivity, an 80% reduction in training time, and a cycle time that has been cut in half.
DHL told Locus that the system makes it easy to bring people on to work with the robots because training is easy and simple, said Lombardi.
Boots, a leading U.K. health and beauty supplier, reduced employee accidents by 77% while also doubling productivity. UPS and Verst also reported that they doubled productivity with Locus Robotics.
"It really shows the flexibility in that you can just add more in short term and get more volume out," Lombardi concluded.
About the Author
Phil Britt
Britt owns S&P Enterprises and is a technology writer who lives in the greater Chicago area. In addition to Robotics 24/7, he has written for financial services and business publications, including magazines, newsletters, conference dailies, and Web sites.
Follow Robotics 24/7 on Facebook
Article topics
Email Sign Up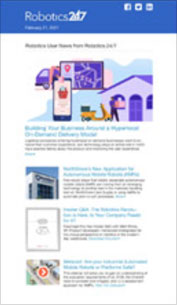 Get news, papers, media and research delivered
Stay up-to-date with news and resources you need to do your job. Research industry trends, compare companies and get market intelligence every week with Robotics 24/7. Subscribe to our robotics user email newsletter and we'll keep you informed and up-to-date.
Vered Tomlak, Locus Robotics