The stage is set for the reshoring of U.S. manufacturing to finally gain momentum, and the latest generation of robots represents a key element of the equation. The backdrop against which this shift will unfold reflects a new set of economic realities for the industry.
Two elements stand out as drivers of change: the rise in offshore wages and the increase in transportation costs, both of which are causing manufacturers to re-evaluate the benefits of maintaining production operations overseas.
"Many companies that established operations outside of the U.S. that may be tied to the offshoring wave of the 1980s and 1990s now want to establish a footprint in North America," said Mark Cotteleer, managing director for supply chain and network operations at Deloitte Consulting.
"The rationale is a combination of cost, risk, and time," he noted. "Companies are seeing the benefit from the labor arbitrage previously available offshore begin to erode."
Labor shortage hinders reshoring
Unfortunately, there's a catch. Wage and transportation cost increases have not been enough to trigger the momentum that many hoped for. One of the main reasons many companies' hesitate to reshore is the absence of an adequate local labor pool.
"The 'Great Resignation' is playing a major role in manufacturing," said Joe Campbell, senior manager of applications development and strategic marketing at Universal Robots.
"The JOLT report from the Bureau of Labor Statistics shows that since the recovery from the depth of the pandemic, the number of manufacturing jobs that go unfilled has increased 6.3%," he said. "That represents approximately $98 billion of lost manufacturing output in 2022."
This must change before a serious increase in reshoring is possible.
"A U.S. company can reshore production only if it can achieve the same or higher production efficiency at the same or lower cost," said Adrian Choy, product manager for robotics at OMRON.
Manufacturers turn to robotics
To address this issue, many manufacturers are turning to robotics and other forms of automation with an eye toward making reshoring economically feasible.
"With no end in sight to labor shortages, the use of robots is the answer for companies looking to reshore their production," asserted Jerry Perez, manager of the Americas executive sales team at FANUC.
A recent ABB Robotics survey bears this out, drawing a direct line from increased deployment of automation and robotics to greater efficiency and reshoring. Of the 375 U.S. manufacturers participating in the study, 37% planned to reshore, and 41% were looking to increase automation of their manufacturing lines.
"Robots are enabling reshoring by reworking the numbers in the production equation," according to Choy. "These systems can offer superior parts-per-minute rates, automate manual tasks, and reduce scrap rates. Oftentimes, robots can yield a return on investment [ROI] within a matter of years."
However, not all robots are created equal. The newer, more advanced systems—such as collaborative robots and autonomous mobile robots (AMRs)—offer advantages to reshoring projects that more traditional robots do not. This is especially true in applications aimed at addressing the worker shortage.
"Naturally, what first comes to mind are traditional industrial robots, including articulated arms, parallel robots, and SCARA robots," Choy said. "These robots boast best-in-class speed, repeatability, and cycle times among most market-available robots."
"That being said, there are difficulties introducing industrial robots into operations," he added. "They typically require experienced automation engineers to provide solution development, programming, and integration support."
"These robots also need safeguarding and other ancillary automation products, requiring existing production lines to be significantly redesigned to incorporate new systems," said Choy. "Cobots and AMRs now on the market have features that overcome these hurdles."
Robots become an essential resource
As a result of advances in sensing, navigation, motion control, and manipulation, robotics is no longer an optional tool to boost productivity. The technology has become an essential resource for reshoring U.S. operations or for helping companies to keep their doors open domestically.
"Automation and robotics reduce overhead costs on labor, improve production efficiency, and allow human employees to focus on tasks that require human intelligence," said OMRON's Choy. "In the past, companies were prevented from taking advantage of this technology due to the capital and long-term costs, in addition to a lack of expertise to integrate and maintain these systems."
"With the arrival of cobots and AMRs, these obstacles are becoming surmountable," he continued. "Solutions involving cobots and AMRs are quicker and easier to integrate, reconfigure, and maintain than traditional robots."
These new robots may require fewer additional products—such as extensive safeguarding—to achieve a complete solution. Recent improvements in the financial and technical accessibility of automation with models such as robotics as a service (RaaS) allow newcomers to finally use robots to solve their own unique problems.
Made in the USA
One company in the vanguard of the reshoring movement is Acme Alliance, a Northbrook, Ill.-based maker of custom-engineered, aluminum die-cast components. It serves a broad range of industries, ranging from the automotive and marine sectors to the small engine/agriculture and oil and natural gas markets.
Acme serves companies seeking to move their component production back to the U.S.
"We focus our sales efforts on finding customers that are or were getting their components overseas and now want to reshore," said JR Kinnett, general manager of Acme Alliance.
To keep up with the growing demand for locally produced components, Acme increasingly relies on robotics.
"The only way we could continue to expand with customers wanting to reshore was to rely on robotics," Kinnett said. "There has been a large shortage in labor across our industry, and without robots helping to maximize our production output, we would not have been able to take on many new projects if any at all."
Acme currently uses ABB robots on all of its die-casting machines.
"The robots both retrieve parts from the machines and spray the molds with a release agent," explained Kinnett. "This application of robots not only eliminates the need for operators to perform a very difficult task, but it also allows the operators to do other tasks that are harder to automate."
"Being able to produce larger amounts with the same overall labor cost certainly helps us compete with countries that have much lower labor rates," he added. "While we can't quite match the piece price of a low-cost country, when you include the total cost of ownership, we can compete. Automation and lean manufacturing are the two most impactful tools we use to be able to achieve this."
About the Author
Tom Kevan
Tom Kevan is a freelance writer/editor specializing in engineering and communications technology.
Follow Robotics 24/7 on Facebook
Article topics
Email Sign Up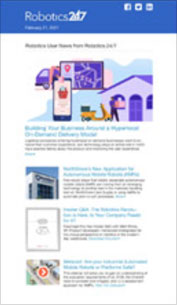 Get news, papers, media and research delivered
Stay up-to-date with news and resources you need to do your job. Research industry trends, compare companies and get market intelligence every week with Robotics 24/7. Subscribe to our robotics user email newsletter and we'll keep you informed and up-to-date.
Mobile Industrial Robots