Seegrid Corp. today announced that it is adding a robotics-as-a-service, or RaaS, subscription model for its autonomous mobile robots. The model will provide customers with more options for adopting Seegrid's Palion robots and enterprise software, said the Pittsburgh-based company.
The RaaS model can reduce the upfront investment and enable customers to have access to the latest robotic fleet and enhancements, noted Seegrid. The company has recently updated its autonomous mobile robot (AMR) line for with the Palion Tow Tractor, Palion Pallet Truck, and its new Palion Lift. In addition, it has formed the Blue Labs in-house research and development team.
"New use cases for mobile automation applications continue to emerge, and our customers are seeking to rapidly expand and evolve with Seegrid as their automation partner," stated Jim Rock, CEO of Seegrid. "The addition of the RaaS model underscores our commitment to delivering industry-leading material handling solutions in the manner that best aligns with our customers' business needs."
Jeff Christensen, vice president of product Seegrid, replied to the following questions from Robotics 24/7:
Do you expect many existing customers to switch to a RaaS model, or is it more for a wider audience of new customers? What feedback have you received from customers in favor of RaaS?
Christensen: We anticipate both existing and new customers will be interested in buying this way, and they have expressed a desire to move more quickly into automation, staying up-to-date with new technology, and with less initial financial outlay and quicker returns. Seegrid is rapidly expanding our AMR portfolio and capabilities.
This year, we enhanced our Palion Tow Tractor and Palion Pallet Truck, premiered our first Palion Lift AMR, and introduced Fleet Geek, our data analytics software. We plan to continue the rapid advancement of our mobile automation solutions and now have Blue Labs, an entire team of world-class automation experts, many with Ph.D.-level expertise in robotics and computer vision systems, solely focused on research and development.
New use cases for automated material handling continue to emerge, and Seegrid is uniquely capable of delivering mobile automation solutions to address these applications. Our customers and prospective customers alike are seeking to rapidly expand and evolve with Seegrid as their automation partner.
The addition of the RaaS model underscores our commitment to delivering industry-leading material handling solutions in the way that best aligns with our customers' business needs. Seegrid's RaaS subscription provides another pathway to automation and continuous improvement for the leading global manufacturing, warehousing, and logistics brands we serve.
Did Seegrid need to expand its staff or partner network to support RaaS?
Christensen: Accessing automation solutions through a subscription builds upon Seegrid's proven customer-first approach, with consultative service teams helping customers be successful every step of the way. Seegrid continues to add to the team across the organization as demand continues growing for our mobile automation solutions.
We are looking for top talent with passion, inspired by our vision for the future of material handling automation, to ensure Seegrid continues finding new and innovative ways to help our customers across the global supply chain network meet their business needs.
What software or hardware updates are included with this subscription model?
Christensen: The new RaaS model offers a multitude of benefits to customers looking to remain competitive while leveraging state-of-the-art mobile automation technology. With a RaaS subscription, the customer chooses the Palion AMRs to suit their automated material flow needs, with assistance from our material handling automation expert consultative services.
The subscription includes the robots, enterprise software—our Fleet Central software suite includes Supervisor for fleet management and Fleet Geek for data analytics—services, and maintenance as a package. Fleet Central and robot software upgrades and security patches are included during the subscription term.
Do you have a sense of percentage savings between RaaS and upfront outright purchases?
Christensen: We don't disclose specific pricing, because it is dependent on configuration, method of purchase, and specific customer needs. However, buying into mobile automation through a subscription offers a faster payback compared to upfront purchase, so customers can enjoy financial benefits sooner.
Regardless of how customers buy, Seegrid will continue to ensure their needs are met. Our goal is to implement and integrate Seegrid Palion AMRs quickly, seamlessly, and safely into current operations.
The RaaS model will apply to all of your Palion AMRs, right?
Christensen: Yes, all Seegrid Palion AMRs will be available as part of the service.
About the Author
Eugene Demaitre
Eugene Demaitre is editorial director of Robotics 24/7. Prior to joining Peerless Media, he was a senior editor at Robotics Business Review and The Robot Report. Demaitre has also worked for BNA (now part of Bloomberg), Computerworld, and TechTarget. He has participated in numerous robotics-related webinars, podcasts, and events worldwide. Follow Eugene:
Follow Robotics 24/7 on Facebook
Article topics
Email Sign Up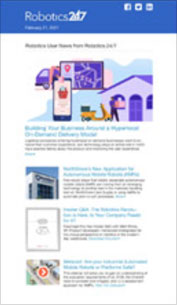 Get news, papers, media and research delivered
Stay up-to-date with news and resources you need to do your job. Research industry trends, compare companies and get market intelligence every week with Robotics 24/7. Subscribe to our robotics user email newsletter and we'll keep you informed and up-to-date.
Seegrid