Patrick Helfrich of Helfrich Brothers Boiler Works Inc. is seeing much higher numbers of orders from customers these days.
Part of that demand is being driven by reshoring efforts. Customers have experienced firsthand the instability from relying too heavily on the global supply chain and are making efforts to bring production closer to home.
Helfrich Brothers Boiler Works primarily designs and manufactures equipment for waste-to-energy facilities. It also develops systems that semiconductor companies use to make computer chips. Helfrich Brothers is based in Lawrence, Mass., and its staff works out of a 95,000-sq.-ft. steel fabrication and machine shop.
"As manufacturing is coming back to the States, we're getting more orders than we can handle," said Helfrich, a manufacturing engineer at the company. "We used to build two to three [systems] a month. Now, they want 100 and maybe even 150 a year, so it's quite an increase in production."
The company takes advantage of some semi-automated processes for CNC machining and welding, but it's hoping to invest in a robotic arm or two to help with welding and cutting. Helfrich Brothers Boiler Works, like many small and medium-sized enterprises, is looking to automation to help increase productivity and throughput and to address labor challenges. And like other smaller companies, it's looking to outside sources to help pay for them.
Helfrich looks to state to help fund robot project
Helfrich Brothers Boiler Works is one of many of Massachusetts companies that applied for a Massachusetts Manufacturing Accelerate Program grant (MMAP). The program is funded by the state and is managed by the Massachusetts Center for Advanced Manufacturing (CAM).
Christine Nolan is the director of CAM, which is a division of the Massachusetts Technology Collaborative. She noted that the majority of the 7,000 manufacturers in Massachusetts are small or midsize, and very few of them have robots in their facilities.
"We do our best to support them," she said, highlighting the state's workforce training programs and various grant opportunities.
In January 2022, the state awarded over $2 million to 13 Massachusetts manufacturers.
Federal government invests in advanced manufacturing and robotics
Massachusetts is following the lead of the federal government, which is increasingly investing in programs to help small and medium-size businesses educate themselves and purchase next-generation technologies, including robots.
Larry Sweet is the ARM Institute's new director of engineering. The "ARM" in ARM Institute stands for "Advanced Robotics for Manufacturing." The Pittsburgh-based institute was founded in 2017 and is funded by the U.S. Department of Defense. Part of its mission is to help manufacturers decide which automated systems are the best for them.
In September, the institute received $14.2 million from the U.S. Economic Development Administration government as part of the Build Back Better Act. With that funding, the institute has established a Robotics Manufacturing Hub for small and medium-sized companies in the Southwestern Pennsylvania region.
The ARM Institute recently announced that it was looking for small and midsized manufacturers in that region to explore using the new center.
"For small and medium-sized businesses, the specific scope of the Build Back Better Program is to take technology that is relatively mature and decide how we match the requirements of what these manufacturers need to do in their factories," said Sweet.
Cobots provide an easy-to-use option for newcomers
Right now, Helfrich Brothers is still debating on the type of robotic system it would like to invest in. The company is considering purchasing a collaborative robot or investing in a more traditional robotic workcell. It's looking to start small.
"It's not like we can invest in all this automation, and then tomorrow we're going," Helfrich said. "We have to start at the kinks in our little manufacturing flow and figure out what we should invest the time and money in to make things work a little better. Then, we just pick away at it over time."
Joe Campbell, senior manager of applications development and strategic marketing at Universal Robots, said small and midsize enterprises (SMEs) have been an important part of UR's cobot business since it started.
"Small companies have totally embraced our whole ease-of-use paradigm," he said. "They figured out how to get automation installed very quickly and start generating payback very quickly."
Campbell referred to a report from the Bureau of Labor Statistics that found that in 2021, there were 292,825 factories in the U.S. About 91% of those companies had fewer than 100 employees.
When it started, UR felt it had a better competitive advantage with SMEs. As opposed to traditional industrial automation, cobots can be installed in more confined spaces, ideal for smaller companies that are just looking to automate one or a few tasks.
"What was appealing to small enterprises we come in and say, 'Look, you guys got this whole machine shop. You don't have to automate the whole thing. Let's take one machine tool. Let's automate that. Better than that, let's put the robot on a cart so you can move it from this machine tool to that machine tool,'" said Campbell.
"That was a real breakthrough," he noted. "They started to see the cobot as a tool just like they have other tools in the shop."
One UR customer, Wiley Davis of Go Fast Campers, purchased a UR cobot to automate parts of his manufacturing process. He was able to figure out how to use the system on his own without a systems integrator, and Davis now has a line of UR5 machine-tending cobots in his facility in Bozeman, Mont.
Davis told Robotics 24/7 that he decided to forgo working with a systems integrator because he wanted to be able act quickly and configure operations his own way.
"My business was built around the idea of rapidly being able to add new products as the ideas came, which is one of the reasons I deiced to machine my own parts and not outsource them in the first place," he said. "It was around this whole concept of: 'I've got an idea on Friday, and by Wednesday of next week, we can have it on the website selling it.' That concept doesn't mesh very well with an integrator."
Lean integrators play an important role for SMEs
But for some SMEs, systems integrators are essential, and in the past few years, their role has evolved, noted Campbell.
Smaller companies, sometimes called lean integrators, are cropping up offering full-package automated systems targeting a narrow application segment.
He highlighted Versabuilt as an example. The company offers customers CNC automation machines that use Universal Robot cobots.
"They start to blur between an integrator and an OEM," he said. "They'll take an order, and you'll have a robot in your machine shop in a couple of weeks up and running. They've really capitalized on that speed."
Both large enterprises and SMEs value RaaS offerings
Rapid Robotics offers robotic systems through a robotics as a service model (RaaS). It's an enticing business model for SMEs because it allows them to try out a robot in their facilities without having to spend large amount of money on a capital expense.
RaaS is also a risk management tool. If a specific system doesn't work out, a customer can simply end its subscription and try something new.
In an interview with Robotics 24/7, Mandy Dwight, vice president of business alliances at Rapid Robotics, outlined how the company works with smaller businesses. Dwight couldn't give the exact number of smaller SMEs that Rapid Robotics works with, but she estimated that the spilt was 60% large enterprises and 40% smaller ones.
A lot of the challenges both type of companies face are similar, she noted. They want to stay competitive, increase flexibility, and address labor concerns. But there is also an initial concern with how robots could fit into the picture.
"I find that with automation, no matter the company size, a lot of them are risk-averse because a lot is on the line if this doesn't succeed," Dwight said.
As with Universal Robots, when Rapid Robotics started, there was a great interest among SMEs. Larger companies are now also seeing the value of the RaaS model, she said.
"We can come in and really be an extension of their automation team, which is essentially the same service we provide to small and medium-sized manufacturers," she said.
ASRS interest strong among smaller companies
SMEs make up about 25% of AutoStore's business, said Jon Schechter, vice president of North America business development at the Nedre Vats, Norway-based company.
AutoStore offers automated storage and retrieval systems (ASRS). Large enterprises aren't the only companies that have warehouse space concerns. SMEs are also investing in ASRS to better take advantage of the vertical space within their warehouses, he noted. That allows them to have fewer people working on the warehouse floor so they instead do something more impactful, he said.
"On the small end, moving one or two people from the warehouse back to the manufacturing floor is so critical," he said. "The labor savings you get, and the time saved on the warehouse side, can be directly translated into more units produced, which is really meaningful if you are small and medium-sized. We're talking about single-digit headcounts that can be directly translated into more units produced."
About the Author
Cesareo Contreras
Cesareo Contreras was associate editor at Robotics 24/7. Prior to working at Peerless Media, he was an award-winning reporter at the Metrowest Daily News and Milford Daily News in Massachusetts. Contreras is a graduate of Framingham State University and has a keen interest in the human side of emerging technologies. Follow Cesareo:
Follow Robotics 24/7 on Facebook
Article topics
Email Sign Up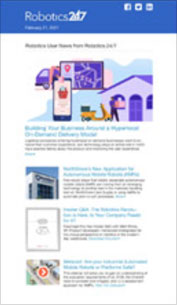 Get news, papers, media and research delivered
Stay up-to-date with news and resources you need to do your job. Research industry trends, compare companies and get market intelligence every week with Robotics 24/7. Subscribe to our robotics user email newsletter and we'll keep you informed and up-to-date.
Cesareo Conteras