Picture this: A mobile robot drives around a distribution center while carrying a shelf of products, but on its path, it encounters something its navigation system doesn't recognize and gets tripped up. Workers on the floor don't immediately recognize the robot has stopped, and the problem needs to be addressed quickly to avoid potential backups.
New York-based SparkAI said it has developed a system designed to account for this kind of situation by combining software, artificial intelligence, and human intervention.
The company pitches its product as a three-step system. Let's say a robot encounters a problem like the one described above. The first thing it does is connect to SparkAI's API, and a human specialist is notified. That specialist uses "machine-learning powered rapid decision tools" to help the robot determine the best course of action.
Once the human understands the situation and how to fix it, it shoots back instructions to the robot to handle the problem. This relies on the robot's autonomy and is not teleoperation, said SparkAI.
The whole process should be resolved within a matter of moments, the company claimed.
Bringing in humans to do what robots can't
Building robots that have the flexibility to understand and adapt to changing work environments perfectly in every scenario continues to be an extremely hard challenge to solve, Michael Kohen, CEO and founder of SparkAI, told Robotics 24/7. AI models are not trained to understand the unpredictability of the real world, he added.
"That dissonance can be confusing to AI, preventing companies from launching & scaling world-changing automation products today. There's an urgent need for a solution," the company said in a blog post.
SparkAI was designed to address that disconnect by bringing humans into the loop to solve what SparkAI calls "AI edge cases," those instances where the robot doesn't understand what it needs to do to get the job done.
The team recently announced that John Deere is taking advantage of its technology on its autonomous tractors. It's not uncommon for things like rain, dust, snow, the sun, and other conditions to obstruct or muddy the view of the tractor's vision system.
That's where SparkAI comes in. Kohen said that Deere's tractors can operate independently most of the time, but SparkAI "helps the company handle the limited moments when inevitable edge cases occur," he said.
"That relationship is low volume but extremely high value," Kohen said.
In other instances, a customer's AI model might only be 30% accurate, so SparkAI plays a much larger role in helping the automated systems complete tasks, he added.
The company said its system has also been used in several applications, including robotic fulfillment, claims and underwriting, aerial intelligence, manufacturing inspection, automated checkout, drone delivery, and retail robotics.
Kohen said SparkAI plans to announce several new partnerships in the first quarter of next year.
SparkAI has roots in autonomous vehicles
The company was founded in 2020. Kohen was on the original team that worked at Zoox, a self-driving company Amazon bought in 2020 for $1.2 billion. Kohen said he brought a lot of what he learned at Zoox with him to SparkAI, including using humans to handle the shortcomings of artificial intelligence.
"Our unique take that was very contrarian at the time was that the last 5% is not something you can fill with more tech," he said. "There's a cognitive gap that's going to take a few decades to build, so in the meantime, the only cognition that exists in the world is in our heads."
"Our job through technology is to make human cognition available in discrete units and in real-time to support live robotics and AI systems in the real world," added Kohen.
Other employees at SparkAI come from UberATG, Otto, Apple, and other self-driving car programs, according to SparkAI.
Kohen was quick to note that he still very much believes in the promise of AI and its continued development. But with labor shortages and the ever-increasing demand for more automation in a number of industries, it's important to provide people with solutions today.
"Our mission here is to help people keep dreaming really, really big but also to actually deliver in the near term," he said.
About the Author
Cesareo Contreras
Cesareo Contreras was associate editor at Robotics 24/7. Prior to working at Peerless Media, he was an award-winning reporter at the Metrowest Daily News and Milford Daily News in Massachusetts. Contreras is a graduate of Framingham State University and has a keen interest in the human side of emerging technologies. Follow Cesareo:
Follow Robotics 24/7 on Facebook
Article topics
Email Sign Up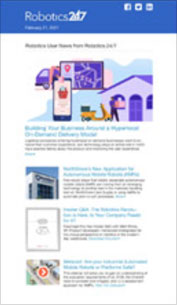 Get news, papers, media and research delivered
Stay up-to-date with news and resources you need to do your job. Research industry trends, compare companies and get market intelligence every week with Robotics 24/7. Subscribe to our robotics user email newsletter and we'll keep you informed and up-to-date.
SparkAI