LAS VEGAS—At Pack Expo here this week, numerous robotics vendors are showing off their latest products to help meet the demands of warehouses and distribution centers. Vecna Robotics today said that the Mark 3 update to its cloud software can double the performance of autonomous mobile robot, or AMR, fleets.
The Waltham, Mass.-based company said the new release enables organizations to improve efficiency and throughput, while continuing to exceed industry safety standards.
According to a Peerless Research Group industry report, 24% of organizations plan to implement automated guided vehicle (AGV) or AMR technology within the next year. (Peerless is a sibling organization to Robotics 24/7.) When evaluating automated material handling solutions, nearly 95% of respondents identified throughput as "important" or "very important." The speed and flexibility of a pallet-handling solution is a critical factor in throughput efficiency gains, said Vecna.
"The last 18 months had driven huge demand for AMRs like autonomous forklifts, but adoption has been held up by both safety concerns and performance-driven ROI [return on investment]," stated Daniel Theobald, founder and chief innovation officer of Vecna Robotics. "This software release mitigates these concerns by unequivocally delivering the best AMR performance and safety in the industry."
"Now, in addition to Vecna Robotics' AMRs being the only self-driving forklifts equipped with path planning and obstacle avoidance, they are also the only pallet-handling AMRs that can deploy cloud-driven updates for immediate in-field performance improvements," he added.
Robotics 24/7 spoke with Theobald about how Vecna's Mark 3 update can improve productivity and safety.
What challenges did Vecna face in developing the Mark 3 release during the COVID-19 pandemic?
Theobald: The pandemic has focused us as a species on challenges. It was hard for customers to deploy new technologies when people couldn't get on site to map a space.
But at the executive level, they understood for the first time how important flexibility is in the automation they adopt. Prior to the pandemic, labor shortages were already a problem.
Now, with stuff changing so fast, fixed-infrastructure automation is not as attractive as it used to be. It has a place to be sure, but we recently talked with a customer about a warehouse full of conveyors. 'It's five miles of the most expensive scrap metal,' they said. It can't be moved to new facilities like robots.
A big part of our Mark 3 message is that it and our AMRs can close the gap between humans and robots for pallet-handling applications for greater throughput.
You mentioned the speed update—how fast can AMRs with the Mark 3 software go?
Theobald: We've given a lot of thought to speed. As far as we're aware, 3.3 m/sec. [7 mph] is significantly faster than any other pallet-handling AMRs. The top is 2 m/sec. [4.4 mph] as advertised by our competitors.
Not only do you have to look at the form factor, but also to overall throughput. There's a mix of typical activities that AMRs are performing at customer sites. With better acceleration and deceleration times, we can have 50% quicker interactions with pallet pickups.
Acceleration and deceleration are obviously tied to safety. How is this tied to regulatory compliance and navigation?
Theobald: Our software and robots comply with American National Standards Institute [ANSI] B56.5 and Robotics Industries Association [RIA/A3] R15.08 safety standards. The update enables more than 75% improvement in obstacle avoidance, without compromising on safety.
With Free Space Reasoning, our next generation of navigation technology optimizes for free space without needing a line or path drawn for it. The real world is chaotic. Robots can "thread the needle" and keep moving through tight spaces as quickly as safety allows.
How does the ability Mark 3 software update affect users of Vecna's hardware?
Theobald: The Pivotal orchestration software is what made this possible. The system assigns work to robot fleets based on real-time demand, resource availability, and proximity, and it is constantly collecting performance data. Terabytes of data have gone back into the system and algorithms.
With the idea of robotics as a service [RaaS], like software as a service, every single robot from Vecna Robots gets over-the-air updates. It isn't only new customers or new robots that get it. It's all about customer service—we're not super motivated to sell a piece of hardware and say, 'Good luck.' We want to have the robot meet and exceed expectations and get to productivity.
This is because of years of development, building the right architecture. We've got 60,000 lines of code and 24/7 support. Some companies have had to redesign their systems, which is why we took our time and decided not to rush a product to market before it's ready.
How do you update the customer base?
Theobald: These robots are mission-critical, so it's a well-planned event with each customer to the extent that there's any concrete impact. Good communication is essential.
In most cases, users will see no change from Mark 3 other than seeing the robots move a bit faster and get the work done better. It's like employees got a shot of caffeine and are energized.
The thing that's unique about our software is that it's truly platform-independent. It works the same on tuggers, pallet jacks, and forklifts from multiple OEMs. The smaller robots will benefit as much, or in some cases more, from the update.
We've seen some consolidation among mobile robot vendors, as well as heightened demand across warehouses and supply chains. At the same time, many operations are just getting started with automation. What do you recommend?
Theobald: We're still in an embryonic stage in our industry. Recent fundings are a validation of automation. The bigger companies are starting to understand that automation is inevitable for warehouse operations, order fulfillment, and line-side replenishment. Robots are not longer a cost center but are now a strategic advantage in retaining customers. There's a tremendous amount of opportunity.
To those getting started now, we generally recommend choosing a vendor and working with them. There are lots of challenges, but the wait-and-see approach that worked in the past doesn't anymore. Change management, workflow, process changes—everything around adoption takes time to figure out and is unique for each company.
There are now numerous applications where ROI is present. We can debate whether adding automation allows us to employ more people, but the numbers are clear. The problem is that some analysts always assume a zero-sum game.
With Vecna's AMRs, Pivotal software, and now Mark 3, where can businesses learn more?
Theobald: We'll be at Booth 5866 at Pack Expo this week. We'll also have some exciting announcements coming at MODEX [in Atlanta in March 2022] around opening up new markets.
About the Author
Eugene Demaitre
Eugene Demaitre is editorial director of Robotics 24/7. Prior to joining Peerless Media, he was a senior editor at Robotics Business Review and The Robot Report. Demaitre has also worked for BNA (now part of Bloomberg), Computerworld, and TechTarget. He has participated in numerous robotics-related webinars, podcasts, and events worldwide. Follow Eugene:
Follow Robotics 24/7 on Facebook
Article topics
Email Sign Up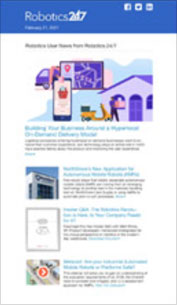 Get news, papers, media and research delivered
Stay up-to-date with news and resources you need to do your job. Research industry trends, compare companies and get market intelligence every week with Robotics 24/7. Subscribe to our robotics user email newsletter and we'll keep you informed and up-to-date.
Vecna Robotics