A supply chain is the business function that serves as the circulatory system for organizations. Like the human circulatory system, a supply chain transports goods and materials for operations including product creation and order fulfillment. It is critical to have a robust supply chain for smooth operations and maintaining healthy profits.
Healthy supply chains are essential for business success. However, many organizations suffer from anemic ones that are prone to breakdowns. This is because it is not an easy feat to effectively manage a complex supply chain. You must overcome some common challenges to achieve that.
4 supply chain challenges
1. Dynamic markets
The uncertainty due to dynamic markets is the major challenge faced by supply chain practitioners. Customer requirements are constantly evolving. For a product to reach the customer, businesses need lead time for procurement of materials, manufacturing, and shipping.
When consumer preferences change before your organization is able to pivot to accommodate them, it can incur huge losses. Due to this, you need to identify future consumer demand accurately to deliver the right products to your customers.
The challenge is not just from the demand side. Fluctuating raw material costs, transportation costs, labor costs, and shifting geopolitical situations also pose a threat to the stability of supply chains. This forces organizations to take costly anticipatory measures or risk a broken supply chain.
2. Fulfillment woes
Order fulfillment includes picking, packing, shipping, and delivering accurate orders to the customer. This leg of the supply chain alone has various touch points from picking to delivery.
There are many things that could go wrong in this leg of the supply chain. Even something as simple as packing ordered products could be challenging when there's a mismatch between the size of boxes and product sizes. This could lead to wasteful packaging practices.
3. 'Black swan' events
Unexpected events happen that were not factored in while designing and managing supply chains. These "black swan" disruptions can destabilize supply chains forming bottlenecks or other forms of supply constraints.
Supply chain executives did not anticipate the spread of coronavirus in 2020 and the subsequent lockdowns across the world. Yet a novel virus wreaked havoc on global supply chains, which are still in recovery mode. Such unplanned scenarios are always a threat to a robust supply chain.
4. Skilled labor shortages
Skilled and experienced employees are required to handle various supply chain functions. This ranges from supply chain executives to warehouse employees. The shortage of supply chain professionals is increasing the hourly wages for available personnel.
According to the Bureau of Labor Statistics, a warehouse employee needs to be paid $22.23 per hour on average. Wages for other employees are on an upward trend. This raises operational costs for the supply chain and makes it difficult to maintain resilient supply chain operations.
In the robotics space, the skilled workforce is both a threat and an opportunity. Internally, companies will need technicians to develop and maintain this equipment.
As a provider, robotics can help companies maintain operations when the available labor pool is small. The concerns you face in your supply chain are often mirrored in customer and partner supply chains, giving you insight into developing broader company protections.
How to build a robust supply chain
Many things could go wrong in a complex supply chain, hampering business continuity. Building a strong, resilient supply chain involves anticipating failures and pre-empting such instances from occurring. Some of the potential benefits are:
High efficiency
Reduced cost
Business continuity
Increase profits
Reduced bottlenecks and delays
Better relationship with supply chain stakeholders
These benefits make obvious the need for a healthy supply chain. Here are some steps you can adopt to build more robust supply chains.
1. Build redundancies
A complex supply chain will have failures; it is unavoidable. Strong supply chains are not built by completely eliminating failures, but by working around them.
Supply chain management should have redundancy and backup plans for failure events. You need to have multiple suppliers for the same parts. This way, if one supplier is not able to deliver the requirements, you can rely on the remaining supply partners.
Another redundancy that should be in place is alternative shipping partners for when one of the partners is not able to deliver the expected output. Similarly, you need to have backup plans for all elements in your supply chain that have the potential to go wrong.
2. Involve stakeholders
The supply chain of your organization has many stakeholders. This includes customers, suppliers, vendors, warehouses, third-party logistics providers (3PLs), transportation partners, etc. For smooth operations, you need to have a strong collaboration with these partners.
To foster collaboration, you need to align with the goals of your partners. The incentive structure in place should also foster strong, stable partnerships. Robust data sharing with partners is also needed to help them grow with your organization.
3. Consider cobots
Mobile robots and collaborative robots are new additions to many supply chains. They can help in a range of activities, from picking products on distribution center shelves and sorting to delivering them to end customers.
Automated guided vehicles (AGVs) are widely used for transportation in limited spaces. Robots and cobots can be introduced to many parts of the supply chain for faster execution of tasks. The use of automation can reduce dependence on employees to perform various tasks.
With decreasing costs and improving technology, AGVs, autonomous mobile robots (AMRs), and cobots can increasingly help improve supply chain operations.
In a recent Zebra Technologies survey, 62% of industry participants reported that human error from manual process management is the top reason for inventory fulfillment problems. This includes picking errors, errors handling equipment, lack of information, etc.
Such errors cause returns of products by customers, which increases the time and resources consumed in warehouses. The use of collaborative robots for picking can reduce picking errors by 67%. The study also cited technologies such as pick-to-voice, pick-to-light, and RFID (radio frequency identification).
4. Mobile robots can improve materials handling
Lockheed Martin implemented AMRs from 6 River Systems Inc. to improve material handling. The defense contractor is in an industry with very limited players and unique requirements.
Lockheed has an autonomous systems roadmap to achieve full automation by 2035. While the company is rigorously automating its products, it did not have any autonomous solutions for its internal warehouses.
Lockheed Martin faced the following challenges:
Complex and dynamic supply chain
Stringent security requirements
Lack of qualified personnel and high personnel turnover
High wages for employees
Non-standard warehouse processes
Limited productivity
Lockheed Martin introduced collaborative picking carts from 6 River Systems. This is much more flexible than conventional automation methods like conveyors at a much lower cost.
6 Rivers' Chuck robots and software also help break up the capital investment into smaller chunks. This allows Lockheed to automate sections that need it without putting in a sizable investment to overhaul its whole warehouse.
Collaborative mobile robots helped Lockheed deploy smaller capital for small productivity improvements. The company is now able to have a decade-long supply chain automation roadmap that is flexible and cost-effective.
5. Supercharge fulfillment for customers
Fulfillment is the customer-facing leg of the supply chain. It needs to function without a hitch to ensure customer delight. This includes bringing down shipping costs, reducing delivery times, strong relationships with transport partners, having backup plans, and using automation.
Done well, fulfillment can bring customers delight and make them repeat customers.
Consumers always expect more from e-commerce fulfillment. Previously, two-day delivery used to be a luxury, but some people today are not satisfied with even same-day delivery. Your strong fulfillment network and capability can give your business a competitive edge.
All other things being equal, consumers will likely choose the service with lower costs and minimal hassles. You need to streamline your e-commerce fulfillment with a leaner product mix that is suitable for faster shipping and delivery.
However, that isn't possible in all instances. For such instances, you should rely on package consolidation to optimize boxes, shipping, and the delivery of multiple products to a single customer.
Use new technology effectively
Many forms of technology are used in different parts of the supply chain. This ranges from robots to various information technologies. This can range from warehouse management systems (WMS) to artificial intelligence.
Anyone can buy some technology and implement it in their supply chain. But you should not be doing so just because something is in vogue. The technologies you implement should align with your overall strategy and bring value to the bottom line.
Let us consider an example of how to use technology effectively in your supply chain. AI can be powerful, and you can incorporate it into supply chain software to analyze data collected and generate insights. Such a broad implementation of AI is not going to yield significant results, as there is no specific goal for the implementation.
But consider another AI implementation that is bound to generate results. AI can be used for package consolidation. This helps to minimize packaging used in shipping products to customers. This saves the company transportation and packaging costs.
Such consolidation is a specific use of AI with actionable and measurable results. Similarly, any technology to be added to supply chain operations must address a specific need and provide measurable results.
Robust supply chains have the potential to improve all business metrics, ranging from efficiency to customer satisfaction. The road to building such a supply chain is arduous, and very few organizations succeed in that.
The recipe for resilient supply chains is not too complex, but these steps can determine how well your organization fares in the next crisis.
About the author
Jake Rheude is vice president of marketing at Red Stag Fulfillment, a fulfillment warehouse that was born out of e-commerce. He has years of experience in e-commerce and business development.
Article topics
Email Sign Up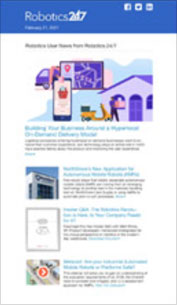 Get news, papers, media and research delivered
Stay up-to-date with news and resources you need to do your job. Research industry trends, compare companies and get market intelligence every week with Robotics 24/7. Subscribe to our robotics user email newsletter and we'll keep you informed and up-to-date.
6 River Systems