No matter the distance, hauling heavy loads of material through factories and warehouses—or from one to another—remains a highly repetitive and potentially dangerous task. Forklifts remain an ongoing contributor to workplace accidents, and skilled operators are difficult to find and retain. According to the Manufacturing Institute, U.S. manufacturers will face a labor shortage of 2.4 million by 2028. Automation can be a solution for both challenges.
Over the past few years, autonomous mobile robots (AMRs) have emerged as a safe and efficient alternative to traditional manual material movement. AMRs navigate independently along pre-determined paths, with most using built-in lidar sensors and environment-mapping technology to map the facility in real time. This eliminates the need for floor tape, wires, magnets, or other cumbersome facility infrastructure.
AMRs not only present opportunities for increased productivity and faster returns on investment (ROI), but they can provide safer working conditions and reduce or even eliminate the need for workers to:
Perform dull and repetitive material movement tasks that result in distraction, fatigue, and ultimately injuries.
Operate large-scale equipment that uses force at high speeds near people. Unlike AMRs, manual forklifts, production equipment, and other industrial machinery lack vision and sensing equipment to stop motion when a person's body or limbs get in the way.
Lift and transfer heavy items: low-value transportation and palletizing tasks often involve over-reaching and carrying items that are large, heavy and awkward, resulting in obscured views as well as falls, trips or muscle strain.
Today's high-payload AMRs use natural feature navigation functionality determine optimal delivery paths, as well as multi-sensor safety systems to autonomously stop to avoid collisions. AMRs can also add predictability to manufacturing and distribution centers. By traveling along a pre-determined network of approved paths, the vehicles safely coexist with other industrial vehicles and humans, eliminating uncertainty from internal logistics.
AMRs address a myriad of workflows
Not only do AMRs help improve safety, they also make operations more efficient and productive. For example, with every trip it takes, an AMR can determine the most efficient route to its location. A single tugger hauling multiple trailers can transport up to 10,000 of goods in a single trip. Consider the potential productivity benefits this can enable across the following workflows:
Long-haul towing
For one U.S. manufacturer, manual forklifts were transporting materials from their manufacturing facility to a warehouse three quarters of a mile away, 100 pounds at a time, and logging 200 miles each day. These manual forklifts were replaced with AMR tuggers that pulled more load per trip and completed the necessary material movement in 30 to 40 miles each day an 80% reduction in miles traveled and a lot less traffic on the floor.
Another manufacturer deployed two autonomous tuggers to deliver supply pallets from the warehouse to the fulfillment center, a task previously managed by manual forklift operators. With four-trailer trains, each robot transported four pallets per trip. Forklift operators, previously driving supply pallets one at time to the warehouse 2,000 feet away, can now focus exclusively on dock operations.
Line-side tugging
At another manufacturer, high-payload AMR tuggers integrated with conveyors to deliver lineside supplies on a just-in-time basis. When inventory on a conveyor reaches a predefined level, sensors alert the robot's fleet control software to dispatch the tugger to refill the supply. Once the tugger arrives at the consumption point, the software notifies the automatic trailers to deliver materials to the conveyor and load empty containers back onto the trailers via their own powered conveyor system. Once the exchange is complete, the software dispatches the vehicle back to the pickup point.
Automatic trailers and conveyors then exchange empty containers for full containers, and the autonomous tugger is sent to a charging location where it waits for the next low-parts signal. In one trip, a single AMR tugger can carry what typically takes two manned forklift trips to transport, which adds up substantially over the course of a typical day.
Picking zones to pallet wrappers
A robotic pallet stacker can streamline work for fulfillment center employees. Rather than requiring human workers to devote time to hauling manual pallet jacks from picking zones to pallet wrappers that can be hundreds of meters away, the picking team saves both walk time and arm strength by placing full pallets in end-of-aisle AMR pick-up stations.
At one center, a single AMR pallet stacker serves six pickers, transporting pallets to the wrap station, so pickers can stay focused on order fulfillment.
These are but a few examples of how high-payload AMRs can be used across manufacturing and warehouse facilities to increase safety and productivity while freeing human workers for higher-value tasks. Regardless of the amount of material being hauled each day, a flexible and safe AMR solution that easily and cost-effectively adapts to meet a business' needs will benefit the organization for years to come.
Mike Harper is vice president of sales and marketing at AutoGuide, a manufacturer of high-payload AMRs for material transport for warehouses, manufacturers, and e-commerce distribution centers.
Article topics
Email Sign Up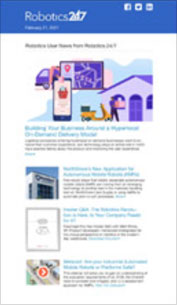 Get news, papers, media and research delivered
Stay up-to-date with news and resources you need to do your job. Research industry trends, compare companies and get market intelligence every week with Robotics 24/7. Subscribe to our robotics user email newsletter and we'll keep you informed and up-to-date.
AutoGuide Mobile Robots