BOSTON—As the head of Amazon.com Inc.'s autonomous mobility technology and product development program, Mikell Taylor understands what it takes to make robotic systems that scale.
She was a key figure in the Seattle-based company's development of the Proteus industrial autonomous mobile robot (AMR), which was unveiled earlier this year. It's the first AMR to come from the team at Amazon Robotics, and it will be used in-house and not sold in the commercial market. The robotics team was formed after the e-commerce giant bought Kiva Systems in 2012.
Taylor spoke earlier this month at the Association for Advancing Automation's (A3) AMR and Logistics Week event at the Hynes Convention Center. She outlined her team's vision in creating Proteus and the design and logistical considerations they thought about when developing the mobile robot.
Warehouses need more than just a robot
Amazon Robotics' team understood that it needed to build a robot that could be deployed at scale in Amazon warehouses around the world.
Taylor said one of the biggest insights her team discovered while working on Proteus is that the robot itself is not the most important part of the system. It's just one part of a greater whole that involves many components.
"If we narrow our focus on just the stuff on the robot, we lose sight of all the other elements in the system that makes things work," Taylor said. "And if we do that, you cannot succeed at Amazon scale."
Taylor and her team were able to take advantage of the technologies that Kiva Systems had developed in building Proteus. One of Kiva Systems most "game-changing" innovations wasn't its drive unit; it was the pod shelf, she said.
"The virtual and physical infrastructure of your payloads is part of your infrastructure," said Taylor. "You can do more and scale faster when you influence that part of your system and even co-design that along with the robot."
Understanding dynamic environments
Another important consideration is that the Proteus robots do not exist within static environments. "The upstream and downstream processes keep evolving," Taylor said.
One way to address this concern is to co-design and build relationships with those in charge of other parts of the process, she noted.
"That way, even if you start with a simple API and input assumptions, as all the disparate systems change and evolve over time, you already have mechanisms and relationships in place to grow and evolve with them, and have your system evolve with them," explained Taylor.
Amazon Robotics focuses on key areas
Amazon Robotics decided to focus on four key topic areas when developing Proteus – adoption, value, earned trust, and safety, Taylor said.
For Proteus to be truly adopted within a facility, Taylor said she knew that she and her team needed to make Proteus enjoyable to use.
"We don't want people to just be tolerant of Proteus," she said. "We want it to be actively welcomed in these environments. And the hope is that if we get all these other building blocks right, adoption will come naturally."
Safety is foundational
That starts with building a safe robot, Taylor said. She noted that Proteus is compliant with the voluntary safety standard R15.08. The hardware was designed to calculate "a safety bubble for mobile speed and separation monitoring," she said. "It also has "'Safety-aware' trajectory planning software."
"In effect, we know where our safety bubble is so when we have a choice of trajectories to take, we can choose to take the one that is least likely to trigger a bubble violation based on what we can see around us," said Taylor. "If we really do our jobs right, the vast majority of time, our movement software should reroute us around an obstacle before the safety bubble is even triggered."
She said safety was as important to the team as the autonomy technology stack.
The importance of 'endpoint automation'
When considering the automated tasks that Proteus would need to complete, Taylor and her team decided that Proteus would be designed for "endpoint automation."
"What does that mean?," she asked. "It means it's not enough to make something autonomous from Point A to Point B."
Taylor added that "any interaction with your payload from the start to the end of the mission has to be executed autonomously."
That was an important design tenet for the team, as it wanted Proteus to be capable of succeeding in parallel collaborative workflows. That means designing "seamless work sharing between people and automation," Taylor said.
"We're designing for parallel collaborative work with Proteus, not for collaborative work where people have to be in process with the robots," she said.
Workers will continue to be an important part of Amazon's warehousing and supply chain infrastructure for years to come, Taylor noted. We are decades away from having fully 'lights-out' facility—if ever—and we should continue to invest in training and employing human workers.
"If all my years of building robots has taught me anything, it's that humans are amazing, and human brains are amazing, and that we don't understand that stuff anywhere well enough to create artificial versions of it."
What went into Proteus' looks?
There was whole other set of considerations Taylor and her team had to keep in mind when designing Proteus' outward exterior. They knew they needed the robot to appear somewhat friendly, disarming, and distinctive. That's why they decided to make Proteus green.
"We want to make sure that there was no question that when somebody is looking at a Proteus drive, which is safe for them to be around, it's a Proteus drive," she said.
They knew they also had to give the robot some character, said Taylor. They avoided making the robot appear human and instead drew some inspiration from the greater animal kingdom. The front of the robot features eyes at the front of it, for example.
"By characterizing Proteus that way, we were trying to create this vibe that you can trust Proteus and figure out what it is going to do and how it's going to behave and how you should behave around, just like you would a horse or a dog, or any other kind of animal."
Editor's note: Check out Robotics 24/7's special coverage page for A3's AMR and Logistics Week and The Vision Show.
About the Author
Cesareo Contreras
Cesareo Contreras was associate editor at Robotics 24/7. Prior to working at Peerless Media, he was an award-winning reporter at the Metrowest Daily News and Milford Daily News in Massachusetts. Contreras is a graduate of Framingham State University and has a keen interest in the human side of emerging technologies. Follow Cesareo:
Follow Robotics 24/7 on Facebook
Article topics
Email Sign Up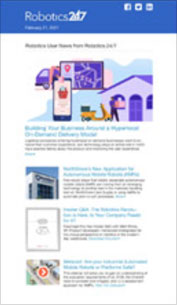 Get news, papers, media and research delivered
Stay up-to-date with news and resources you need to do your job. Research industry trends, compare companies and get market intelligence every week with Robotics 24/7. Subscribe to our robotics user email newsletter and we'll keep you informed and up-to-date.
Cesareo Contreras