Last month, Dematic said it plans to combine its supply chain expertise with Google Cloud's artificial intelligence and machine learning technologies. The Atlanta-based company said its partnership will bolster supply chain resilience and deliver go-to-market systems.
"This partnership is a continuation of our invaluable collaboration with the Google Cloud team, whose keen interest in helping us build and test the next generation of warehouse management solutions makes this alliance a perfect match for our growth strategy," stated Dee Cusack, chief technology officer of Dematic. "Through this partnership, we are helping our customers advance their positions in the industry."
Dematic designs, builds, and supports intelligent automation to support customers in manufacturing, warehousing, and distribution. The company is a subsidiary of KION Group, a leading supplier of industrial trucks and supply chain systems.
With more than 11,000 employees, Dematic has research and development engineering centers, factories, and service centers in more than 35 countries. It added that it has more than 8,000 customer installations worldwide.
Dematic finds like-minded partner in Google Cloud
Dematic said that migrating its offerings to the cloud and applying AI and machine learning (ML) will drive rapid innovation. It claimed that customers will be able to use Google Cloud understand efficiencies to be gained in areas such as operations, planning, labor, and inventory.
Why did Dematic choose Google Cloud?
"A few things led us toward Google—their vision and strategy aligned almost perfectly with ours," replied Chris Shaver, global vice president for product management at Dematic. "Secondarily, a significant portion of our customer base sees Google as a strategic partner."
"Google has advanced AI/ML capabilities, but at the end of the day, it comes back to having a partner that wants to impact society and the world in the same way we do," he told Robotics 24/7. "Dematic brings 200 years of warehouse automation experience, while Google brings the cloud—the combination is something the supply chain industry hasn't found to date."
"Google Cloud is committed to helping organizations across the supply chain address the rapidly evolving needs and expectations of customers, suppliers, and fulfillment centers with cloud technology," said Kirsten Kliphouse, president for North America at Google Cloud. "We're pleased to partner with Dematic to provide customers with innovative solutions and technologies that will help them quickly address changes across the industry and that support their digital transformation goals."
Simplicity, sustainability, and speed are top goals
Dematic will use the Google Cloud to develop and deploy software for areas including e-commerce and omnichannel fulfillment, said the partners. Dematic also plans to build "control-tower" applications for vertical markets including general merchandise, grocery, apparel, and food and beverage.
"We've seen lots of disruptions in the past two and a half years [including] labor shortages, Shanghai shut down because of COVID-19, and the Ukraine conflict," Shaver said. "How can we leverage our supply chain knowhow and Google's AI/ML capabilities to make the complex simple for customers?"
He also cited environmental sustainability as a benefit of Dematic's partnership with Google Cloud.
"Taking waste out of the supply chain has been gaining steam, but Europe has been ahead of the U.S.," noted Shaver. "What do we want to be able to do five years from now? Taking 10% of trucks off the road would be a good starting point. Looking across the ecosystem with data insights, visibility into inventory, and optimization, we could also reduce the footprint by 15% or increase the utilization of facilities."
"Something like 70% of apparel e-commerce returns end up in the landfill beause of seasonality, transport, and repackaging. It's cheaper to dump them rather than resell them," he said. "Several grocers have announced their aspirations to reduce food waste to zero by 2030. How do we get data and visibility into inventory flows so it goes where customers need when they need it?"
"The last advantage is speed," Shaver said. "We want to deploy cloud-based microsolutions for well-informed decision-making. If you put Office on a laptop today, you don't need to go to Best Buy to buy a CD; you go to the Web. We want to modernize the software stack for quick deployment of things such as re-routing AMRs [autonomous mobile robots]."
Software stacks, prioritization, and modularization
Warehouse automation providers increasingly say that software will be more of a differentiator than hardware.
"How many AMR providers are there today?" said Shaver. "We want to create more microservices as we approach how to scale our business. To control, optimize, and scale robot fleets, our customers are challenged by more and more complex projects."
"We don't want a project three to four years from now to take three to four times the technology resources," he explained. "When we talk about a modular approach, we want to take our software stack and standard services like Lego blocks."
With a library of microservices, Dematic customers could pull modules down from the cloud and use fewer resources to build custom solutions and minimize complexity, Shaver said. But how is a module designed?
"When we talk with customers about their supply chain journey, we see four steps," said Shaver, who listed the following:
Basic, standard repeatable tasks in a warehouse
Add automation, mechatronics, and software – "where we play today"
Creating a "truly autonomous, next-generation dark warehouse"
An "autonomous end-to-end supply chain" with digital twins for the customer and all its functional partners, from raw materials to shipping
He acknowledged that one challenge is taking sensors from robots, conveyors, or sorters to run predictive analytics. "Then, we can take that data to predict which products pose the highest challenges and potential for jams," Shaver added. "We're putting even more sensors on our equipment."
Dematic expects Google Cloud to accelerate innovation
"Our partnership with Google will lead to the truly autonomous, self-sustaining, lights-out warehouse much faster than people think," asserted Shaver. However, he acknowledged that human intervention will likely need to be available for some time.
"Warehouses could become like power-generation facilities—how many are mostly monitored off-site by a central command center?" Shaver said. "That's the model we're looking for."
While robotics hardware becomes commoditized, Dematic's software stack and modules will help it and its customers compete, said Shaver.
"Even within networks of a given customer, often, those sites don't talk to each other for things such as robot arms using machine learning to pick up something," he said. "That's the type of thing we think will provide a lot of value."
"With the '80/20 rule,' 80% of a customer's SKU [stock-keeping unit] is in every distribution center, and 20% is regionalized or seasonal," noted Shaver. "With this partnership, we'll be able to help optimize arms, swarming AMRs, and power for the entire supply chain. The industry is clamoring for solutions to supply chain disruptions."
To that end, Dematic and Google Cloud are now in the process of setting up governing structures and a co-innovation lab, Shaver said.
About the Author
Eugene Demaitre
Eugene Demaitre is editorial director of Robotics 24/7. Prior to joining Peerless Media, he was a senior editor at Robotics Business Review and The Robot Report. Demaitre has also worked for BNA (now part of Bloomberg), Computerworld, and TechTarget. He has participated in numerous robotics-related webinars, podcasts, and events worldwide. Follow Eugene:
Follow Robotics 24/7 on Facebook
Article topics
Email Sign Up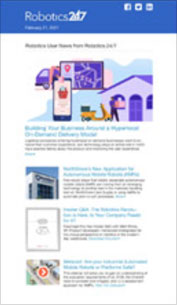 Get news, papers, media and research delivered
Stay up-to-date with news and resources you need to do your job. Research industry trends, compare companies and get market intelligence every week with Robotics 24/7. Subscribe to our robotics user email newsletter and we'll keep you informed and up-to-date.
Dematic