Even before the pandemic, the global supply chain and logistics industry was struggling to adapt to a fast-changing market. COVID-19 merely multiplied the chaos. Current disruption is in large part driven by runaway growth in package delivery.
According to FedEx, the U.S. domestic package delivery market is likely to hit 110 million packages per day in 2022.
Pre-pandemic they did not expect to exceed 100 million daily packages until 2026. A huge amount of this growth is driven by e-commerce; data from Statista shows that U.S. e-commerce retail revenue will grow from $768 billion in 2021 to $1.3 trillion in 2025.
Mobile robots are one way for logistics companies to deal with this growth challenge, especially in the face of a seemingly never-ending labor shortage. That's because the mobile robot market has "matured" in the sense that mobile robots are now cheap, capable, and reliable, meaning that mobile robot sales are rocketing.
Research from market insights firm Interact Analysis showed that global mobile robot market revenues grew by 20% in 2020. That year, at the height of the pandemic, nearly 60,000 mobile robots were shipped – an increase of over 25% on 2019.
The problem for warehouses is that most mobile robot set-ups are designed to do a limited set of tasks in a warehouse and, as warehouses add more robots, they are reaching the limits of possible efficiencies with current technology. What is needed is a way to seamlessly integrate robots from different vendors into a unified solution.
The birth of intelligent logistics solutions companies
This need has created a new breed of company: I call them intelligent logistics solutions companies. These companies create software that orchestrates fleets of different kinds of robot, getting them to work together in a warehouse even though they use different operating systems, and also using artificial intelligence and machine learning to react swiftly to changing demand without the need for human intervention.
Such solutions offer high value for logistics managers because they use less warehouse space, allow scarce workers to be redeployed into higher value work, and – crucially – enable the system to automatically adapt to sudden changes.
My e-commerce journey began at Amazon in the U.S., where I used my skills in mathematics to optimize supply chains. It was while working at Amazon that I realized shipping is the biggest cost for many online retailers. I also realized that most of the continuous improvements were coming from the hardware side. What was lacking was the sophisticated software to make different hardware work together more efficiently.
Advanced software allows automation flexibility of a type that has never been possible until now. One option it enables is the integration of mobile robots from different vendors, meaning that full workflow automation solutions suddenly become feasible. This allows logistics companies to choose robots from any vendor. The most sophisticated intelligent logistics software uses a double-layered solution.
The first layer
The first layer is a robot control system (RCS) that can communicate with multiple types of robot and can therefore orchestrate fleets of them to work efficiently and cooperatively. It's a simple concept, but it's technically hard to do. One of the big problems is the unforeseen situations that arise in warehouses. How will the RCS respond if a robot finds its way blocked by something that has fallen off a shelf, for example?
It's crucial to design systems to be aware of the gritty details that arise in the real world. The key is not only to anticipate and plan for unforeseen situations, but also not to over-complicate. The result should be a robust system that keeps functioning smoothly regardless of what happens. Models should be based on a bunch of assumptions, and have flexibility so that, if one or two assumptions break down, the system still works.
The second layer
The second layer is made up of tailored solutions for warehouses in different industry sectors, such as cosmetics or consumer packaged goods. Companies usually have their own warehouse management system (WMS) which has bespoke functionality tailored to the customer.
The data from such WMSs can be harnessed to adapt the robot control solution to meet specific customer needs. It's not about changing the customer's system. It's about tailoring the robot control solution for individual companies, and it involves the software provider spending lots of time working with warehouse staff.
A future vision
I believe there will be enormous demand for logistics software that can orchestrate robots from different vendors. In fact, one of the main things holding the industry back right now isn't a technical barrier, it's simply a lack of awareness in the market about what this technology can do.
About the author
Lijun Zhu founded CoEvolution, a provider of intelligent logistics solutions, in 2019. Prior to that, he worked at Amazon and Alibaba, where he helped manage the companies' logistics operations.
Article topics
Email Sign Up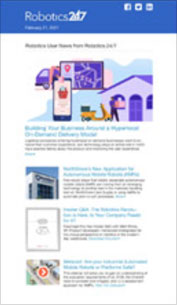 Get news, papers, media and research delivered
Stay up-to-date with news and resources you need to do your job. Research industry trends, compare companies and get market intelligence every week with Robotics 24/7. Subscribe to our robotics user email newsletter and we'll keep you informed and up-to-date.
CoEvolution