BOSTON—Robotics clusters worldwide have grown, thanks to a combination of academic research, government funding, innovative startups, risk-taking entrepreneurs, and industrial mentors and customers. At an event at its headquarters here last night, MassRobotics expressed gratitude and celebrated numerous accomplishments at its fifth annual partner event.
"We started this with our 11 founding partners," recalled Fady Saad, vice president of strategic partnerships at MassRobotics. "In 2021, we added 15 new resident members, for a total of 62."
MassRobotics provides support for startups and the Massachusetts robotics community through shared workspace in Boston's Seaport District, events, business services, and investor introductions. The organization said it is the collective effort of engineers, rocket scientists, and entrepreneurs.
"We're already running out of space in our new facility, and we're looking for more space," said Tom Ryden, executive director of MassRobotics. Ryden personally thanked Jay Ash, former Massachusetts secretary for housing and economic development, for the commonwealth's initial investment of 2.5 million in MassRobotics.
Ash is now CEO of the Massachusetts Competitive Partnership (MACP), which consists of the CEOs of the top 18 employers in the state and focuses on economic competitiveness, educating the workforce, social justice, and innovation and entrepreneurship.
"People ask me what our state is doing that's different," he said. "I've worked with Gov. Charlie Baker, who once said, 'The secret of Massachusetts' success story is to begin with educational excellence—MIT and Harvard—and wait 200 years.' Innovation and enrepreneurship are part of our DNA and have helped us get through many an economic cycle."
With more than 350 robotics and related technology companies in the region, the Massachusetts robotics hub is one of the biggest in the world. Local companies range from best-in-class component makers and software developers to suppliers of autonomous mobile robots (AMRs), collaborative robots, and surgical systems.
Massachusetts startups have successful year
Saad noted that several MassRobotics members were acquired, raised funding, or added jobs this past year. They included Waypoint Robotics, which was acquired by Locus Robotics; American Robotics, which was acquired by Ondas Holdings; and FringeAI, which was acquired by LMI Technologies.
MassRobotics members getting investment included Activ Surgical, which raised more than $45 million, has 56 employees, and received FDA approval. Realtime Robotics raised $31.4 million and employs about 70 people, Ori raised $27 million and has 31 employees, and Pison Technology closed a $7 million Series A round and has 52 employees.
Support for new companies also includes a recently announced AWS Robotics Startup Accelerator. Festo and MassRobotics selected the first four companies for the Healthcare Robotics Catalyst.
In addition, Mitsubishi Electric and MassRobotics continued their Startup Engagement Program.
Cowen Inc., a full-service investment bank and a MassRobotics partner, supported a market study around human augmentation for logistics.
MassRobotics offers events to help community
In 2021, MassRobotics hosted 16 events, including a two-day workship on how robotics startups can raise funding, said Saad.
The collective also hosted two Demo Days, career fairs, and Robo Boston. That last event included an executive summit, STEM (science, technology, engineering, and mathematics) activities, and the annual Robot Block Party open to the public.
In STEM education, MassRobotics helped promote diversity and opportunity with the first cohort in its Jumpstart program. Female students in the Boston Public School system worked with companies such as the Toyota Research Institute and The MITRE Corp. and had paid internship opportunities. A second cohort has just begun, said Khalif Mitchell, STEM program manager at MassRobotics.
Autodesk participated in a "Design, Build, Apply" workshop around robots in construction. MassRobotics also hosted informational events about defense, maritime, and other sectors.
MITRE also sponsored a drone working group to study the technology's potential impact on the utility industry, and Amazon Robotics supported a drone camp.
New and noteworthy partners recognized
"When I worked with Gov. Baker, we focused on the importance of public-private partnerships," said Ash. "We got a lot of crazy requests for funding, but not only did Tom have a passion for such partnerships and the local robotics community, but he also anticipated all my questions."
"Gov. Baker and I learned a new word together—convergence," he said. "Massachusetts' economy is strong because of the convergence of a lot of people with great ideas. I congratulate you for your success in doing it here."
Saad welcomed new MassRobotics members Universal Robots, Procter & Gamble, and Amazon Web Services, as well as renewals from 20 members. He also announced new strategic partners Novanta and Danfoss.
For the first time, MassRobotics recognized its "most engaged partners" with awards. Cowen received one for its startup education, Festo for its work in life sciences and healthcare, and Mitsubishi Electric for its support of the Healthcare Robotics Startup Catalyst and Robo Boston.
AMR standard and future focuses
As fleets of mobile robots grow in warehouses and elsewhere, concerns have arisen around interoperability among robots from multiple vendors. Locus, Waypoint, 6 River Systems, InOrbit, Mobile Industrial Robots, Vecna Robotics, and FedEx participated in MassRobotics' AMR Interoperability Working Group, said Saad.
At the AMR and Logistics Conference held by the Association for Advancing Automation (A3) in Memphis in October, the working group conducted the first demonstration of a standard for communications among mobile robots. The group plans to address batteries and power management next, Saad noted.
He added that MassRobotics will address climate change and robotics in the coming year. "We have a lot of smart people and technologies, and we have a responsibility to sustainability," said Saad. "Our ultimate vision is to make MassRobotics a hub for robotics startups worldwide."
"Diversity is another issue that's near and dear to my heart," he told Robotics 24/7.
MassRobotics also works with other robotics clusters, such as those in Silicon Valley, Pittsburgh, Denmark, and the Netherlands, noted Ryden.
For 2022, the organization intends to continue its events, and it will publish a five-year impact report next month.
About the Author
Eugene Demaitre
Eugene Demaitre is editorial director of Robotics 24/7. Prior to joining Peerless Media, he was a senior editor at Robotics Business Review and The Robot Report. Demaitre has also worked for BNA (now part of Bloomberg), Computerworld, and TechTarget. He has participated in numerous robotics-related webinars, podcasts, and events worldwide. Follow Eugene:
Follow Robotics 24/7 on Facebook
Article topics
Email Sign Up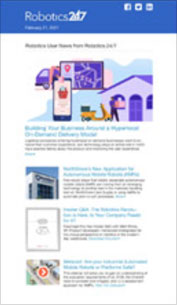 Get news, papers, media and research delivered
Stay up-to-date with news and resources you need to do your job. Research industry trends, compare companies and get market intelligence every week with Robotics 24/7. Subscribe to our robotics user email newsletter and we'll keep you informed and up-to-date.
Eugene Demaitre