Florian Pestoni, CEO of InOrbit Inc., said he has noticed a change in the past year. Large users of autonomous mobile robots, or AMRs, are increasingly mandating that their systems must be interoperable with other robots.
Warehouses often have challenges integrating robots into their warehouse management systems (WMS), and it doesn't help that each robot vendor has its own software package. The dream of interoperability is that it will streamline the setup and monitoring process for customers.
"I think all of a sudden, everyone is highly incentivized to figure out how to make their robot play nice with other systems," said Pestoni. "I think that's a positive trend. To me, it showcases that the industry is maturing."
The market has grown in the past five years, and customers no longer see AMRs as novelties, he added. With a vast array of options to choose from, it's increasingly likely that customers might have a range of robots from different vendors in their facilities.
"The differentiation is no longer this idea that you have a robot that doesn't bump into the wall, because now there's thousands of companies that offer that," Pestoni said. "Now, it's moving to the software; it's moving to the efficiency. Companies offer different price points, different tradeoffs."
InOrbit provides a robot operations platform that allows customers to monitor and task robots in their facilities. It can connect to a multitude of systems, including Industrial Internet of Things (IIoT) devices. The company said its main goal is to provide users with a system that provides "end-to-end robot orchestration."
Mountain View, Calif.-based InOrbit has two customer bases—robotics vendors and end users. Its clients work in facilities ranging from warehouses and manufacturing facilities to hospitals and hotels.
The company has been actively involved in promoting interoperability. It has demonstrated its software working with a range of standards, including the MassRobotics AMR Interoperability Standard and VDA 5050.
Pestoni noted that InOrbit supports these standards efforts because they are addressing one of the key issues that customers face when they have multiple robotic systems – fragmentation.
Warehouses can't expand automation without orchestration
While demand for robotics is growing rapidly in the warehouse space, both robot makers and warehouse customers have had challenges scaling up. One report estimated that more than 80% of warehouses globally do not have any automation.
Lijun Zhu, CEO of CoEvolution, said a major reason why warehouse operators don't move beyond piloting automation in their facilities is because they can't get multiple robots to work together. Everything remains separated and siloed.
"It's a chicken-and-an-egg problem," he said. "There is no good integrated solution, so people don't expand their automation. When you want to expand, you need an open software system."
Zhu is trying to address the problem head-on at CoEvolution. The Hangzhou, China-based company makes orchestration software designed to help customers task mobile robots from multiple vendors. The company made its North American debut at ProMat earlier this year.
CoEvolution has two main offerings: the R-Star Flexible Smart Factory Solution and the CO-PICK Smart Warehouse Solution.
R-Star is designed to help customers more easily integrate automation into their facilities. It allows for the control of different types of mobile robots under one platform, claimed the company. R-Star is compatible with multiple WMS and manufacturing systems.
"It handles the path planning and traffic control of a large fleet of mobiles robots, and its powerful optimization engine continuously optimizes the overall workflow in real-time," CoEvolution wrote on its website. "It streamlines the process of building a flexible smart factory solution, and significantly increases the system efficiency and space utilization."
The CO-PICK Smart Warehouse Solution is intended to help customers increase throughputs at their facility. The system can take advantage of two types of mobile robots for picking tasks. CoEvolution said businesses that have implemented its system have seen throughputs and storage space increase by more than 50%.
Zhu said he is encouraged by all the work going into creating new AMR interoperability standards. CoEvolution noted that its technology complies with VDA 5050.
As of late, it seems as though companies have been placing too much of a focus on hardware advancements and have not paid enough attention to creating strong ecosystems enabled by smart software platforms, Zhu argued. But the standards efforts demonstrate that there is "a strong market demand" for orchestration, he said.
Zhu said he has seen interest grow since he co-founded CoEvolution four years ago. The company recently announced that more than 50 locations around the world are using its orchestration software.
"What's really exciting is we see a lot of customers specifically demand this," Zhu said. "That's really encouraging because when we started a few years ago, it was not well-received."
Wireless charging enables new robot workflows
As the mobile robot market continues to mature, and standardization efforts formalize, companies have sprung up to help address some of the secondary pain points that come with AMR deployment and maintenance. For example, there are several companies working to make charging robots easier. WiBotic is one of them.
The Seattle-based company makes wireless charging products that allow mobile robots to get powered up more efficiently. Each system includes four parts – the transmitter circuit, the transmitter antenna, the onboard charger circuit, and the receiver antenna.
The process starts with the AC- or DC-powered transmitter, which generates a high-frequency wireless charging signal. That signal is picked up by the onboard charger circuit, which can be retrofitted onto any AMR, using the receiver antenna.
WiBotic's system then converts that signal back into a usable voltage. Customers control the process using WiBotic's Control Panel, a web interface that allows users to monitor the charging cycle of each AMR.
"It also lets users modify and customize charging parameters such as voltage and current for each robot if desired," the company stated on its website.
That granularity allows customers to have more flexibility in managing their fleets and a greater understanding of how much energy they are consuming, noted WiBotic CEO Ben Waters in an interview with Robotics 24/7.
Oftentimes, customers tend to not understand the value of having a smart charging infrastructure system until they run into an issue, he said. It's not until a robot fails to connect to a charger or dies mid-mission that users really see the need, and that's a problem, he explained.
"The charging infrastructure needs to be as smart as the robots themselves," Waters said. "Otherwise, companies might think initially they won't have issues, but I guarantee they will."
The company has made it a goal to work well with other systems. It offers up its APIs to allow robot makers and others to integrate WiBotic's data into their own systems. It works with InOrbit, for example.
Another company working in wireless charging is CaPow. The Beersheba, Israel-based company's Genesis platform takes advantage of pads and lightweight receiver stickers.
The pads are placed throughout a mobile robot's path to ensure they are continuously being charged up while on the go. The lightweight receivers are placed on the bottom of each AMR to allow them to pick up the pad's voltage.
CaPow CEO Mor Peretz said the system helps customers reduce downtimes and bottlenecks. That enables customers to invest in robots at a larger scale without having to worry about charging constraints.
In addition, users don't have to invest in as many robots to compensate for those that are charging, Peretz said.
Cloud-based software provides quick updates
Companies are also investing in building out their cloud-based solutions. San Diego-based Brain Corp works with hardware vendors to make their machines autonomous, and it provides web-based services.
"Our business model is a little different in that we don't actually do the manufacturing of robots," John Gill, Brain Corp's director of cloud operations, told Robotics 24/7. "We provide an autonomy kit with sensors and controllers."
The San Diego company's flagship product is its Brain OS platform. Through that operating system, customers can manage their fleets, report issues, and more.
"We really try and take over and provide with a SaaS [software-as-a-service] solution around robotics," he said. "We've built out a very rich toolset in terms of how we share data with customers."
The company focuses on three applications for mobile robots – moving materials, collecting data with sensors, and cleaning spaces. Its customers work in retail, healthcare, transportation, malls, warehouses, schools, and commercial offices.
Gill works with Brain Corp's applications team to ensure that it has the cloud connectivity to complete new tasks.
"The robot is not being driven directly from the cloud, but we have all these analytics that say stuff like, 'Hey, the robot is getting stuck here a lot. Let's go in and edit the route,'" he said.
Brain Corp shares information with customers in several ways, Gill explained. One method is through a mobile app, which allows robots to see where their robots are in a facility and manage them while on the go.
Customers can also access information through the company's web application, which provides even more data on the state of their robots. In addition, Brain Corp sends out regular email reports to customers with statistics and other important data about their fleets.
For customers with fleets of robots at multiple locations, customers can use Brain Corp's portal application which gives a broader view of the robot fleets.
Looking ahead, Gill said he is excited about advancements being made in the company's autonomy kit. He noted that the next generation will be "a complete top-down redesign" and feature the latest sensors, controllers, and more.
Brain Corp plans to move from an x86-based architecture to an ARM-based one, Gill added.
In terms of features, he hinted that the company is looking to task mobile robots to be able to tie multiple missions together and have a greater understanding of their own operational status. Right now, the software mostly works by instructing the robot to complete just one mission at a time.
The company has thousands of fleets actively being used by customers, Gill said. Those fleets are providing essential data to help Brain Corp improve its products and services. The 14-year-old company has also spent years establishing strong relationships with customers and partners to understand their needs and pain points.
The company believes its maturity in space gives it an advantage over its competitors.
"We've really learned how to efficiently operationalize and manage that scale of fleets," Gill added.
About the Author
Cesareo Contreras
Cesareo Contreras was associate editor at Robotics 24/7. Prior to working at Peerless Media, he was an award-winning reporter at the Metrowest Daily News and Milford Daily News in Massachusetts. Contreras is a graduate of Framingham State University and has a keen interest in the human side of emerging technologies. Follow Cesareo:
Follow Robotics 24/7 on Facebook
Article topics
Email Sign Up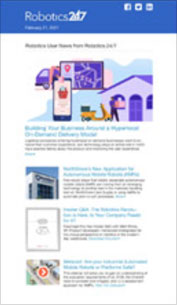 Get news, papers, media and research delivered
Stay up-to-date with news and resources you need to do your job. Research industry trends, compare companies and get market intelligence every week with Robotics 24/7. Subscribe to our robotics user email newsletter and we'll keep you informed and up-to-date.
Getty Images