One of the biggest selling points for mobile robots is that they are not fixed infrastructure like conveyor belts and can thus change routes depending on seasonal volume, shifting workflows, or new products. In addition, increasingly sophisticated software promises to pick the best robots, manual and autonomous forklifts, and human workers as agents for a particular task.
But this is easier said than done. As much as 70% of North American warehouses and distribution centers have yet to add any automation, industry experts have told Robotics 24/7. Even businesses that have robotics experience can run into problems growing their fleets and making sure their equipment is properly integrated and communicating. Moreover, most companies don't have Amazon's advantage of scale.
So how can automated guided vehicles (AGVs), autonomous mobile robots (AMRs), lift trucks, and fleet management software provide greater operational agility?
Note that demand is driving innovation. The global market for logistics robots could expand from $8.28 billion in 2023 to $38.13 billion by 2033 at a compound annual growth rate (CAGR) of 16.5%, according to Future Market Insights.
"The adoption of logistics robots cuts down warehouse labor expenditure and helps businesses function efficiently," it said. This does not mean that robots are taking jobs but that human resources can be reallocated to higher-value tasks.
Labor still a logistics pain point
While trade conflicts, the COVID-19 pandemic, and the e-commerce boom and not-quite bust have come and gone, employment rates remain high despite inflationary and other economic pressures.
"Labor shortages continue to be one of the biggest challenges facing our customers in the warehousing and logistics industry," said Kait Peterson, senior director of product marketing at Locus Robotics. "That's why it's critical to optimize the existing workforce productivity while also improving worker ergonomics and overall workplace quality."
"By collaborating with human workers, our robots minimize unproductive walking time, pulling heavy carts and lifting to free up employees for more value-added work," she told Robotics 24/7.
While complaints about labor shortages may seem universal, location matters, noted Joe Oliaro, vice president of sales and chief real estate officer at Wagner Logistics.
"It depends," he said. "In smaller markets where the community depends on a manufacturer – whether it's Fortune 100 or local – companies are more willing to collaborate with labor because there's a finite amount."
"Large business parks or intermodal sites often trade employees back and forth for 10 to 15 cents per hour," Oliaro added. "But if you spend $1,000 to recruit an employee and are able to retain that person for at least six months, their likelihood of staying on for years goes up 80%."
Bringing in robots can help with retention, but it isn't a fix by itself, added Jane Heffner, vice president of sales at Mobile Industrial Robots (MiR).
"I've been with people in the Tier 1 automotive space, and they're seeing 150% turnover in their facilities, even after investing in onboarding and training and getting workers up to speed," she said. "AMRs can't take over everything, and while there's a tendency to pull people back with robots, it's really important to have people well trained and on site. These people can become the AMR experts."
Compounding turnover and a lack of technical skills is a generational shift, said Jim Lawton, vice president and general manager for robotics automation at Zebra Technologies.
"Existing warehouse workers are nearing retirement age, and the workers coming in don't want those jobs," he said. "In the early days of robotics, people wanted to hear about features, but our customers don't want to buy robots or machine learning; they want to do things better, faster, and cheaper. Then you can attract labor and get it to be more productive."
Focus on flexibility
Fortunately, mobile robots are increasingly addressing business challenges.
"One customer used our robots to handle peak seasonal volume surges two times their normal levels, without the need to increase staffing," said Peterson. "With volumes increasing, operators are adding mezzanines and pick towers."
"Locus' Peak Season Robots program enables customers to deploy additional robots to an existing site in just minutes to fill critical labor gaps and meet order volumes," she asserted. "The combination of fast deployment and the ability to move bots between locations provides unmatched flexibility."
Wagner Logistics found that robots freed warehouse associates to focus continuous improvement projects, one of which has saved $6.4 million over three years, said Oliaro.
"They've enabled us to learn the customer's seasonality, anticipate their needs, and give them the answers they need to make better business decisions," he said.
Experience isn't everything, but ease of use is important, said Zebra's Lawton. "Some of our best customers have experience with robotics, and some of our worst customers have experience with robotics," he quipped.
"For a long time, lean proponents weren't fans of automation, because you had to hire people to come in and change fixed automation," Lawton recalled. "The ability for robots to be adaptable, to be not only fast and easy to deploy but also to redeploy—they're designed for what facilities will need at some future time."
"We designed the FetchCore software for people who intimately understand their processes for fulfillment, sortation, and packaging," he said. "The workflow builder is designed to be drag and drop, abstracting the code away so that people without a computer science background can do amazing things."
John Santagate, vice president of robotics at Körber Supply Chain, added: "A significant challenge is often scaling up and down to accommodate peak periods. With a goods-to-person (G2P) system, you can build it to support peak and operate at average needs until you need to scale it up for peak, which means again, adding few extra personnel, not an army."
"Furthermore, with robots, you are leveraging a shared resource, which means it's easy to add a shift, since the mobile robots don't care about quitting time," he said.
Understand environment, processes before automating
Since real estate remains expensive, warehouse operators and third-party logistics providers (3PLs) are trying to make the most out of existing space, said Oliaro. But how much process re-engineering do brownfield sites require to take advantage of robotics?
"One customer had $16.8 million in inventory in a queue for a quality-control check," he said. "They handed it to us and said, 'Do you have a way to get through this?' We had to do a kaizen sort to reevaluate the whole process, but we ended up eliminating 95% of QC sort, freeing up 75,000 sq. ft. and reducing overhead so they could deploy employees elsewhere."
Wagner's Oliaro cited an example of improving inventory accuracy with drones from partner Gather AI.
"It would normally take a person in a reach truck or a scissor lift a day to do two aisles, but the drone can capture barcodes and confirm cycle counts for six to 10 aisles a day," he said.
In addition, robotics suppliers are applying their experience from multiple projects to newer ones, said Heffner.
"It depends on the application and the facility itself," she said. "An older facility with uneven floors and slim aisles is harder than if robots are going into a new one."
"Very few of our customers have one robot anymore, and we're insisting that they complete a product design review so we understand their environments," Heffner added. "We bring that back to our application engineering team to make recommendations about changes, incorporating our partners and technical expertise. It's not a tactical sale."
The amount of re-engineering depends, said Santagate.
"When deploying a collaborative in-aisle system, the robots are meant to slot in with little change," he said. "Your pickers are simply no longer pushing carts and following a predefined pick path. Rather, they are meeting robots at pick locations and following the pick process from there.
"With G2P, there would be a bit more, as your pickers now are stationary, they remain in a pick station, and the work is brought directly to them," Santagate said.
RaaS offers to reduce overhead
The robotics-as-a-service (RaaS) business model provides a degree of financial flexibility when adopting automation, but users need to understand if the term refers to a lease, a pay-per-pick arrangement, or an outsourced service.
"Our business model is exclusively RaaS-based," said Locus' Peterson.
"Customers choose our model versus a capital expenditure to get started with minimal upfront investment and the ability to pay based on usage," he explained. "They can expand and get consistent support as their needs grow, and we can manage thousands of customer robots worldwide through our LocusONE AI-enabled, cloud-based platform."
"Not only can RaaS help save on upfront costs, but it also allows 3PLs' contracts for automation to line up with those of their customers," said Lawton.
"With a RaaS model, the robots allow an operation to scale up much more rapidly, as it is less dependent upon bringing in an army of temporary labor," noted Körber's Santagate. "With a collaborative in-aisle solution offered as a RaaS, we can deploy additional robot capacity on-demand. This means the operation can scale up with fewer temporary laborers."
By contrast, most of MiR's customers buy direct, and some use leasing services, according to Heffner. Once again, robotics users will have to find the best arrangement for themselves, but major vendors are invested in helping them succeed.
About the Author
Eugene Demaitre
Eugene Demaitre is editorial director of Robotics 24/7. Prior to joining Peerless Media, he was a senior editor at Robotics Business Review and The Robot Report. Demaitre has also worked for BNA (now part of Bloomberg), Computerworld, and TechTarget. He has participated in numerous robotics-related webinars, podcasts, and events worldwide. Follow Eugene:
Follow Robotics 24/7 on Facebook
Article topics
Email Sign Up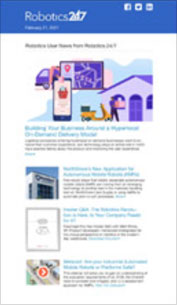 Get news, papers, media and research delivered
Stay up-to-date with news and resources you need to do your job. Research industry trends, compare companies and get market intelligence every week with Robotics 24/7. Subscribe to our robotics user email newsletter and we'll keep you informed and up-to-date.
Locus Robotics