At its fall GPU Technology Conference, or GTC, today, NVIDIA Corp. CEO Jensen Huang made a host of announcements. One of them was that the Isaac Sim robotics simulation platform is now available on the cloud.
NVIDIA also said it has improved performance by 80 times in Jetson Orin Nano in comparison with its previous system-on-modules. In addition, the company released the Isaac Nova Orin configurable computing and sensor reference platform for autonomous mobile robot (AMR) developers and software vendors.
NVIDIA offers developer options in the cloud
Developers will have three ways to access Isaac Sim in the cloud, according to NVIDIA.
"It'll soon be available in the new NVIDIA Omniverse Cloud platform, a suite of services that enables developers to design and use metaverse applications from anywhere," wrote Gerard Andrews, senior product marketing manager for robotics at NVIDIA.
"It's available now on AWS RoboMaker, a cloud-based simulation service for robotics development and testing," he said. "And, developers can download it from NVIDIA NGC and deploy it to any public cloud."
Using Isaac Sim in the cloud, roboticists will be able to generate large datasets from physically accurate sensor simulations to train artificial intelligence-based perception models, said NVIDIA. The synthetic data these simulations generate can improve the model performance and provide training data that often can't be collected in the real world, it said.
Developers can now test an autonomous mobile robot (AMR) in batches of parallel simulations that exercise its software stack in numerous environments and across varying conditions to ensure that they perform as designed. Continuous testing and continuous delivery, or CI/CD, of the evolving software stack is a compute-intensive component of successful robotics deployments, NVIDIA said.
Isaac Sim provides for fleet management, collaboration
The upcoming release of Isaac Sim will also include NVIDIA cuOpt, a real-time fleet task-assignment and route-planning engine. The accelerated performance of the cloud will allow teams to make dynamic, data-driven decisions, whether designing the ideal warehouse layout or optimizing active operations, said NVIDIA.
Robot development is a multidisciplinary endeavor, noted NVIDIA. Mechanical engineers, electrical engineers, computer scientists, and AI engineers collaborate to build robots. With Isaac Sim in the cloud, these teams can be located around the world while they sharing a virtual world in which to simulate and train robots.
Developers will no longer be tied to a powerful workstation to run simulations, NVIDIA claimed. They can set up any device to manage and review the results of simulations, and they can share the results beyond their team with potential partners, customers, and co-workers, it said.
"Customers have said they need multiple GPUs," said Deepu Talla, vice president of embedded and edge computing at NVIDIA. "We're now providing unprecedented levels of collaboration, scalability, and conveyance in developing, testing, and training virtual robots."
Mobile robot market grows, as do learning opportunities
The global market for mobile robots could grow ninefold worldwide, from $13 billion in 2021 to over $123 billion in 2030, predicted ABI Research.
"NVIDIA's move to provide its visual computing capabilities as an autonomous robot training platform in the cloud should further enable the growing number of companies and developers building next-generation intelligent machines for numerous applications," said Rob Enderle, principal analyst at the Enderle Group.
NVIDIA is offering a free, two-hour, hands-on workshop about using Isaac Sim with AWS RoboMaker at GTC. It is also offering information about Isaac Sim at the following GTC sessions:
Developers can apply for early access to Isaac Sim on Omniverse Cloud Services.
Jetson Orin Nano promises more performance
NVIDIA today also launched Jetson Orin Nano, which it claimed sets "a new standard for entry-level edge AI and robotics." The Santa Clara, Calif.-based company noted that its Jetson family now spans six production modules, from the Orin Nano, which delivers up to 40 trillion operations per second (TOPS), up to AGX Orin, delivering 275 TOPS for AI and autonomous machines.
Jetson Orin includes an NVIDIA Ampere architecture GPU, Arm-based CPUs, next-generation deep learning and vision accelerators, high-speed interfaces, fast memory bandwidth, and multimodal sensor support. The company said it will empower developers to commercialize next-generation systems using the Robot Operating System (ROS).
"Over 1,000 customers and 150 partners have embraced Jetson AGX Orin since NVIDIA announced its availability just six months ago, and Orin Nano will significantly expand this adoption," said Talla. "With an orders-of-magnitude increase in performance for millions of edge AI and ROS developers today, Jetson Orin is the ideal platform for virtually every kind of robotics deployment imaginable."
"In March, we delivered more than five times the performance and two times the energy efficiency of Xavier, the best processor for edge inference," he added. "We've now improved energy efficiency by 50% as we keep improving hardware and the software stack."
Orin Nano intended to make robots, AI accessible
The Orin Nano modules are compatible with the previously announced Orin NX modules. Full emulation support allows customers to start developing for the Orin Nano series today using the AGX Orin developer kit, said NVIDIA. This gives customers the flexibility to design one system to support multiple Jetson modules and easily scale their applications, it said.
Orin Nano supports multiple concurrent AI application pipelines with high-speed I/O and an NVIDIA Ampere architecture graphics processing unit (GPU). Developers of entry-level devices and applications such as retail analytics and industrial quality control can benefit from easier access to more complex AI models at lower cost, said the company.
The Orin Nano modules will be available in two versions. The Orin Nano 8GB delivers up to 40 TOPS with power configurable from 7W to 15W, while the 4GB version delivers up to 20 TOPS with power options as low as 5W to 10W.
"The Jetson Orin platform is designed to bring accelerated computing to over 700,000 ROS developers," wrote Amit Goel, director of product management at NVIDIA. "Combined with the hardware capabilities of Orin Nano, enhancements in the latest NVIDIA Isaac software for ROS put unprecedented performance and productivity in the hands of roboticists."
NVIDIA offers strong partner and software support
Jetson Orin has seen strong support from customers and partners across the robotics and embedded computing ecosystem, including Canon, John Deere, Microsoft Azure, Teradyne, and TK Elevator.
NVIDIA said its Jetson ecosystem is growing rapidly with over 1 million developers, 6,000 customers, 2,000 startups, and 150 partners. Jetson partners offer a wide range of support from AI software, hardware, and application design services to cameras, sensors and peripherals, and developer tools and systems.
Orin Nano is supported by the NVIDIA JetPack software development kit (SDK) and is powered by the same NVIDIA CUDA-X accelerated computing stack used to create AI products in fields such as the industrial Internet of Things (IIoT), manufacturing, and smart cities.
The Jetson Orin Nano modules will be available in January starting at $199. To learn more about NVIDIA Jetson Orin Nano, watch the GTC 2022 keynote from Jensen Huang. GTC registration is free.
NVIDIA updates Nova Orin reference platform
Fleets of mobile robots are starting to deliver items such as next-day packages and fresh organic produce. NVIDIA has updated to its Nova Orin AMR reference platform.
It comes in three configurations. Two use a single Jetson AGX Orin, and one relies on two Orin modules. Jetson AGX Orin runs the NVIDIA Isaac robotics stack and ROS with the GPU-accelerated framework.
The Nova Orin platform is designed to improve reliability and reduce costs worldwide for developing, building, and deploying AMRs in warehouses, distribution centers, and factories. Such robots are suitable for applications in hospitality, cleaning, roaming security, and last-mile delivery, said NVIDIA.
For years, AMR manufacturers have been sourcing and integrating compute hardware, software, and sensors in house. This time-consuming effort can take years, lengthening go-to-market pipelines and distracting from domain-specific applications, NVIDIA said.
Nova Orin supports different sensor configurations
Nova Orin offers tested, industrial-grade configurations of sensors, software, and GPU-computing capabilities, said NVIDIA. Tapping into NVIDIA AI platform frees robotics developers to focus on building unique software stacks, the company added.
The Nova Orin reference architecture designs are provided for specific use cases. One Orin-based design has no safety-certified sensors, and one includes lidar along with a programmable logic controller (PLC).
In addition to 2D lidars, Nova Orin supports 3D lidar for mapping and ground-truth data collection. The third architecture has a dual Orin-based design that depends on vision AI for enabling functional safety.
Sensor support is included for stereo cameras designed with partners, plus lidars, ultrasonic sensors, and inertial measurement units (IMUs). The sensor suite balances performance, price, and reliability for industrial applications, said NVIDIA.
All sensors are calibrated and time-synchronized, and they come with drivers for reliable data capture. These sensors allow AMRs to detect objects and obstacles across a wide range of situations while also enabling simultaneous localization and mapping (SLAM).
NVIDIA builds platform for OEMs, industries
NVIDIA said it offers extensive software support for Nova Orin in addition to the hardware and integration tools. The base operating system includes drivers and firmware, as well as design guides. Nova can be integrated easily with a ROS-based robot application, said the company.
The sensors will have validated models in Isaac Sim for application development and testing without the need for an actual robot. The cloud-native data-acquisition tools eliminate the task of setting up data pipelines for the vast amount of sensor data needed for training models, debugging, and analytics, said NVIDIA.
State-of-the-art GEMs developed for Nova sensors are GPU-accelerated with the Jetson Orin platform. They provide building blocks such as visual SLAM, stereo depth estimation, obstacle detection, 3D reconstruction, semantic segmentation, and pose estimation.
In addition, Nova Orin is designed to help developers to quickly create high-fidelity, city-scale 3D maps for indoor environments in the cloud. These generated maps allow robot navigation, fleet planning, and simulation. Plus, the maps can be continuously updated using data from the robots.
Nova Orin supports secure, remote over-the-air updates as well as device management and monitoring. Its open, modular design enables developers to use some or all capabilities of the platform and extend it to quickly develop robotics applications, said NVIDIA.
The company said it is working closely with regulatory bodies to develop vision-enabled safety technology to further reduce the cost and improve robot reliability. NVIDIA is providing an SDK for navigation, so companies can quickly develop AMR applications at scale.
"Developers can plug the production modules into their own chassis or one provided by our ecosystem," Talla said. "We have 700 companies in our inception program, and with multiple building blocks, companies in industrial automation, agtech, and construction can move foward."
Article topics
Email Sign Up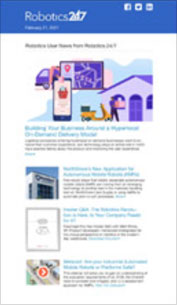 Get news, papers, media and research delivered
Stay up-to-date with news and resources you need to do your job. Research industry trends, compare companies and get market intelligence every week with Robotics 24/7. Subscribe to our robotics user email newsletter and we'll keep you informed and up-to-date.
NVIDIA