Truckload Brokerage Operations
In recent years, the proliferation of truckload brokerage operations has not been easy to overlook.
Its ongoing ascent has been driven by several different factors, including the shipper's need to manage capacity in a fluctuating market environment, the advent of truckload brokerage-specific technology advances, commonly referred to as the "Uberization" of the business, as well as both shippers and carriers needing to properly comply with current and evolving federal trucking regulations.
What's more, the number of major players in the truckload brokerage space only continues to rise in terms of size and scale; which has, in turn, provided shippers with more options for moving truckload freight than ever before.
And with the economy stalling at the moment, the truckload market is dealing with a period of loose capacity that's benefiting shippers that are currently leveraging lower rates with the help of brokerages.
To gain a better understanding of the current dynamics of the truckload brokerage market, Logistics Management enlisted the help of three voices in the freight transportation and logistics markets to help provide some perspective.
Our roundtable participants include John Larkin, managing director, research, at Stifel; Thom Albrecht, managing director, transportation equity research, at BB&T Capital Markets; and Evan Armstrong, president of third-party logistics provider (3PL) advisory firm Armstrong & Associates Inc.
How would you describe the current state of the truckload brokerage market?
John Larkin: The truckload brokerage market is capturing market share within an otherwise stagnant freight market. With a loose supply/demand dynamic persisting, large brokers are leading the reduction in overall freight rates; and they're confident, apparently, that they can source truckload capacity, mostly from smaller carriers at very attractive pricing.
However, one must wonder if brokers aren't pushing rates down to unsustainable levels, thereby thinning out the ranks of smaller carriers even before the mandatory deadline for installation of electronic logging devices kicks in at mid-December 2017.
Thom Albrecht: Indeed, we see that demand for brokers focused upon committed/contract business is steady if not solid, while the spot market remains in a funk. In recent weeks, spot prices have risen, reflecting both the rise in diesel fuel prices, combined with some shippers putting business back into the spot market, given that it's often $0.25 to $0.35 a mile below contract in many lanes.
Evan Armstrong: The state of the U.S. domestic transportation management market is good. We're seeing a continuation of 2015, which had 3PL segment net revenue growth of 12.4%. There is ample truckload capacity in the market, so shippers are covering some transportation needs themselves versus using domestic transportation managers (DTMs). Gross margins are still good, averaging over 15%, so smart 3PLs are focusing on how to cross-sell truckload brokerage into LTL and intermodal as well as other value-added services.
Related Article: Disintermediation to Hit Freight Brokerage

What's driving growth in the market?
Albrecht: The volatility in transportation capacity, whether tight or loose, combined with the need for data on rates and capacity availability, are huge influences. Traffic managers are under enormous cost pressures, given the lack of revenue growth for most companies in the S&P 500, and good brokers provide capacity and service.
Armstrong: Growth is still being driven by small- and mid-sized shippers looking to leverage larger transportation spends and the better rates provided by DTMs. In addition, many DTMs have solid transportation management systems and are better at transportation planning. These providers can help shippers optimize transportation by converting LTL into truckloads - or leveraging intermodal rail solutions to reduce costs.
Larkin: I would add that growth is being driven by shippers' desire to take advantage of excess capacity in the truckload market, even if that excess capacity will be short lived. Also, shippers, particularly small- and mid-sized shippers, are partially or totally outsourcing their transportation management processes in order to access better technology, better market knowledge and better purchasing economies.
What are the biggest changes or advances you have seen in the market over the last five years?
Armstrong: The biggest change has been the increase of competition. In the past, it was C.H. Robinson, Hub Group, Landstar, and then a bunch of much smaller competitors. Now you have Coyote, Total Quality Logistics, and Echo Global, which have grown significantly. Coyote and TQL have over $2 billion in annual revenues, while Echo's acquisition of Command Transportation last year put it at over $1.5 billion in revenue and added significant truckload capacity.
Related: Top 50 Global & Domestic U.S. Third-Party Logistics Providers
Larkin: Evan is right on, the emergence of other large-scale truckload brokers to compete with C.H. Robinson represents a major change. Also, technological advances have been accelerating to the point where the larger brokers will be likely leading the slow, but steady 'Uberization' of the industry. These incremental technology development efforts will increasingly make it difficult for smaller brokers to grow and prosper, and may make it difficult for them to survive.
Albrecht: I agree with Evan and John on all counts. Several things also stand out, including the transparency of spot rates and volumes that used to be known by only a few, combined with the number of large brokers - over $1 billion and $500 million in gross revenues. Technology continues to evolve, and the transparency of rates and available capacity continues to change as well as shippers manage their networks for surges, seasonal upticks, capacity challenges and opportunities.

How has the truckload brokerage market reacted to ebbs and flows in truckload capacity and demand?
Larkin: The truckload brokerage industry functions best when supply and demand are out of balance. These companies help find capacity for shippers when supply and demand are tight and help to find freight for carriers when supply and demand are loose. So, truckload brokerages are inherently flexible and capable of leveraging market imbalances. In fact, a balanced supply/demand dynamic ironically represents the most challenging environment for brokers.
Albrecht: During 2011 to 2013, a view held by many was that there were too many brokers caught up in a nasty market share battle with perpetual pressure on margins, possibly with no end in sight. In reality, trucking supply and demand was generally pretty balanced, so the value-add of a broker diminished. When new regulations, bad weather, a surge in industrial production, rail and port issues kicked in during November 2013, brokers added value and found supply for shippers and margins expanded.
What type of impact have current economic conditions had on the market?
Albrecht: The economy, particularly industrial production's (IP) weakness, has adversely affected the freight economy. After growing nearly 4% for five quarters (Q4 2013 to Q4 2014), IP has contracted 12 of the last 16 months, with months flat. IP weakness always leads to capacity looseness, even though many brokers focus upon food, beverage and consumer products. The swing factor is IP, which is likely to be weak until late Q3 2016 or early Q4 2016.
Armstrong: I'll add that with increased near shoring of manufacturing to Mexico, we have seen increased cross-border transportation management activity. Much of it is automotive related and has been doing well. In the meantime, the oil and gas industry business has been negatively affected by the fall in oil prices. Those 3PLs with oil and gas customer relationships, which surpass tactical transactional service offerings and create true value, are performing much better.
Larkin: The tepid rate of economic growth has softened up the market to the point where brokers are helping shippers source capacity at incredibly cheap pricing. More and more shippers are wanting to get in on the action, which certainly appears to have accelerated the outsourcing of transportation management functions to brokers and 3PLs.

What do you see as some of the breakthrough technology components of the market? There has been a lot of talk about the 'Uberization' of the truckload market, for example.
Armstrong: We're currently researching the 'Uberization' of transportation and the proliferation of new apps on the market. Many companies such as CargoMatic, Convoy, and TruckerPath have been showered with millions of dollars. Most have functionality beyond the Uber car matching service app that we all know, and many have components to help users find competent carriers, help truckers with time management, or to find a clean truckstop.
Read: Armstrong Highlights the Inaccuracy of the Term "Uber for Trucking"

The real question surrounds the empty miles currently being run, and what percent could be efficiently filled by an Uber-style app without disrupting trucking companies' operations or causing a driver to run out of hours? Also, in headhaul directions, which apps could provide trucking companies with more profitable loads? In practicality, we think these cases are limited. However, even with as little as 5% of the trucking spend going to Uber-style matching apps, the market could garner approximately $35 billion in freight under management.
Larkin: Transportation management systems (TMS) have increasingly become required to foster success in the brokerage space. Optimized supply chain designs can be implemented and continuously fine tuned with the help of a TMS that is often too challenging or expensive for a shipper to implement on his own.
Uberization is something that will ultimately evolve. It will not burst on the scene as the result of a venture capital financed Silicon Valley-based start up introducing an app. Shippers, in our view, are simply not going to turn over a $250,000 load to a company that has technology, but little knowledge or experience in the highly nuanced world of freight transportation.
Instead, the larger, better capitalized brokers will incrementally move us in the direction of more automated brokerage by rolling out automated modules that will gradually make brokerage less people intensive. Shippers will undoubtedly experience less heartburn with this approach.
Albrecht: We have gotten to know some of these start-ups, with many staffed by bright, ambitious people. For now, we view the 'Uberization' element as more evolutionary than revolutionary. All the large 'traditional' brokers we have spoken to have apps for drivers and shippers, albeit most need to do a better job marketing this. Our sense is that some of the Uber-like start-ups will at least drive out of business some small brokers struggling with technology.
Unbeknownst to many is that some of the start-ups operate as freight brokers. Most 'Uber' companies operate with a lower gross margin than traditional brokers, but through technology are operating with much lower general and administrative expenses, thus attaining similar EBIT margins as brokers. Long-term, a relationship built only on technology won't last - there has to be a people relationship.
What industry regulations bear the most attention in terms of how they could affect the market?
Larkin: The laundry list of regulations emanating from the Federal Motor Carrier Safety Administration (FMCSA) over the next several years will completely restructure the truckload industry. Small carriers will no longer be able to make up for this lack of scale economies by running more than the legal number of hours per day, running in excess of the posted speed limit, or by deferring maintenance on their rolling stock. Combine this regulatory onslaught with the weak pricing available in today's spot market, and we could envision industry consolidation really accelerating in 2018, if not a little sooner.
Albrecht: Electronic logging devices (ELDs), in our opinion, are further along than conventional wisdom suggests, perhaps 45% to 50% of class 8 tractors. ELDs are very disruptive to every carrier that installs them, but with six quarters to go until the deadline, the impact may be the baseball equivalent of a double or a triple, but not a home run. Yet, combined with speed limiters and a centralized repository for drug and alcohol tests, this could be the trifecta for brokers and carriers.

What practical advice would you offer shippers in terms of how to best manage their relationships with truckload brokerages?
Armstrong: Business is business. Make sure you have a solid shipper/broker agreement in place. Track on-time performance, load tender rejects, and damages. Rank DTMs accordingly, and focus business on those with the best track records. If you're only using one DTM to manage all of your transportation, have quarterly business reviews. Discuss performance and cost trends and issues, and monitor how well they are managing carriers and providing you with cost savings. If they're leaving you out in the cold, ice the relationship.
Albrecht: Evan is right on. I would add that you should ask who has the capacity to fund quick pay programs and who is actually doing that. Talk about broker preparedness for the Food Safety Modernization Act, because brokers are on a par with shippers. And of course, all brokers are trying to figure out how to monitor genuine ELD compliance. Understand a broker's insurance coverage, especially for bodily injury and property damage, not just cargo claims. The world is changing, and the successful brokerage model of yesteryear won't be what works once the new regulations take hold.
Larkin: But most importantly, develop working relationships with a number of brokers to handle a portion of your freight now, before supply and demand once again tightens. Consider eventually outsourcing part of or all of your transportation management function to the broker that demonstrates, over time, the best value proposition, in terms of pricing and service.
Illustration: Daniel Vasconcellos
Related Article: C.H. Robinson on the Truckload Brokerage Market

About the Author
Jeff Berman
Jeff Berman is Group News Editor for
Logistics Management
,
Modern Materials Handling
, and
Supply Chain Management Review
and is a contributor to Robotics 24/7. Jeff works and lives in Cape Elizabeth, Maine, where he covers all aspects of the supply chain, logistics, freight transportation, and materials handling sectors on a daily basis.
Follow Robotics 24/7 on Facebook
Article topics
Email Sign Up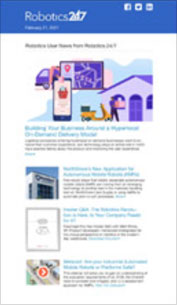 Get news, papers, media and research delivered
Stay up-to-date with news and resources you need to do your job. Research industry trends, compare companies and get market intelligence every week with Robotics 24/7. Subscribe to our robotics user email newsletter and we'll keep you informed and up-to-date.