"Pain point." That's not a bad summary of reverse logistics these days. However, there doesn't seem to be enough pain in reverse logistics to get many companies to fix their generally inadequate and manual processes. Instead, they continue to receive, review, reallocate, and repeat in the same awkward way.
To begin, plenty of returns are out there. Industry estimates for conventional retail is 5% of purchases get returned. That number skyrockets to 25% to 30% for e-commerce. While the former might be manageable, the latter is clearly a deluge. And with a more than 40% increase in e-commerce sales since the start of the COVID-19 pandemic, that's got to hurt.
"The sheer magnitude of returns, especially in e-commerce, has been so enormous in the past 18 months that reverse-logistics practices have not generally caught up with the increased volumes yet," said Tony Hasman, principal consultant at Dematic.
Furthermore, nearly 30% of consumers deliberately over order, and 19% of consumers order multiple styles, according to Barclaycard Research. Ouch.
With that in mind, reverse logistics should rank higher on the list of to-dos than cleaning out the cellar or reorganizing the garage. That said, many reverse-logistics operations remain primarily manual, noted Chris Rowland, director of solutions consulting at Honeywell Intelligrated. But manual processing is in the early stages of turning to automation, according to industry experts interviewed for this article.
"Automation in reverse logistics is not just a trend, it's a reality," explained Monty McVaugh, manager of the product management group at OPEX.
He cited several factors beyond the increasing number of returns as e-commerce grows. Increased volume requires increased speed of processing returns, and automation is just faster than manual operations, said McVaugh. Furthermore, labor continues to be a problem.
"The longer companies stay with manual processes, the more painful the move to automation will be," McVaugh said. "For reverse logistics, the issue is no longer if, but when automation will move into the primary position."
Managing returns
Let's be clear up front. Automation is not the de facto answer for all reverse-logistics operations. In fact, it's impossible at this point to entirely remove people from the returns-handling process. Nevertheless, a range of robots that move, store, and sort returns are making their play where it makes sense.
"While there is no black-and-white answer, the generally recognized dividing line between manual and automation is a volume of 4,000 to 5,000 units an hour," explained Krish Nathan, CEO of SDI. "Ultimately, automated reverse-logistics handling is a function of volume."
Another critical factor is the expected turnaround time for processing returns. After all, the reverse logistics process has several steps.
The first step is to receive the items. Then they need to be reviewed and reclassified. Some can be returned immediately to stock, and others need some attention before returning to stock, some are sold to a reseller, and the most damaged of the bunch are consigned to scrap. At least, those are the most common general classifications for the disposition of returned items.
All of those steps take time. Some operations expect that cycle to be completed in a few hours, while others work on a timeline of days, said Nathan.
Control and discipline are the two essential elements that automation, such as robots running on a storage grid structure, bring to reverse logistics.
"But ultimately, labor, accuracy, and order turnaround time are the top priorities in processing returns," added Nathan. "The objective is always to get the returned items ready for resale as quickly as possible. In the returns world, an item of clothing should be considered as perishable as a food item."
It's also worth noting that consumers consider returns to be a given in the retail experience. "Hassle-free, free returns are nearly as important as free shipping," said Dematic's Hasman.
But that doesn't mean that retailers are disinterested in reducing returns, noted Jon Schechter, business development manager at AutoStore.
Retailers are "trying to delight customers with e-commerce" by providing a consistent product they know will fill their needs at the time of purchase, he said.
"For instance, a shoe brand wants its customers to know that its Size 11 always fits the same way and that the consumer can buy it with confidence upfront," added Schechter. "Let's face it, return costs are built into the current profit model for e-commerce. However, prevention is the best experience for everyone."
Or, as Hasman put it, "it may be more costly to touch and process the returns than they are worth. But the company still needs product to sell, and that makes managing returns effectively and cost efficiently critical to its business."
There is also the matter of who is actually going to handle the returns.
"For some companies, returns are so painful that outsourcing is the only option," Schechter says. Other companies develop employees who understand and manage the manual process with precision. Still others, he says, go with automation to gain optimum control and discipline.
The move to automation
Control and discipline
Control and discipline are what Schechter said are central to success in handling the entire returns process. Quite simply, they are the two key qualities that automation brings to the processing center while gaining critical feedback on inventory quality.
"Returns are all about faster," said Honeywell Intelligrated's Rowland. "How do you decide the disposition of an item and get it to its end point in as little time as possible?" Most will agree that control and discipline are the answer. And companies are beginning to recognize that.
"In the past, automation for reverse logistics was a lost cause," Hasman said. "But that is in the process of changing due to increasing volumes and the emphasis on speed to resale."
"This is not just a matter of selecting any technology," said OPEX's McVaugh. "You have to match the capabilities of the technology to the process. The technology also has to be configurable and adaptable to the process and can be optimized over time."
Software is also important. "Data-driven solutions are critical to the overall effectiveness of the returns process," said Rowland. In fact, he said he has a hard time imagining an automated returns process that isn't also tied into a warehouse management system (WMS) that directs inventory and its disposition.
People still necessary
This brings us to the return of items to the processing center. At this point, it is nearly impossible to entirely remove people from the process.
For the most part, bar codes are the most commonly used technology to identify items, assuming they are still attached to the return. For high-priced items, McVaugh describes the emergence of embedded radio beacons (think Apple air tag) to provide a unique identifier for the item.
Then there's the matter of assessing the condition of the return. Artificial intelligence and cameras are in early stages of development here. Otherwise, it's still up to trained people to perform what amounts to a micro receiving assessment.
That brings us to automated equipment that can handle acceptable, restockable items for immediate order fulfillment or temporary storage.
As you can imagine, everyone has their favorites, but the list includes: pouch systems, shuttles, sortation systems and mobile robots. If you expect any of them to look alike or operate similarly, don't. But do expect them to offer that needed control and discipline.
Automation examples
Pouch systems, such as the ones from Dematic and SDI, are a system of large pouches able to handle as much as 20 lb. at a time. The pouches hang from an overhead track system routing each to its destination. Items can be automatically or manually loaded and unloaded. Pouches can deliver items directly to a pick location, bypassing storage.
Shuttle systems from Dematic and others most resemble a conventional automated storage and retrieval system (ASRS). Shuttles travel on various levels of the system retrieving and putting away items in designated storage locations. High-speed and high-density storage are characteristic.
The Exotec Skypod system from Exotec Solutions and systems integrator Advanced Handling Systems combines a shuttle storage system with mobile robots. The robots pick up items and deliver them to the storage system for putaway. The process reverses itself for picking and delivery to order fulfillment.
Sure Sort from OPEX is a proprietary small-item sorting system that receives items from a conveyor delivery system. A robotic item sorter directs each item to a designated sortation location. There they can be moved either to a storage location like the OPEX Perfect Pick or fulfillment station.
AutoStore offers a proprietary system that uses robots running on a track grid to putaway and retrieve items in a highly compact cube storage arrangement. Inventory density is high, and up to five layers of cubes can be stacked in a system to minimize footprint.
All of these systems are currently in use, at companies large and small. Advanced Handling Systems, for instance, says the Exotec Skypod system is currently being installed at Gap Inc. Meanwhile, AutoStore is in use at Medline. That's a broad range of products handled as returns.
Exactly when these or any other emerging systems take off in returns operations is anyone's guess. However, Hasman has a strong suspicion that when company profits take a dip, automated returns systems will get much more than cursory review.
About the Author
Gary Forger
Gary Forger is an editor at large for Modern Materials Handling. He is the former editorial director of Modern Materials Handling and senior vice president of MHI. He was also the editor of the Material Handling & Logistics U.S. Roadmap to 2030.
Follow Robotics 24/7 on Facebook
Article topics
Email Sign Up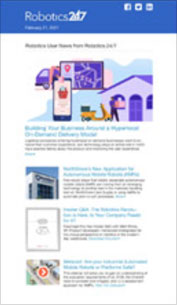 Get news, papers, media and research delivered
Stay up-to-date with news and resources you need to do your job. Research industry trends, compare companies and get market intelligence every week with Robotics 24/7. Subscribe to our robotics user email newsletter and we'll keep you informed and up-to-date.
SDI