Surgical robots are starting to play a key role in the medical space and are helping increase positive outcomes for both doctors and patients.
The promise is that these robots will work alongside surgeons to move from manual laparoscopy to more efficient approaches—expanding the number of patients who can have minimally invasive surgery.
Robotic systems are now being used for gynecological, colorectal, thoracic, and urological procedures.
Surgical robots benefit patients, surgeons, and hospitals
By increasing their use of surgical robots, hospitals can eliminate obstacles and patients enjoy a higher level of care, according to several medical robotics experts Robotics 24/7 interviewed for this story.
"Traditional keyhole surgery—manual laparoscopy—is quite difficult to perform, with limited dexterity, physically straining restricted range of motion, and mentally challenging demands," said Mark Slack, co-founder and chief medical officer of CMR Surgical.
"Previously, cases that were too complex to perform via manual laparoscopy would have to be performed via open surgery, which is associated with longer recovery times, more pain, and increased likelihood of return to surgery," he added.
"Surgical robots like Versius provide a practical way of performing complex and strenuous surgery through minimal access surgery, or MAS," Slack said. "Precision movements are carefully controlled, and challenging hand or wrist actions are more easily performed with dexterity."
Surgeons also appreciate the robot systems because they reduce the strain on their backs during procedures, according to Slack.
"Laparoscopic surgery is physically and mentally demanding, causing three in four surgeons to experience back pain," Slack said. "A study found that nearly 20% of surgeons would consider retiring early as a result of the physical impact of performing MAS, resulting in surgeons spending reduced time at peak performance before retiring, or retiring before they reach peak performance. Versius helps surgeons to operate ergonomically, with the potential of prolonging careers."
New designs bring more dexterity, precision
Sensing and motion control enhancements have allowed surgical robots to mirror or outperform the movement of a surgeon's hands, said Dr. Barry Greene, chief medical officer at Vicarious Surgical.
"Next-generation robots deliver excellent 3D visualization and depth perception, providing an enhanced view of the surgical field," he said.
"Furthermore, surgical robots currently in development can solve the challenge of robotically controlled laparoscopic instruments by leveraging actuators that decouple the motion of the robot's joints, enabling the instruments to mimic the movements of the human body while inside the abdominal cavity," said Greene.
Greene observed that robots have helped surgeries become less invasive, reducing scarring and recovering times. Software and hardware advances also give surgeons more precision.
"The natural vibration of the instrument tips is often filtered out by software and scales the movement of the instrument," noted Greene. "This enables the surgeon to have very precise and delicate control of the instrument tips. From a surgeon's perspective, having clear visualization and computer-enhanced control of the instrument tips can increase the probability of a successful minimally invasive procedure."
U.K. hospital sees positive results
One example of surgical robots raising the level of patient care can be seen in the collaboration of CMR Surgical and Milton Keynes University Hospital (MKUH), which is 50 miles northwest of London.
The hospital estimated that it could benefit by increasing the number of minimally invasive surgeries performed with robots.
The healthcare facility believed the robot-assisted surgeries could reduce the length of hospital stays, improve outcomes, enhance patients' experience, and reduce work-related injuries among its surgical staff.
The hospital built the pilot program around CMR's Versius, a small, modular, mobile robotic system consisting of three independent arms. The robotic arms are designed to replicate or mimic those of a human in size and shape. The surgeon controls the arms using a high-definition, 3D visualization console and a handset that resembles a video game controller.
Beginning with low-complexity procedures, the pilot program evolved to include major gynecological and colorectal procedures, treating 242 patients.
According to Nidhi Singh, a consultant in obstetrics and gynecology at MKUH, patients experienced faster recoveries and shorter hospital stays than they would have with an open-incision procedure. By reducing the patients' stay, the hospital significantly increased bed availability.
In addition, patients experienced less post-operative pain, complications, and scarring, and the hospital was able to reduce opioid use and hastened patients' return to normal activities.
Singh contended that the use of surgical robots like Versius will help surgeons avoid wrist and shoulder issues that seem to result from manual surgical techniques. Singh also said robots could surgeons extend their careers.
Surgical robots to get smarter
The next stage in the evolution of surgical robotics is the adaptation of artificial intelligence in the operating room.
One of the early providers of robots that leverage AI technology, Asensus Surgical, advocates an alternative conceptualization of AI called augmented intelligence, which focuses on AI's assistive role.
The company argues that augmented intelligence will transform how surgery will be performed.
"Surgical procedures previously relied on the surgeon's experience, but performance can be more consistent from patient to patient, yielding improved outcomes," said Anthony Fernando, president and CEO of Asensus Surgical. "Augmented intelligence has the power to democratize surgery and level the playing field for surgeons."
"Digital technology provides an ability to 'learn' in real-time from the field of surgeons' skills," he concluded. "Augmented intelligence enables a robotic-assisted platform to perceive via computer vision, learn through machine learning, and assist in surgery via clinical intelligence, providing a true digital surgical assistant for the first time."
About the Author
Tom Kevan
Tom Kevan is a freelance writer/editor specializing in engineering and communications technology.
Follow Robotics 24/7 on Facebook
Article topics
Email Sign Up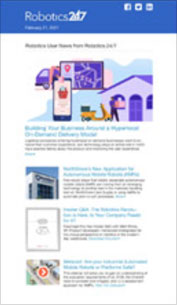 Get news, papers, media and research delivered
Stay up-to-date with news and resources you need to do your job. Research industry trends, compare companies and get market intelligence every week with Robotics 24/7. Subscribe to our robotics user email newsletter and we'll keep you informed and up-to-date.
CMR Surgical