Sarcos Technology and Robotics Corp. has completed its business combination with Rotor Acquisition Corp. and yesterday began trading on the Nasdaq under the symbol "STRC." The Salt Lake City-based company said it expects to use the gross proceeds of more than $260 million to scale deployment of its industrial exoskeleton and teleoperated dexterous robot.
"Having our securities listed on the Nasdaq is a crucial step for Sarcos," stated Ben Wolff, chairman and CEO of Sarcos. "As a public company, we now have the resources we need to bring our award-winning Guardian XO industrial exoskeleton and Guardian XT industrial robotic avatar system to market, giving companies in the U.S. and abroad a unique solution to the critical shortage of workers who are able to conduct physically demanding tasks."
"We are very excited to continue working towards the development of our first commercial units, which we expect will be ready for release at the end of 2022," he said.
Sarcos announced its intention to merge with special-purpose acquisition company (SPAC) Rotor in April. Rotor's stockholders approved the combination on Sept. 15, and the transaction closed on Sept. 24.
Wolff spoke with Robotics 24/7 about why robotics startups are choosing SPAC deals, the target markets for Sarcos' products, and which system will find buyers first.
Why did Sarcos choose to go with a SPAC rather than raise capital in another way?
Wolff: A company in our shoes has three ways for raising capital. The first is a traditional private round, and we've done Series A, B, and C rounds over the past six years. We could have done a private Series D.
We could have also done a plain-vanilla IPO [initial public offering], and then what we did, which is a SPAC acquisition. Options 2 and 3 both involve being public, which is a challenge for a company like ours, which is far from profitability. We're making money, but we're essentially pre-revenue, with our most significant products launching next year.
It's hard to share performance history when you want to look forward, and SEC [Securities and Exchange Commission] rules are different for going public than for mergers. The SPAC route was a good way to go, even if there's a bit of uncertainty around pricing. Some says it's faster and easier, but I've done both, and I'm not sure I buy that argument. Faster, easier, or cheaper should not be a reason.
In terms of private rounds, it comes down to where can we get the best capital at the best price for shareholders and future shareholders? The terms to set us up for success were more compelling for a SPAC than another private round, and in our case, we knew the founders very well. All too often in private financing, you see bait-and-switch tactics.
After years of research and development, how is Sarcos devoting resources to its engineering and marketing efforts with the new funding?
Wolff: We have some pretty aggressive goals, like getting 40,000 robots out in the field over the next five to six years. We need more of everything—software, hardware, systems, and product engieers—and that bleeds into commercialization and manufacturing resources.
We don't view R&D as one bucket, and then throwing things over the wall to manufacturing and commercialization. We see early-stage R&D through shipping commercial products as one stream. We are expanding our engineering team, as well as sales, marketing, service, maintenance, and repair, and the finance and legal functions to support them.
We've been challenged more than ever. The first year of COVID-19 was far less challenging. People were more interested in moving. Now, people have been hunkering down with the Delta variant, so hiring is still a big challenge. The robotics industry is also dealing with supply chain challenges. If you ask me what keeps me up at night, it's these two things—staffing and supply chains.
Sarcos has provided systems to the U.S. Department of Defense (DoD). How much military adoption do you expect in comparison with industrial?
Wolff: The 40,000 units we assume to be entirely private and commercial, with half in the U.S. and half in the rest of the world.
The DoD has been a great supporter and will be a customer. However, you need look no further than this week's activities on Capitol Hill, which threaten another budgetary crisis and shutdown. It's not smart to rely on the whims of congressional funding and politics.
We have a great opportunity in defense, but we're very small fish in a big ocean. We'll continue to put time and energy into serving the DoD with solutions they can't find anywhere else.
How is testing going for the Guardian XO exoskeleton?
Wolff: Sarcos started deploying alpha versions right before COVID and was testing as recently as a few months ago. Now, we're taking all the feedback and input and building them into the design of the beta version. We're ordering components, assembling links—the arms and legs, if you will—and are testing internally for safety and performance.
We have set targets for the first betas of the Guardian XO and XT. We want to get them into customers' hands early next year and ramp up commercial production and shipping by the end of next year. That's all subject to the supply chain and being able to hire great people.
While your industrial exoskeleton has gotten a lot of attention, can you discuss what the Guardian XT can do?
Wolff: The Guardian XT is a variant of the XO. We've taken the legs off, added sensors including stereo cameras, and worked with T-Mobile on 5G. This machine can go into environments where it's better not to have humans, such as height or in a nuclear power plant. The XT can be operated as an avatar with virtually no latency to perform highly dexterous tasks.
There is tremendous interest from power generation, construction, infrastructure maintenance and repair, and oil and gas. My personal gut instinct is that the Guardian XT will be an even bigger hit in its early hears than the XO. There are no issues of training operators or walking around with it. We'll see higher volumes of Guardian XTs shipping in the first few years, then it will flip on its head with the Guardian XO.
Imagine in a pre-hurricane situation, where utilities are trying to cut as many tree limbs as they can, but it's still rainy and cold. But now, workers could sit in a booth in the back of these trucks, completely covered as they manage the robot doing work up on lines.
The industry is struggling to hire young people—folks don't dream of being up in a bucket truck—but they instead could be the pilots of the coolest robot on the planet in a warm, dry environment.
About the Author
Eugene Demaitre
Eugene Demaitre is editorial director of Robotics 24/7. Prior to joining Peerless Media, he was a senior editor at Robotics Business Review and The Robot Report. Demaitre has also worked for BNA (now part of Bloomberg), Computerworld, and TechTarget. He has participated in numerous robotics-related webinars, podcasts, and events worldwide. Follow Eugene:
Follow Robotics 24/7 on Facebook
Article topics
Email Sign Up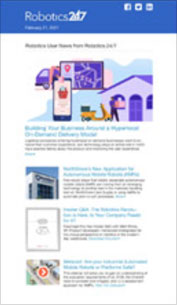 Get news, papers, media and research delivered
Stay up-to-date with news and resources you need to do your job. Research industry trends, compare companies and get market intelligence every week with Robotics 24/7. Subscribe to our robotics user email newsletter and we'll keep you informed and up-to-date.
Sarcos