Thanks to its YouTube videos, a 2022 Super Bowl commercial with Sam Adams, and its Spot quadruped robot, Boston Dynamics Inc. is one of the most recognizable robotics companies in the world.
At the same time, Boston Dynamics is serious about providing value for industrial applications. Hyundai Motor Group acquired the company from SoftBank Group Corp. in 2021. Since then, Boston Dynamics has demonstrated Spot in many different environments; offered the Stretch robot for unloading trucks; and continued to work with developers, software and sensor providers, and corporate customers.
Last month, CEO Robert Playter joined Kiva Allgood, president and CEO of Sarcos Technology and Robotics Corp., at TCs Sessions: Robotics from TechCrunch. They discussed how their pioneering companies brought robots to market, from pilot testing to scaling manufacturing.
Playter also replied to the following questions from Robotics 24/7 about Boston Dynamics' journey to commercialization.
Boston Dynamics is best known for its legged robots, but with Stretch, it's making a serious play for a single application. What is your strategy as you've moved from development to deployments?
Playter: Spot and its legged predecessors helped us push the limits of robotic mobility forward to the point where an entire industry is now emerging around quadrupeds as general-purpose robots that can provide value in a variety of commercial applications.
With Stretch, we aimed to solve a much more specific problem for an industry that had a massive market need, and we quickly realized it would require a combination of mobility and manipulation to achieve it.
Ninety percent of warehouses are still manually operated today, so we saw an opportunity for a flexible robot that could help improve warehouse safety and productivity while accelerating the flow of goods throughout the global supply chain. We focused our initial development efforts for Stretch on trailer and container unloading because it's the most challenging and physically punishing task in the warehouse.
At this stage, we're just beginning to deploy production robots with early-adopter customers like DHL Supply Chain, Gap, H&M, and Performance Team – A Maersk Company. We'll continue working closely with those customers over the next several months to collect feedback and make minor improvements as we ramp up our manufacturing and service operation to meet broader market demand.
Eventually, we'll expand Stretch's capabilities to allow the robot to handle a wider variety of warehouse tasks.
With Stretch sold out for next year, what do you expect in terms of demand beyond that? How much have you had to ramp up staff at your new headquarters in Waltham, Mass.?
Playter: Early demand for Stretch has been strong, and we expect that trend to continue. We're investing to build out our manufacturing, testing, and service capabilities for both Spot and Stretch, including plans for a new assembly line that will be capable of churning out thousands of robots each year from right here in Waltham.
We're also investing in our people—we now have more than 500 employees working for the company, which is a massive increase just in the last couple years, and many of those new roles are in services, supply chain, and manufacturing. We'll continue steadily increasing our capacity over the next few years in line with customer demand, but the future looks bright.
You spoke with Sarcos' Kiva Allgood at TechCrunch's event, and we recently covered the exoskeleton and teleoperated systems provider. What parallels are there between your two companies? What were some takeaways from your conversation?
Playter: In many ways, we feel like kindred spirits with the Sarcos team because we were both dedicated to building advanced robots long before the technology was ready for the market. Now, we're both growing quickly and shifting our operating models to support commercialization of our technology.
We also see similarities in the motivation for using robots, particularly in situations that might be hazardous for people, and we both believe greater mobile manipulation is a key concept for future technology.
One important difference is that Sarcos is pursuing solutions like exoskeletons that serve as an extension of human capabilities, whereas our robots are focused more on performing many tasks autonomously. But even though we're tackling slightly different problems, both companies are building robots that ultimately make people's jobs safer and easier.
Spot has been involved in deployments in the energy, utilities, and other sectors—where are you seeing the most long-term interest?
Playter: There are now several hundred Spots out in the world taking on a number of different tasks, from collecting equipment data in industrial facilities to creating digital twins on construction sites to helping first responders safely assess potentially dangerous situations. ‌While the industries and use cases vary, there is a common thread of applications in hazardous areas and environments that require repeatable data capture.
Moving forward, I expect we'll see more and more companies investing in Spot to assist with equipment inspections and data analysis for targeted applications like thermal monitoring, analog gauge reading, leak detection, and other dynamic sensing tasks.
How much integration has there been with Hyundai's portfolio? Do you expect more, or do you have a fair amount of autonomy?
Playter: Hyundai is a valuable strategic partner for us. They like our long-term business plan and are committed to helping us achieve both our commercial and R&D goals. They have already helped us accelerate our commercialization path for both Spot and Stretch, and I expect their manufacturing, supply chain, and services expertise will prove invaluable as we continue expanding globally in the years ahead.
It's been a great fit in our first year of working with Hyundai, and we're excited to continue building the future of mobility together.
Besides Atlas, is Boston Dynamics working on other humanoid models and applications?
Playter: Atlas is currently our only humanoid robot, and it will continue leading as our primary research and development platform at Boston Dynamics.
At the same time, we're always thinking about what our next commercial robot might look like and what kinds of problems it might solve. Many of the more challenging tasks humans are performing in our customers' environments today require two arms and more advanced mobile manipulation beyond the capabilities of today's robots. So that's an area we're exploring, and I expect we will incorporate much of what we've learned with Atlas into that next robot design, in whatever form it takes.
About the Author
Eugene Demaitre
Eugene Demaitre is editorial director of Robotics 24/7. Prior to joining Peerless Media, he was a senior editor at Robotics Business Review and The Robot Report. Demaitre has also worked for BNA (now part of Bloomberg), Computerworld, and TechTarget. He has participated in numerous robotics-related webinars, podcasts, and events worldwide. Follow Eugene:
Follow Robotics 24/7 on Facebook
Article topics
Email Sign Up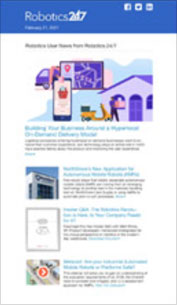 Get news, papers, media and research delivered
Stay up-to-date with news and resources you need to do your job. Research industry trends, compare companies and get market intelligence every week with Robotics 24/7. Subscribe to our robotics user email newsletter and we'll keep you informed and up-to-date.
Boston Dynamics